A video on TikTok that has also made the rounds on Facebook (FB) says 42 people died in Batangas because of COVID-19 vaccines. This is misleading.
Provincial health authorities have clarified that the deaths were not found to be related to the vaccines against the coronavirus disease 2019 (COVID-19).
The inaccurate video, published on Aug. 24, carried a portion of a report by the DZRH radio program DZRH radio program Dos por Dos a day earlier. The TikTok user added text wrongly stating that 42 "fully vaccinated" people in the province died, and warned: "Huwag na kayo mag pa vaccine kung ikamamatay niyo rin (Don't get vaccinated if it'll just kill you)."
During the Aug. 23 meeting of the Batangas province's inter-agency task force (IATF) against COVID-19, provincial health officer Dr. Rose Ozaeta said the deaths consisted of:
8 people who had received only the first dose of a COVID-19 vaccine, and got COVID-19;
2 people who were fully vaccinated, and got COVID-19; and
32 people who were fully vaccinated but were not infected with COVID-19.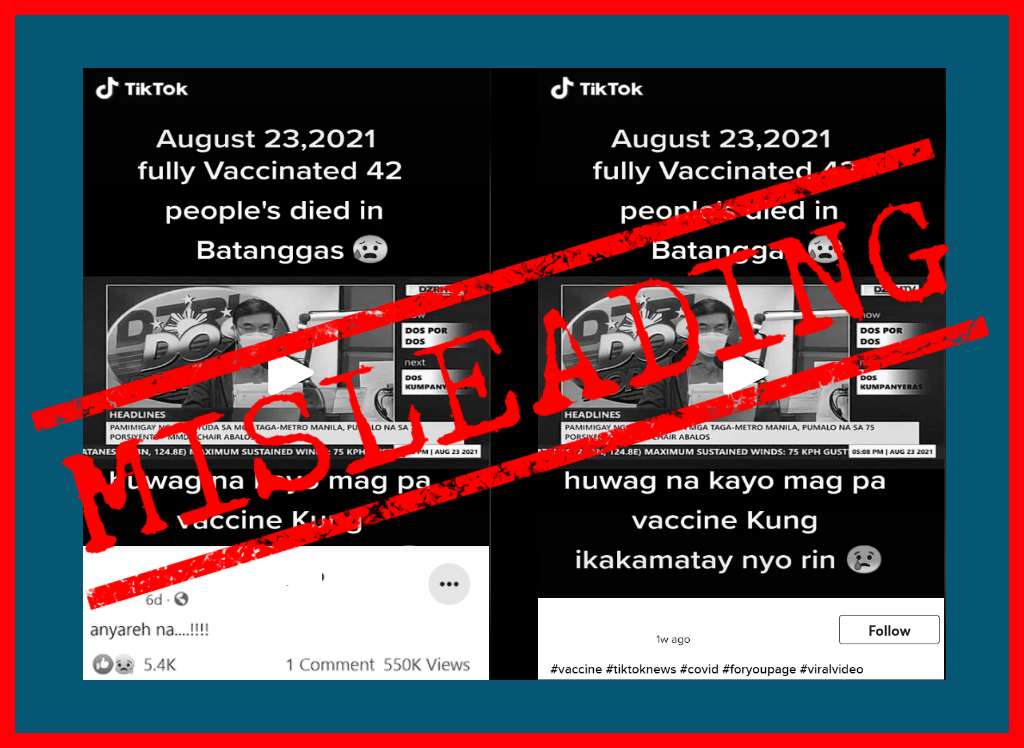 In an Aug. 25 post on the Batangas Public Information Office's FB page, Ozaeta issued a clarification regarding the reported deaths. Translated from Filipino, she said:
"Based on the causality assessment by the RAEFIC (Regional Adverse Event Following Immunization Committee) Expert Panel, the causes of their death were not related to the vaccines they received; they were caused by complications from COVID-19 and pre-existing medical conditions before vaccination."
Local newspaper Weekly Frontpage also quoted Batangas Provincial IATF head Gerald Alday as saying that based on investigations so far by the regional expert panel, all the post-vaccination deaths in the province had been coincidental and none were directly caused by vaccines.
The World Health Organization has said that COVID-19 vaccines are safe for most people aged 18 and older, including people with comorbidities. While not 100% protective, it said approved COVID-19 vaccines "provide a high degree of protection against getting seriously ill and dying from the disease."
It advises that people who have a compromised immune system, are pregnant, have a history of severe allergies from a vaccine, and are severely frail, to speak with a healthcare provider first before getting a vaccine.
The misleading TikTok video has received more than 918,000 views and 46,300 interactions on the video sharing platform. A video posted on FB by a netizen garnered over 626,000 views and 6,000 interactions.
(Editor's Note: VERA Files has partnered with Facebook to fight the spread of disinformation. Find out more about this partnership and our methodology.)