A netizen who endorsed the use of amoxicillin to treat fever has pushed for more incorrect health advice that continues to gain traction months after it was posted.
Doctors have warned against the use of the antibiotic without a proper prescription. (READ: VERA FILES FACT CHECK: FB posts carry FALSE claims on treating fever)
VERA Files Fact Check debunks more incorrect health advice on treating fever from the netizen, such as:
Giving a patient a sponge bath (except the head) with ice water to help release heat;
Treating headaches with soda drinks while running a temperature.
The post, which first appeared last January, has garnered over 123,100 recent views.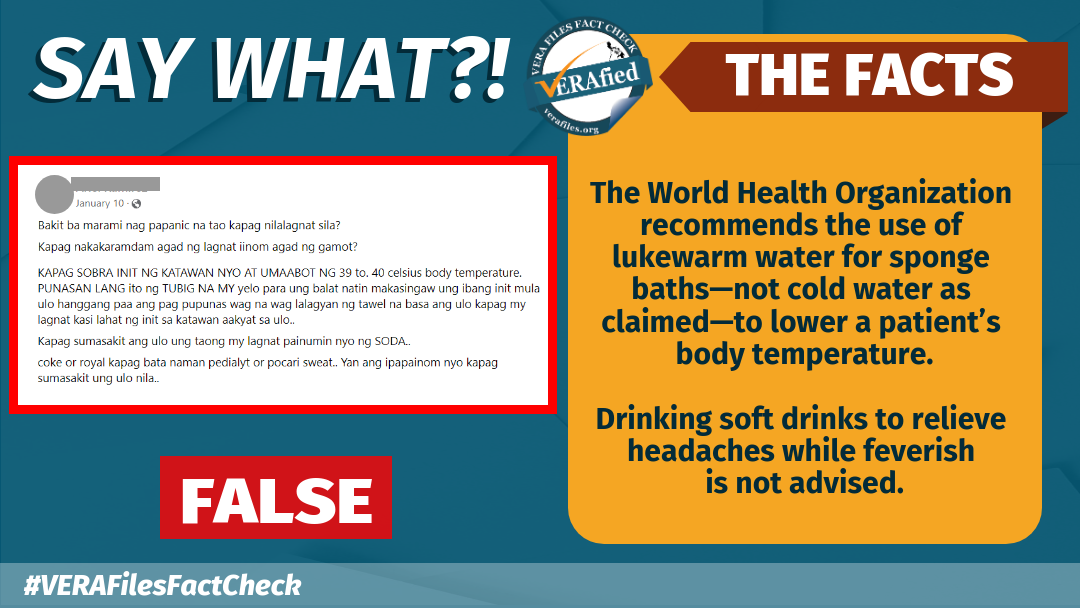 Lukewarm, not cold water, for sponge baths
The World Health Organization (WHO) recommended using lukewarm or slightly warm water for sponge baths—not cold water as claimed—to lower a patient's body temperature.
This recommendation is part of WHO guidelines for managing dengue in Nepal and an immunization handbook in India, both published in 2019.
Drinking soda won't treat headaches while having a fever 
Contrary to the claim, drinking soda to relieve headaches while running a fever is not advised.
"Soda and caffeinated drinks should be avoided when you have a fever," Pauline J. Jose, a family medicine specialist at California-based wellness center Proactive Health Labs, was quoted in a 2021 article by wellness website Eat This, Not That!
"[These] can cause dehydration when we really need to hydrate most," Jose added
Have you seen any dubious claims, photos, memes, or online posts that you want us to verify? Fill out this reader request form.
(Editor's Note: VERA Files has partnered with Facebook to fight the spread of disinformation. Find out more about this partnership and our methodology.)