A false three-month-old report about the "death" of a COVID-19 vaccine trial volunteer in the United Kingdom is again circulating on the Web.
University of Oxford microbiologist Elisa Granato, one of the first volunteers inoculated with the vaccine, is alive and well.
From Aug. 4 to 8, several Filipino netizens posted screengrabs of a story that claimed the post-doctoral researcher had complications and died two days after being injected. A cursory search shows the article was published by site n5ti.com on April 25.
The fabricated report was debunked by the UK Department of Health and Social Care and several fact-checking organizations in at least three continents shortly after the site published the falsehood.
Dr. Granato herself gave proof of life on April 26 in a personal tweet and a video interview with British Broadcasting Network (BBC) medical correspondent Fergus Walsh. She has been active on Twitter and gave a talk in a virtual conference on microbiology on Aug. 12.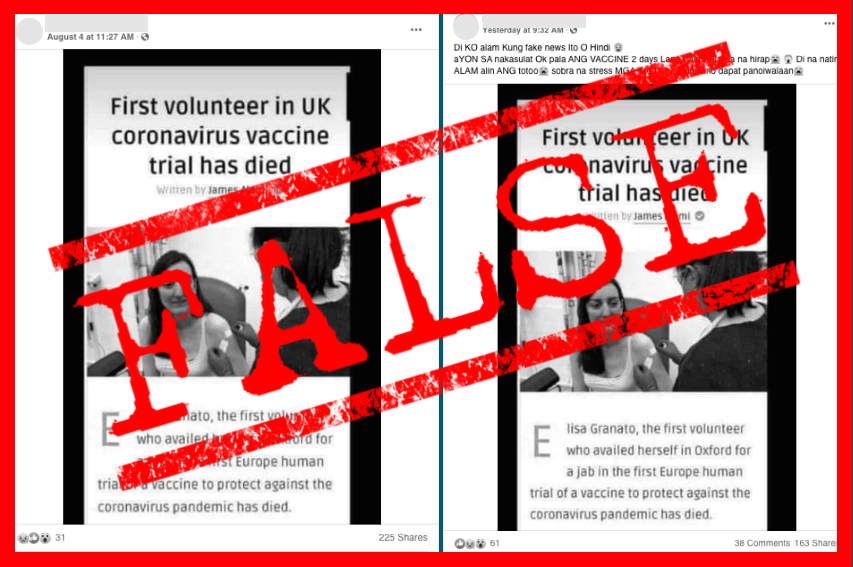 The University of Oxford's official website for the vaccine trial also issued a warning on April 26 about false updates on the research, urging the people not to circulate them. It also told the public that all official updates about the trial will appear on their site.
The Oxford Vaccine Trial began on April 23 and was the "first human trial in Europe of a coronavirus vaccine" according to a BBC report. Granato is one of the first two participants in the trial.
Developed by Oxford's scientists, the COVID-19 vaccine candidate is called ChAdOx1 nCoV-19. Results of Phase I and II of the trial have been published, indicating "no early safety concerns and induces strong immune responses in both parts of the immune system," according to a news release on July 20.
VERA Files Fact Check has flagged 10 FB posts carrying the screengrab of the untrue story this month. It began circulating about five days after President Rodrigo Duterte said on July 30 he hopes the Philippines will be "back to normal" by December, thanks to a vaccine from China, he said.
The false FB posts also received a boost in shares as news that Russia had developed a COVID-19 vaccine called 'Sputnik V' which it would share with the Philippines made headlines.
Local health officials are now in talks with the Russian vaccine maker about conducting Phase III clinical trials here.
(Editor's Note: VERA Files has partnered with Facebook to fight the spread of disinformation. Find out more about this partnership and our methodology.)