Two old news reports about President Rodrigo Duterte asking senior officials of the Philippine Health Insurance Corporation (PhilHealth) to resign have resurfaced on social media, misleading netizens into thinking the move followed the backlash against the state health insurer's recent increase in contributions of migrant Filipino workers.
The stories were published in June 2019 by government-run broadcaster People's Television Network and GMA News TV's State of the Nation program. They were about the president's reaction after the discovery of millions-worth of fraudulent transactions between PhilHealth and a dialysis clinic.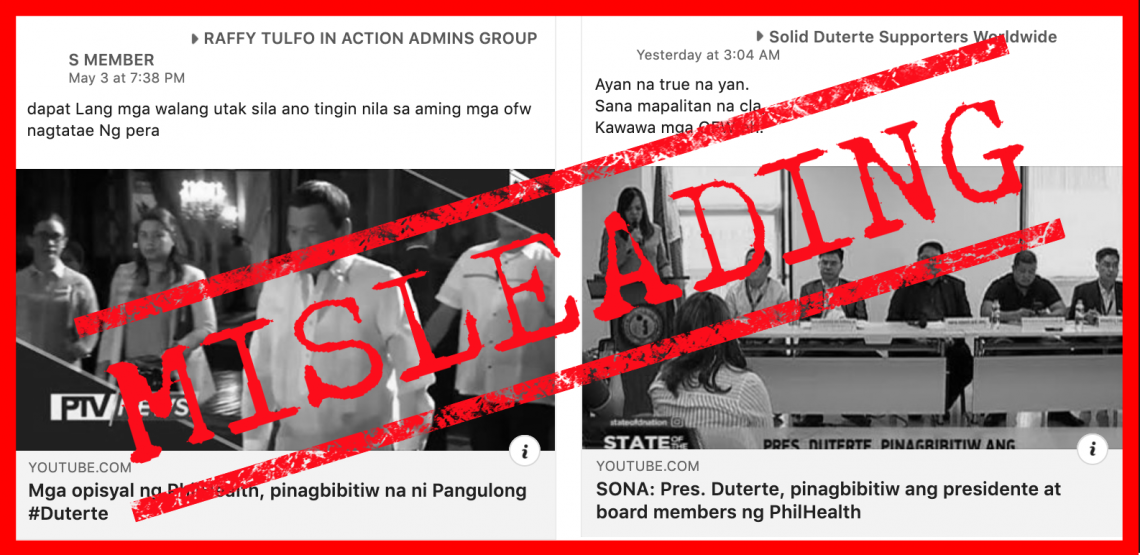 The dated reports were misleadingly re-shared on May 3 in various Facebook (FB) groups, where netizens could only see a thumbnail and the headlines:
"Mga opisyal ng PhilHealth, pinagbibitiw na ni Pangulong #Duterte (President #Duterte asks PhilHealth officials to resign)"
"SONA: President Duterte, pinagbibitiw ang presidente at board members ng PhilHealth (SONA: President Duterte asks PhilHealth president and board members to resign)."
The posts in FB groups RAFFY TULFO IN ACTION ADMINS GROUP S MEMBER, Solid Duterte Supporters Worldwide and Filipino Tambayan — which were among the top traffic generators to the old stories — bore captions expressing frustration at PhilHealth's move and supported Duterte's supposed order. Their comment sections drew mixed reactions, with some expressing anger at the state insurer while many pointing out the stories' old publishing date.
The misleading posts surfaced as a change.org petition gained traction over the weekend, with over 400,000 people protesting the increase of premium payments of overseas Filipino workers (OFWs) from 2.75% in 2019 to 3% this year. The increase comes after PhilHealth published Circular 2020-0014 on April 2, mandating OFWs to pay additional premiums in compliance with the Universal Health Care Act of 2019, a landmark piece of legislation of the Duterte administration.
On May 4, Presidential Spokesperson Harry Roque announced that Duterte has ordered the payment of Philhealth premiums for OFWs to be made voluntary.
The misleading posts have gained over 1,100 shares, more than a thousand reactions and over 500 comments. RAFFY TULFO IN ACTION ADMINS GROUP S MEMBER was created in March 2019, Solid Duterte Supporters Worldwide in May 2016 and Filipino Tambayan in December 2015.
(Editor's Note: VERA Files has partnered with Facebook to fight the spread of disinformation. Find out more about this partnership and our methodology.)