Facebook (FB) users have been sharing an article about an event that took place two years ago — the Philippines' election to the United Nations Human Rights Council (UNHRC) in 2018. Readers are being misled into thinking it is recent.
A blog named News Viral Online PH uploaded May 3 an article headlined "FINALLY! NASUNGKIT ANG TAGUMPAY, PILIPINAS NAKAKUHA NG 'PWESTO' SA UN HUMAN RIGHTS COUNCIL (Finally! Success is secured, Philippines gets 'place' in UN Human Rights Council)."
Using social media monitoring tool CrowdTangle, the blog's story could have reached close to 11 million people. Its posting in public FB groups PRESIDENT RODY DUTERTE -FEDERAL MOVEMENT INTERNATIONAL and Solid Duterte Supporters Worldwide reached 10,000 reactions and almost 5,000 shares collectively.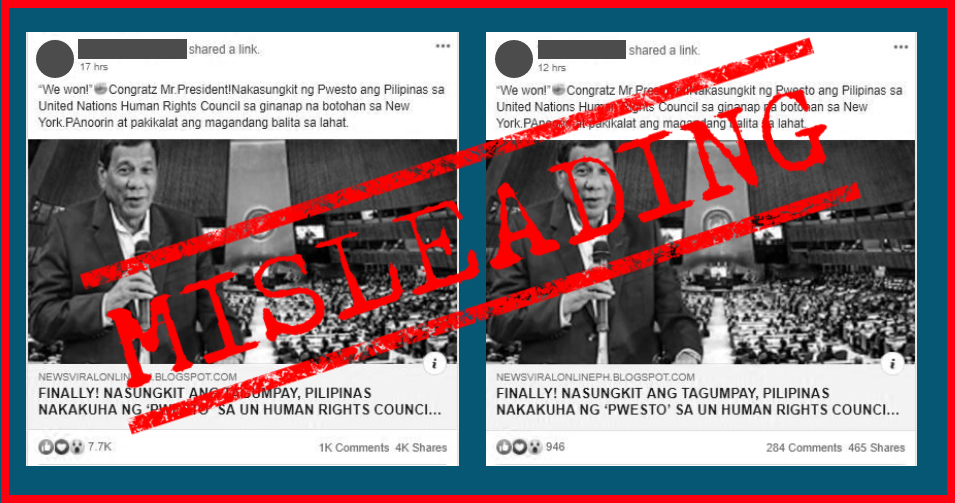 The Philippines was re-elected in 2018 to the Human Rights Council, the UN body "responsible for promoting and protecting all human rights around the globe." It is currently serving a three-year term, from 2019-2021, after its previous term ended in December 2018. It also served from 2007 to 2009 and 2012-2014.
The Council has 47 members, 13 of them belonging to Asia-Pacific region. According to some senators, the country's re-election in 2018 could not be considered a "win" as described by the Department of Foreign Affairs, as only five countries vied for five vacant seats.
The story was revived after UN High Commissioner for Human Rights Michelle Bachelet described on April 27 the Philippines' response to control the spread of the novel coronavirus as "highly militarised."
A search on the Web shows the same article, word-for-word, has been recycled on different dates by at least three other blogs. These are Newsboxesph.blogspot.com in November 2019, kamaongpagbabago.blogspot.com in February 2020 and philip.nhatkimanh.vn on May 4.
This is not the first time News Viral Online PH published a misleading article since its first story on March 3. (See: VERA FILES FACT CHECK: Story claiming Alegria is PH's first oil field FALSE)
(Editor's Note: VERA Files has partnered with Facebook to fight the spread of disinformation. Find out more about this partnership and our methodology.)