Facebook (FB) page Showbiz Fanaticz, notorious for publishing false and misleading content on social media, claimed in an Aug. 14 video that Health Secretary Francisco Duque III is "finally going to jail" over the "P67 billion missing funds" of the Department of Health (DOH). Not true.
There is no report of any imprisonment as there are no cases filed against the health secretary, although the Senate blue ribbon committee and the House committee on public accounts began last month separate inquiries into the DOH's handling of COVID-19 multi-billion funds following a recent Commission on Audit (COA) report flagging "deficiencies" in the agency's pandemic budget.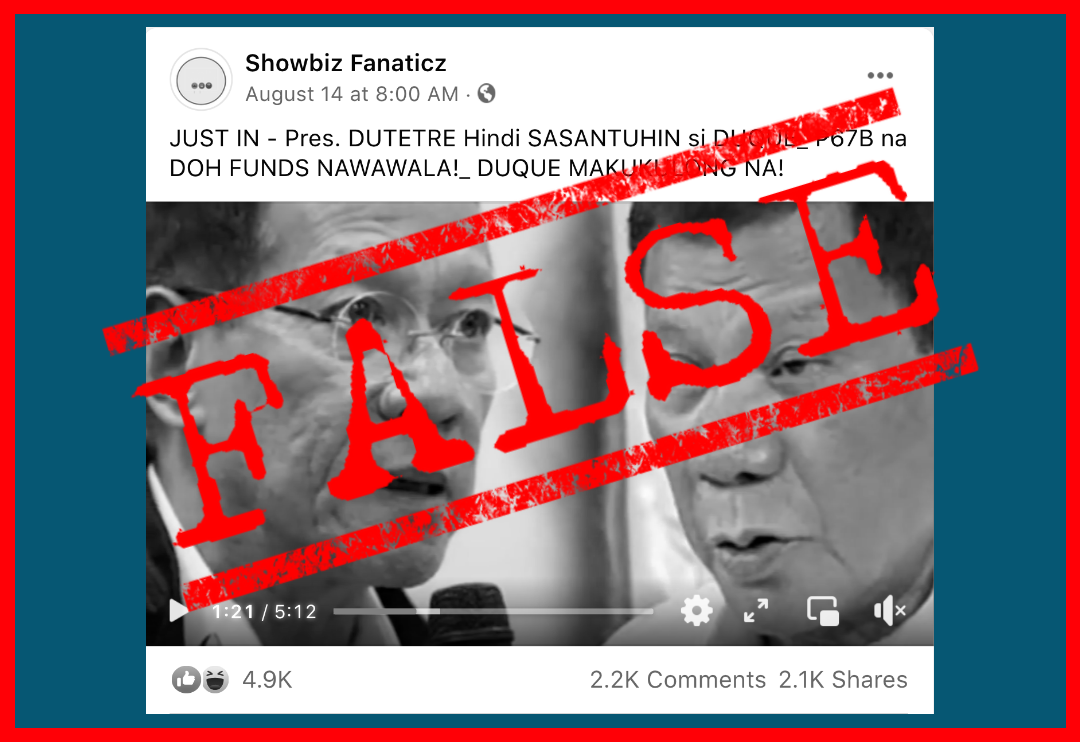 The inaccurate five-minute clip, which continues to circulate two weeks after it was posted, bore the headline: "JUST IN – Pres. DUTETRE (sic) Hindi SASANTUHIN si DUQUE_ ₱67B na DOH FUNDS NAWAWALA!_ DUQUE MAKUKULONG NA! (Just in – President Duterte won't spare Duque_ P67B DOH funds, missing!_ Duque is finally going to jail!)." A duplicate copy was also published in Showbiz Fanaticz's YouTube channel and now has over 19,000 views.
The videos came just three days after the COA released its annual audit report on the DOH, where state auditors noted "various deficiencies" amounting to P67.3 billion worth of public funds intended for the nation's COVID-19 response.
Cited by Showbiz Fanaticz as its source was an Aug. 13 The Manila Times article titled "Duterte to DoH: Answer CoA." It carried a statement made by Palace Spokesperson Harry Roque during an Aug. 12 press briefing saying Duterte instructed the Health Department to respond to COA's findings.
Roque said the President was "withholding judgment" until the DOH was able to air its side. He also assured "there are no sacred cows in this administration," as Duterte "spares no one."
The DOH made its response regarding COA's findings as early as Aug. 11 — or the same day the Commission released its report — where it said all of the flagged P67.3 billion "is accounted for."
In his taped Talk to the People address on Aug. 16, Duterte called the corruption allegations "pure bullshit" and told Duque he will reject it if he decides to resign, while rebuffing COA, telling the Commission to "stop the flagging" and to not publish its reports.
The President once again expressed his trust towards the DOH chief in his next Talk to the People address aired on Aug. 21, saying he "will stand for Duque." But two days later, Duterte backpedalled on his previous statement regarding the secretary's resignation, saying he will accept it "if Duque will offer to resign voluntarily," while repeating his remark that he will stand by him "even if it's just the two of [them]."
On Aug. 28, during an interview with DZRH's Super Balita Sa Umaga Isyu ATBP., Duque announced that he will be "leaving" DOH after he is able to "clear" COA's findings and address the Commission's recommendations.
Showbiz Fanaticz's spurious FB video has been viewed around 180,000 times by netizens. Social media monitoring tool CrowdTangle shows it already received over 9,400 interactions and could have reached more than half a million FB users. Traffic to the post came largely from the page itself, as well as public groups AFP PNP RETIREES ASSOCIATION OF TAGUIG CITY-UPPER BICUTAN and LABAN SA INUTIL AT KATIWALIAN.
Showbiz Fanaticz joined FB in July 2020, while its YouTube counterpart was created in November 2017.
(Editor's Note: VERA Files has partnered with Facebook to fight the spread of disinformation. Find out more about this partnership and our methodology.)