A local Facebook (FB) page selling herbal capsules published a post claiming the serpentina plant (scientific name: Raovulfia serpentina), also known as Indian snakeroot, can kill "all cancer cells in your body" within a day after intake. This is false.
Reaching over 162,000 shares this month since its publication in May 2019, FB page Mangosteen Capsules' post said the leaves should be boiled or pureed with lemon juice, with the amount of leaves depending on the stage of one's cancer.
While in moderation, it may be beneficial for the treatment of hypertension, the country's authority on traditional and alternative medicine said there is a lack of clinical trials proving the plant's safety and efficacy as a cancer treatment.
"There [are] not enough clinical trials to give evidence to claim a therapeutic effect against cancer," Ma. Teresa Torres, Special Officer III of the Philippine Institute of Traditional and Alternative Health Care (PITAHC), said in an email interview with VERA Files Fact Check. PITAHC is under the Department of Health.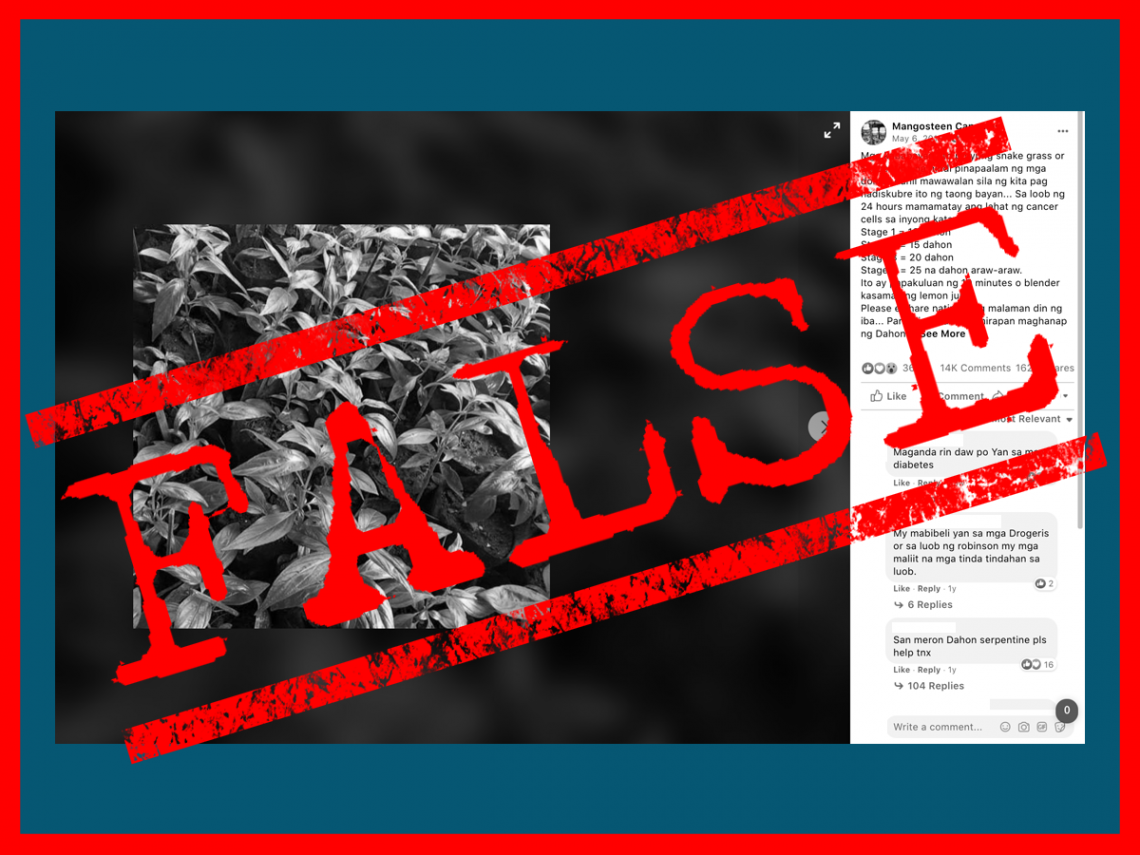 Clinical trials are done to test new treatments on humans, usually in four phases, to evaluate safe dosages and monitor side effects.
A review of literature showed a laboratory study published in the journal Phytomedicine in January 2015, which looked at how reserpine, an active compound from serpentina, may have "profound activity in cancer cells." It only concluded that reserpine "deserves further consideration" for cancer therapy.
According to Torres, serpentina is traditionally used for hypertension and that clinical trials have found reserpine to be effective in controlling it. She warned, however, that the herbal medicine must be "taken in moderation or with caution" due to reports of side effects like sleepiness, diarrhea, and nausea, among others.
"After several months of use, mental depression can occur and may persist. With extremely large doses, Parkinson-like symptoms, extrapyramidal reactions, and convulsions can occur," Torres explained.
Mangosteen Capsules' post was not the only post that has circulated carrying the false claim. An FB status update carrying the same claim and instructions was shown in a May 2018 episode of GMA show Kapuso Mo, Jessica Soho, about a year before Mangosteen Capsules' post began circulating.
The KMJS episode was a feature on how serpentina has been used by the public, including a lymph node cancer patient whose condition supposedly improved after drinking serpentina as tea. However, the show gave a reminder that the claim was anecdotal and that there have been no laboratory tests confirming it.
Mangosteen Capsules' version of the FB post ends with an endorsement of its product. Its FB page was created on Aug. 11, 2017 but had since changed its page name 18 times. It started off as "AGV Marketing" but in subsequent name changes, it often mentioned the name Marjun Fuscablo Anghag, such as Mangosteen Capsule – Marjun Fuscablo Anghag in March 2018 and Marjun Fuscablo Anghag Online Business in February 2018.
A keyword search on the FB page shows that Anghag is a reseller of the page's capsule products.
The page has repeatedly shared its false post from July to September, which could have led to its recent online traffic.
(Editor's Note: VERA Files has partnered with Facebook to fight the spread of disinformation. Find out more about this partnership and our methodology.)