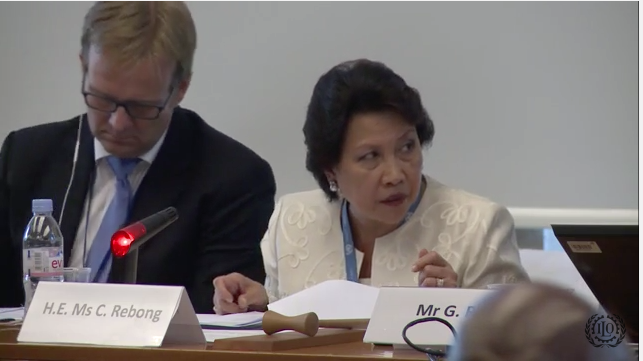 PRESIDENT Rodrigo Duterte never issued a "shoot-to-kill" order against drug suspects, according to the Philippines' permanent representative to the United Nations (UN) on Sept 14.
In a statement issued by the Department of Foreign Affairs, Ambassador Cecilia Rebong, during the 33rd Session of the Human Rights Council in Geneva, said what the president meant was the police have the right to defend themselves when drug suspects "violently resist arrest."
(Source: Philippine Envoy to the Human Rights Council Corrects UN High Commissioner's Report on the Philippines)
This was her response to United Nations High Commissioner for Human Rights Zeid Ra'ad Al-Hussein, who said Duterte displays "a striking lack of understanding of our human rights institutions and the principles which keep societies safe."
Al-Hussein added "empowering police forces to shoot to kill any individual whom they claim to be a suspect of drug crimes, with or without evidence, undermines justice."
(Source: Opening Statement by Zeid Ra'ad Al Hussein, United Nations High Commissioner for Human Rights, at the 33rd session of the Human Rights Council)
BACKSTORY: In an ambush interview in Davao on Aug. 5, Duterte clarified what he meant by 'shoot to kill,' speaking in English and Filipino:
"Shoot to kill is to shoot and kill him. Do not waste the bullet."
(Sources: Philippine Star; BusinessWorld; Philippine Daily Inquirer)
During the same ambush interview he also said:
"Kita mo ginawa mo sa Pilipino? Tapos patawarin kita? Kaya my order diyan is shoot to kill kayo. Wala ako pakialam diyan sa human rights, maniwala ka diyan."
(Source: Ambush interview, Southern Philippines Medical Center, Davao City, Aug. 5, 2016. Watch from 03:51 – 04:00)
Prior to the Davao interview, Duterte issued "shoot-on-sight" order to a local official and his son for their alleged involvement in illegal drugs.
Presidential Spokesperson Ernesto Abella was quoted in several reports saying:
"President Rodrigo Duterte demanded the surrender of Mayor Ronaldo Espinosa Sr., of Albuera, Leyte and his son, Kerwin Espinosa, on the grounds of drug trafficking and coddling, within 24 hours, otherwise an order of 'shoot-on-sight' will be given if they resist and endanger the lives of arresting police officers."
(Sources: Philippine Daily Inquirer; Manila Bulletin; GMA News)