(UPDATED) Local Facebook (FB) pages—including the official accounts of the Antipolo City government and its mayor Andrea Ynares—shared an article by website India Time Mail falsely claiming the World Health Organization (WHO) has stated that the novel coronavirus, which causes COVID-19, "remains in the air for 8 hours."
While WHO has already admitted that airborne transmission in public areas of SARS-CoV-2 is a possibility, the international group never said it can live in the air for eight hours.
The spurious article revives a four month-old false claim which has circulated on social media and private messaging platforms worldwide. This claim has already been debunked globally.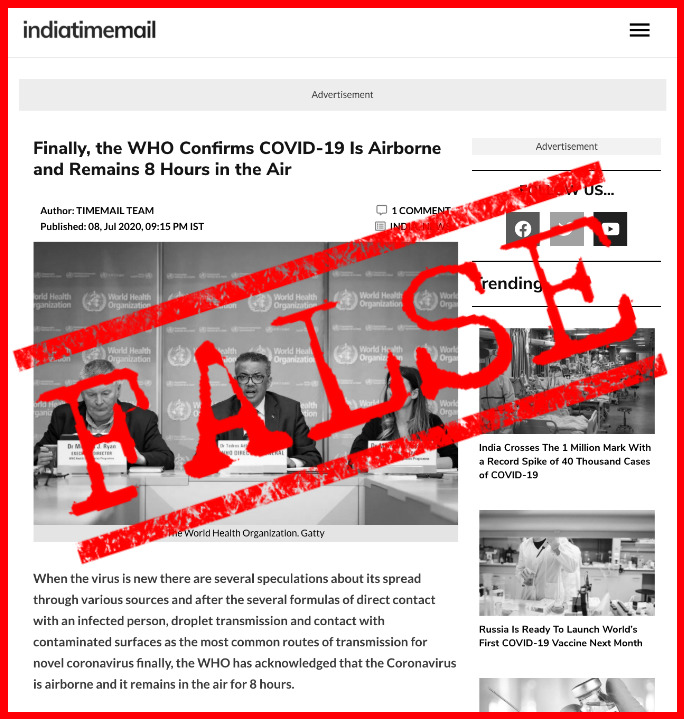 India Time Mail cited as source a July 8 "news update" by Indian news channel Times Now. However, the report did not mention the WHO declaring a specific length of time SARS-CoV-2 supposedly stays in the air after being expelled from a carrier's body. It just said the WHO "acknowledged" the evidence supporting the possibility of SARS-CoV-2's airborne transmission.
On July 7, Benedetta Allegranzi, the technical lead of WHO's infection and prevention control team, said in a press conference that the possibility of airborne transmission of the novel coronavirus in public settings "cannot be ruled out."
This was in response to an open letter to the organization by a group of 239 scientists and health professionals all over the world on July 6. Citing a number of researches on airborne transmission of the virus as evidence, the group insisted that SARS-CoV-2 is released by its carriers not only as respiratory droplets but also as "microdroplets small enough to remain aloft in air" infecting others especially in enclosed spaces with poor ventilation.
But in a follow up press release on July 9, the WHO clarified that SARS-CoV-2 airborne transmission through aerosols produced through talking and coughing "has not been demonstrated" and needs "much more research."
No study proving the virus could stay in the air for eight hours was mentioned by the WHO in any of its releases.
In March, WHO maintained that the virus "is mainly transmitted through droplets generated when an infected person coughs, sneezes, or speaks" and could affect individuals within a meter from the carrier of the virus. These droplets, according to a March 29 tweet by the WHO, are "too heavy to hang in the air," and thus," quickly fall on floors or surfaces."
The virus can only "stay in the air a little bit longer" in situations where they get "aerosolized" through "aerosol-generating procedures" performed inside medical and healthcare facilities, WHO's COVID-19 technical lead Maria Van Kerkhove said in a March 16 press conference.
India Time Mail's false report already got over 113,000 interactions on FB and could have reached around 4.4 million social media users, social media tool CrowdTangle shows. Its top traffic generators are the official pages of Antipolo City government and its Mayor Ynares, as well as FB page Tatay Digong.
The report began circulating among Philippine-based FB pages starting July 12 — a day after the total number of COVID-19 cases in the Philippines surpassed the 54,000th mark — and was widely shared among Filipino netizens between July 16 to 18, after the government announced the updated community quarantine classifications of provinces and municipalities in the country. The number of local cases has breached the 76,400 mark as of July 25.
UPDATE: The City Legal Office of Antipolo, through its legal officer Atty. Cedrick Justice U. Capiral, sent VERA Files Fact Check a letter on July 28 and clarified that its government did not intend to pass India Time Mail's story as fact.
"A perusal of… [our] caption in the posts, with emphasis on the capitalized words 'POSIBLENG,' 'BAKA' and 'KUNG SAKALING' therein, reveals that there was no intention whatsoever from the City Government of Antipolo and its Mayor, Hon. Andrea B. Ynares, to pass on the subject article as gospel truth or as a scientific fact," they wrote.
"[T]he caption makes it clear, if not stresses, that as depicted in your own article, the WHO only acknowledged the mere possibility of airborne transmission of SARS-CoV-2 in public places," they added.
VERA Files responded on July 30: "In the fight against disinformation, the cardinal rule is never to share anything that has not been verified to be true especially matters of health. That advice is important at this time that we are dealing with a virulent virus."
"And it is almost always true in cases like these and when the public is prone to paranoia that people will ignore the caveats and the qualifications and focus on the alarming nature of the report. This only highlights the extreme care our authorities need to exercise when sharing stories such as what appeared in the India Time Mail."
(Editor's Note: VERA Files has partnered with Facebook to fight the spread of disinformation. Find out more about this partnership and our methodology.)