A fake World Health Organization (WHO) advisory on "protocol and procedure of lockdown periods" in India has spread on Facebook (FB) in the Philippines.
The WHO has called the viral post "baseless and fake," reminding the public it "does NOT have any protocols" for lockdowns which aim to slow the spread of COVID-19.
More than a week before the extended enhanced community quarantine in Luzon is due to end on April 30, Filipino netizens shared the sham WHO advice over a thousand times, despite the phrase "Indian governments" in the text.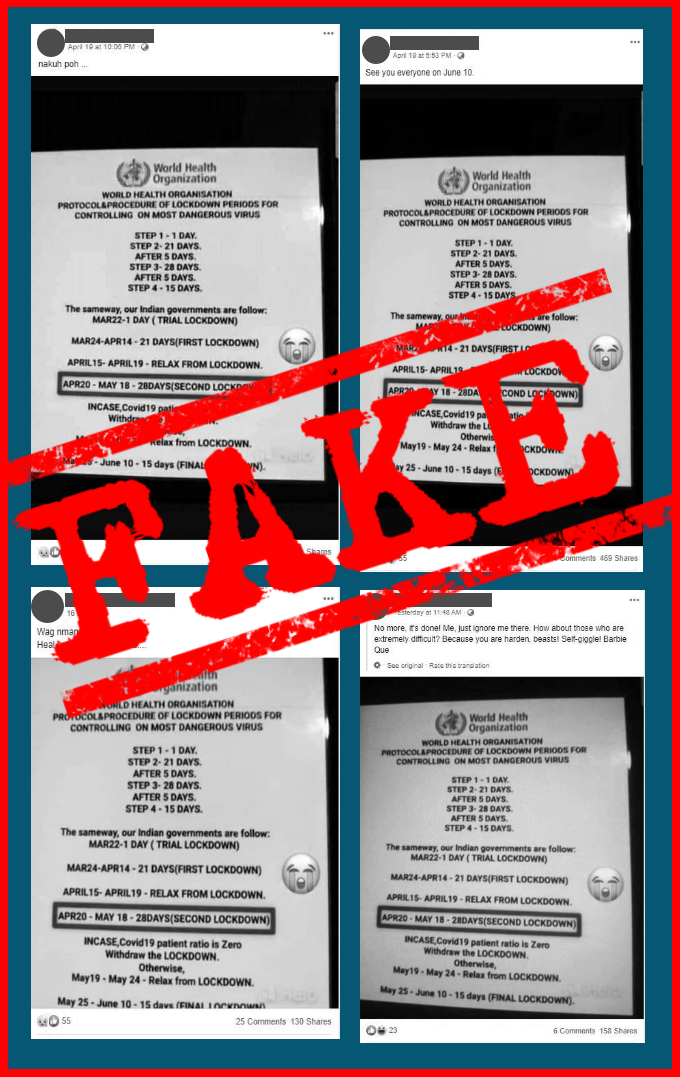 The fake document showed a four-step protocol in imposing a lockdown in India, beginning March 22. The version circulating in the Philippines highlighted a 28-day "second lockdown," supposedly happening from April 20 to May 18.
It also features an instruction: "In case Covid-19 patient ratio is zero, withdraw the lockdown." If not, a final lockdown will be imposed and this is to end on June 10, says the concocted advisory.
Indian news outfits debunked the misinformation which began circulating in early April on WhatsApp, a messaging application owned by Facebook that is popular in the South Asian country.
According to Boom, a fact-checking organization in India, the fake advisory is "actually based on a research paper by two Indian-origin researchers at the University of Cambridge, which proposes a sustained lockdown with periodic relaxation to curb the spread (of the COVID-19 virus)."
The WHO on April 21 said the lifting of lockdowns should be done step by step, warning of a comeback of the disease if restrictions are "relaxed or lifted before strong systems are in place to identify, isolate and care for the sick, and trace and quarantine their contacts."
In a press briefing April 21, Presidential Spokesperson Harry Roque said "there is still no decision (to extend the lockdown) from the President." However, there have been recommendations to "maintain, relax or lift the ECQ" in various localities, depending on the number of COVID-19 cases in the area.
(Editor's Note: VERA Files has partnered with Facebook to fight the spread of disinformation. Find out more about this partnership and our methodology.