A netizen used an old video of former president Ferdinand Marcos to claim that the ex-ruler anticipated a situation similar to the Russia-Ukraine conflict where the United States did not help an ally.
The caption of the short video clip that has gained over seven million interactions on Facebook read: "Hindi tutulong ang US sa Ukraine (US will not help Ukraine) …Marcos, Sr. anticipated situation like Russia-Ukraine conflict…"
This needs context. The decades-old video showed Marcos making remarks about the country's mutual defense agreement with the U.S.
Two users of the VERA Files Viber misinformation tipline requested the Fact Check team to verify this claim.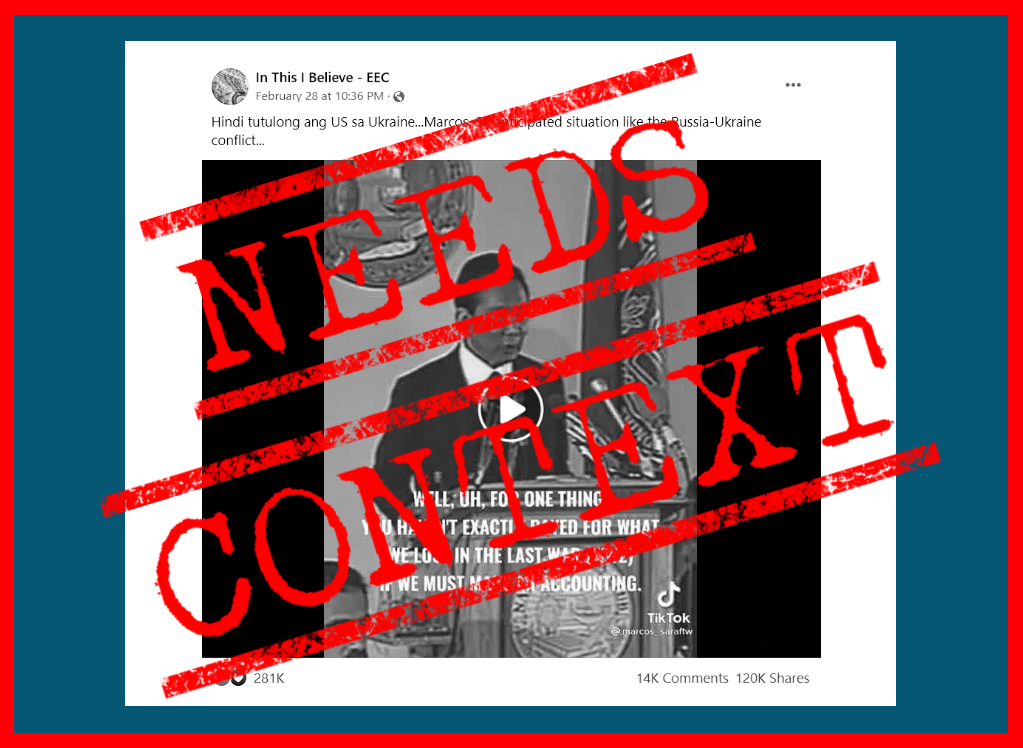 The clip was from a video showing Marcos during a Sept. 17, 1982 conference with the U.S. National Press Club where he denied that his government had asked for a $2 billion rent to maintain U.S. military bases. He then brought up the 1951 Mutual Defense Treaty.
The treaty stipulates that the Philippines and the US would support each other if either was attacked by an external party.
In answer to a question, Marcos said any military help from the U.S. would not be immediate because it requires approval by the Senate and the House of Representatives, in accordance with constitutional processes.
"What does that mean? That means delay, while we are dying there," he said.
The U.S. and Ukraine, meanwhile, signed a charter on strategic partnership in November 2021. None of the provisions states that the U.S.is obligated to send troops if Ukraine is invaded.
The video was uploaded on Feb. 28 by FB community page In This I Believe – EEC (created on Oct. 25, 2015). Garnering a total of 7.014 million interactions, it emerged a day after US Ambassador to the United Nations Linda Thomas-Greenfield said on Feb. 27 that the U.S. is not sending troops to Ukraine.
Several netizens praised Marcos for his intelligence and courage to criticize U.S. foreign policies, while others commented that the Philippines should not rely too much on America as an ally.
Have you seen any dubious claims, photos, memes, or online posts that you want us to verify? Fill out this reader request form or send it to 'VERA, the truth bot' on Viber.
(Editor's Note: VERA Files has partnered with Facebook to fight the spread of disinformation. Find out more about this partnership and our methodology.)