A July 28 online post showing protesters complaining about "hunger" and "delayed pay" for participating in demonstrations is manipulated.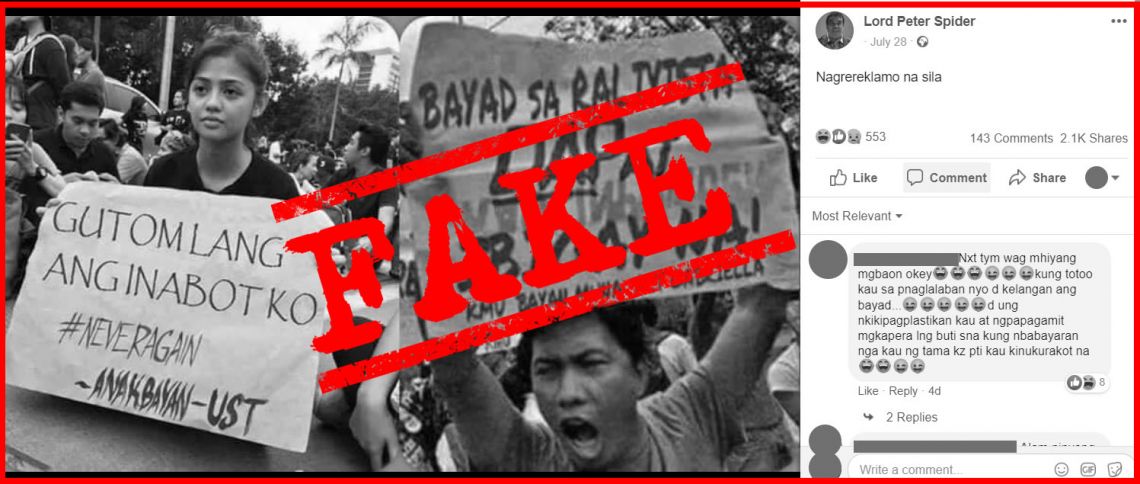 Facebook page Lord Peter Spider's fake post featured two photos of rallyists spliced together: one of a woman holding a protest sign reading "gutom lang ang inabot ko (I only got hungry) #NeverAgain" and "Bayad sa ralisysta DAPat ibigay na (Payment for rallyists should now be given." The FB page wrote as its caption, "nagrereklamo na sila (They're now complaining)."
Lord Peter Spider's post is photoshopped.
The first photo is actually an altered version of a Sept. 21, 2017 News5 photo showing a woman during a protest that marked the 45th anniversary of President Ferdinand Marcos' declaration of martial law. It originally read, "END MARTIAL LAW."
The second image was an edited copy of a thumbnail of a July 2014 GMA News report. The man's placard actually reads, "Noynoy DAPat makulong (Noynoy should be jailed)," and was attributed only to Kilusang Mayo Uno or KMU — not "KMU Bayan Muna ACT Gabriela," as stated in Lord Peter Spider's manipulated photo.
The Facebook page's fake online post was published less than a week after protesters flocked to Commonwealth Avenue on July 22, the same day President Rodrigo Duterte gave his fourth State of the Nation Address.
Over 875,226 people could have been reached by the fake Lord Peter Spider post, with traffic from social media mainly coming from Tamaraw News, Even Demata and PHLRC Riders.
Lord Peter Spider page was created on July 2, 2018.