A Facebook (FB) page claims that a local grass, commonly known as paragis (scientific name Eleusine indica), can treat a myriad of diseases, including cancer, cysts, and irregular menstruation. This claim needs context.
In February 2020 the page published a 403-word text with a photo of the weed. A part of it read: "[S]ikat po itong PARAGIS sa isang GROUP na haLamang gamot kaya daw paLa ayaw aprobahan ng mga doktor ang PARAGIS kase mawawaLan siLa ng kita sa mga pasyenteng may cancer dahiL gamot din po ito sa cancer at bukoL."
(Paragis is popular with one herbal medicine group, which is why doctors do not want to approve paragis because they will be unable to profit from patients with cancer as it can also be a medicine for cancer and cyst.)
The post, which continues to circulate this month, included a purported anecdote of a woman who successfully treated her ovarian cysts using paragis and several steps on how to prepare the plant to use for treatment. 
While the paragis has some potential medicinal properties, studies have yet to prove it has clinical benefits on humans, according to herbal and medical experts.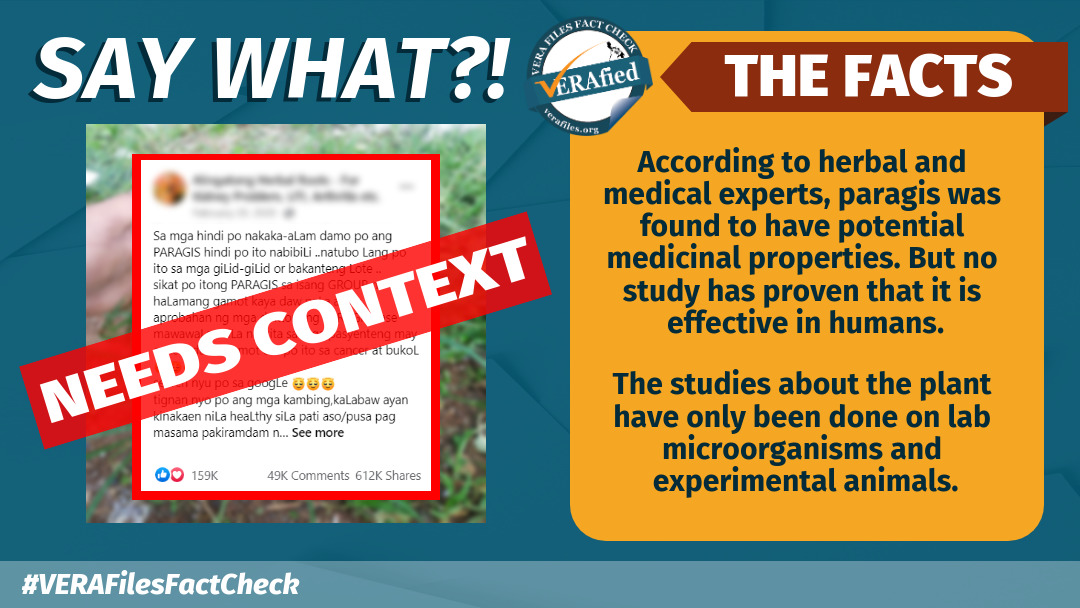 "Paragis cannot be claimed as therapeutic for any type of medicinal activity," said the Research and Development Division of the Philippine Institute of Traditional and Alternative Health Care (PITAHC) in an Aug. 23 letter to VERA Files Fact Check.
PITAHC, an attached agency of the Department of Health, said some studies have found that the plant has several "potential medicinal activities" but these studies are only pre-clinical research and "have not been proven clinically therapeutic to humans."
Pre-clinical studies refer to those done on experimental animals and laboratory microorganisms.
Likewise, in an Aug. 16 email exchange with VERA Files Fact Check, Dr. Ann Meredith Trinidad of the Philippine Society of Medical Oncology said, "[Paragis grass] cannot be recommended for the prevention or treatment of cancer in humans based on the lack of conclusive scientific evidence to support these claims."
Trinidad explained that while there have been claims the plant has properties that might be helpful in preventing and treating cancer, laboratory studies have yet to provide clinical proof it works on humans. 
The two-year-old post about paragis, published by FB page Alingatong Herbal Roots – For Kidney Problem, UTI, Arthritis etc. (created on May 18, 2019), garnered over 159,000 reactions, 49,000 comments and 612,000 shares.
It regained traction this month as several FB users copied and re-uploaded its text and added a link leading to e-commerce sites.
Have you seen any dubious claims, photos, memes, or online posts that you want us to verify? Fill out this reader request form or send it to 'VERA, the truth bot' on Viber.
(Editor's Note: VERA Files has partnered with Facebook to fight the spread of disinformation. Find out more about this partnership and our methodology.)