Singer Bamboo Mañalac is the newest target of hoax producers, who have reported he was involved in a fatal road crash.
When viewed on Facebook, the fabricated story shows its publisher is website netw0rk-channel.ucva.club. Clicking on the story, however, redirects the viewer to a different landing page with the URL netw0rk-channel.wereblogs.com.
The site makes it appear that ABS-CBN reported the hoax, embedding a video report with thumbnail showing the network's logo and a severely damaged car. It bore the headline, "BREAKlNG NEWS: PAALAM (Goodbye) 'BAMBOO MANALAC', SaIamat sa lnspirasyong Binigay Mo (Thank you for the inspiration you've given)…1976-2020 (MASELANG PANOORIN) (Sensitive to watch)." The story is undated and dubiously bears a timestamp claiming the fake report was published "1hr ago," which goes unchanged despite the passage of time.
Bamboo is "alive and kicking."
The artist said so himself in a March 11 update on his official Facebook page, where he uploaded a photo of him after a recording session. His most recent post on social media, published March 24, shows him greeting a friend happy birthday via a video.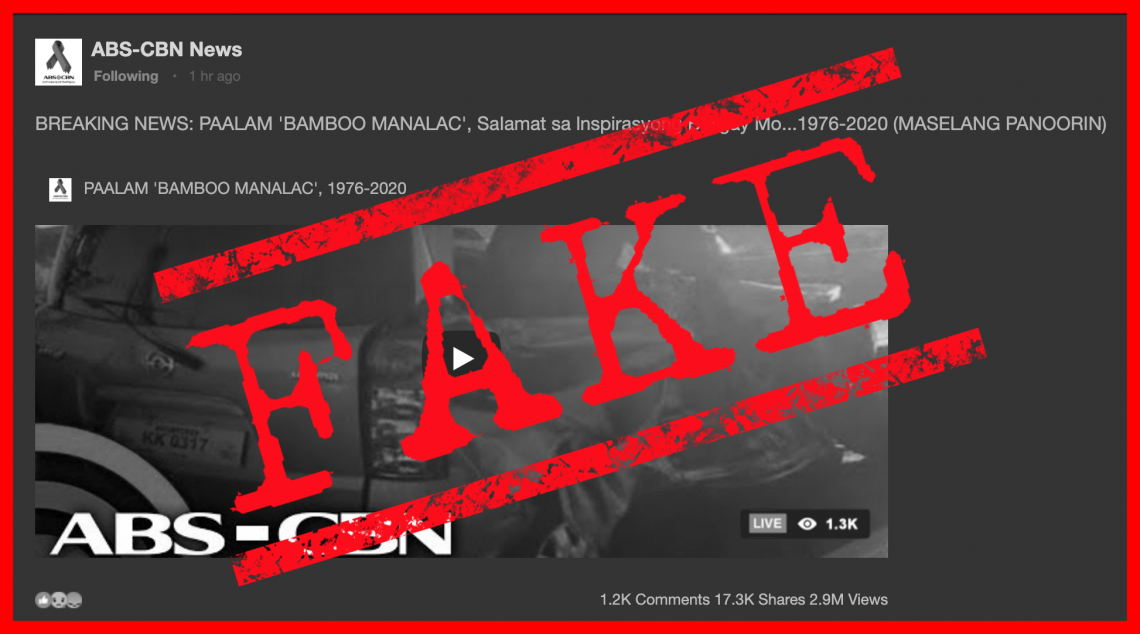 The clip accompanying the fake report was also not about Bamboo. Instead, it features a story published in December 2018 by ABS-CBN on its YouTube channel regarding a car crash in the North Luzon Expressway that killed a 64-year-old woman.
Bamboo's death hoax surfaced less than a month after the second season of singing contest The Voice Teens, where he serves as judge or "coach", went on air.
Curiously, the link to the hoax appears to be recycled, as social media monitoring tool CrowdTangle was able to detect that the same URL has surfaced on social media as early as February.
Netw0rk-channel.wereblogs.com, created on Nov. 14, 2019, has previously been flagged by VERA Files Fact Check for publishing death hoaxes on Kobe Bryant's daughter Natalia and wife Vanessa following the basketball legend's death in a helicopter crash last January.
(Editor's Note: VERA Files has partnered with Facebook to fight the spread of disinformation. Find out more about this partnership and our methodology.)