Two readers asked VERA Files Fact Check to verify a screengrab of a Facebook (FB) post claiming that a visit of Vice President Leni Robredo to Itogon, Benguet was just for a photo opportunity as she went with a camera crew without bringing relief goods for evacuees. This is false.
Published from Nov. 15 to 23 by at least nine FB accounts and the pages TULFO Brothers Solid Supporters, Rebuke, and The Keyboard Warrior, the circulating post features a two-year-old photo shot in the northern mining town of Itogon, parts of which were buried by a landslide triggered by Typhoon Ompong (international name: Mangkhut).
The original image was uploaded on Sept. 28, 2018 by the FB page of the Cordillera office of state public information provider Philippine Information Agency (PIA).
In another photo set, still showing photos of Robredo visiting "ground zero" of the landslide, PIA Cordillera's caption contradicted the screen-grabbed FB post's claim and said the vice president "turned over cash assistance and relief goods to the typhoon affected families."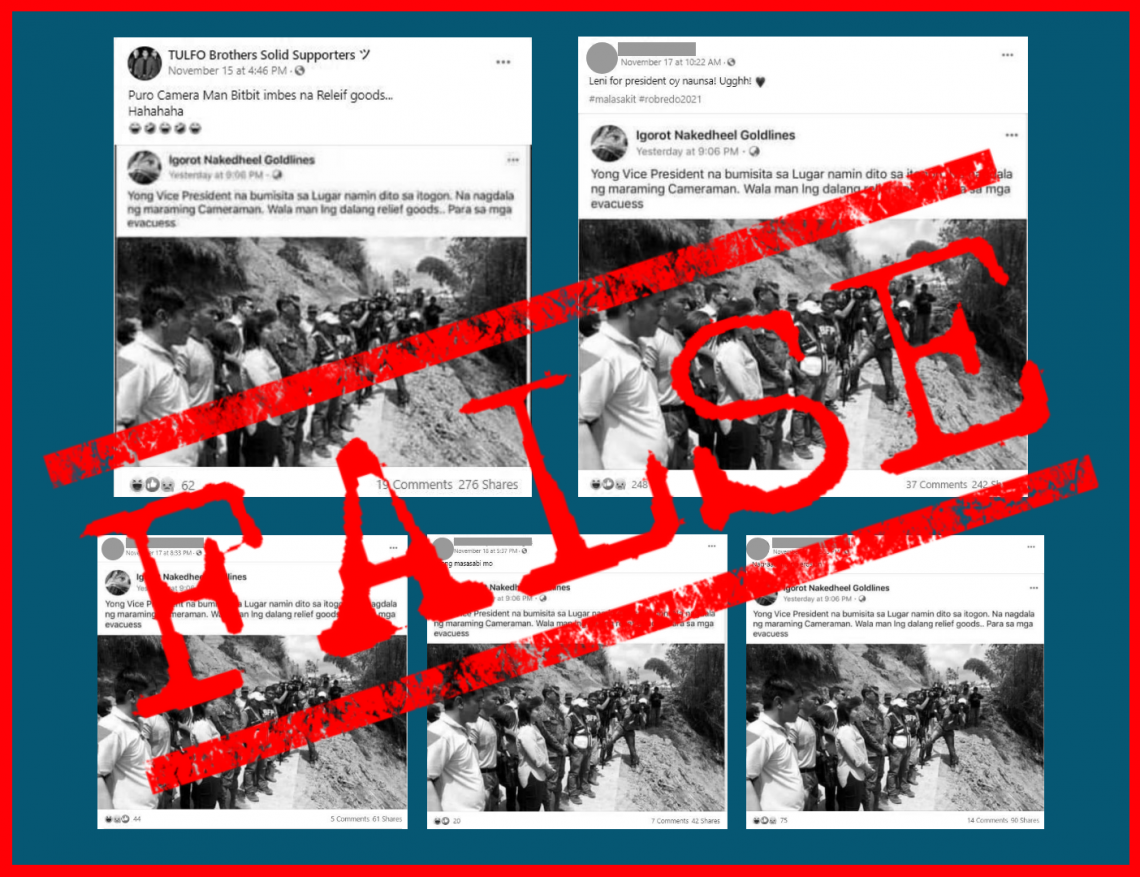 On Nov. 23, Robredo, through her personal FB account, called the circulating post "fake news" and listed the aid her office provided. She also denied that she brought members of the media to cover her activity.
The false screengrabs show a post originally published by FB page Igorot Nakedheel Goldlines, which has since been taken down. Its caption for the photo of Robredo read: "Yong Vice President na bumisita sa Lugar namin dito sa itogon Na nagdala ng maraming Cameraman, Wala man Ing dalang relief goods.. Para sa mga evacuess [sic] (The Vice President just visited our area here in Itogon and brought with her lots of cameramen. [She] didn't even bring relief goods for evacuees)."
The earliest copy of the screengrab was traced to a post from Sept. 30, 2018, on site Mindanation (mindanation.com), which describes itself as "an online community of Duterte supporters."
The erroneous post regained popularity online after Robredo visited flood-hit Cagayan to deliver supplies to families affected by Typhoon Ulysses on Nov. 15. Collectively, the posts have been shared over 1,600 times.
TULFO Brothers Solid Supporters ツ was created on April 6, 2018, Rebuke on July 23, 2019, and The Keyboard Warrior on May 25, 2017.
(Editor's Note: VERA Files has partnered with Facebook to fight the spread of disinformation. Find out more about this partnership and our methodology.)