A quote that downplayed corruption and stealing from the government attributed to Palace Spokesperson Harry Roque is being shared by several users online.
The fabricated quote read: "Nakakasawang issue ng corruption. Panahon pa ni Hesus, may corruption na. So what kung, kung mas malala pa ngayon. Manalo muna kayo ng eleksiyon at kayo naman ang magnakaw kung gusto niyo! (Corruption is an annoying issue. Since the time of Jesus, corruption already existed. So what if it's worse today? Win an election first so you can steal if you want!)."
A netizen who shared the concocted quote card concluded that Roque was boasting about his and his colleagues' corruption, while another who "read between the lines" said that Roque told the opposition to wait for their turn to steal if they ever get elected.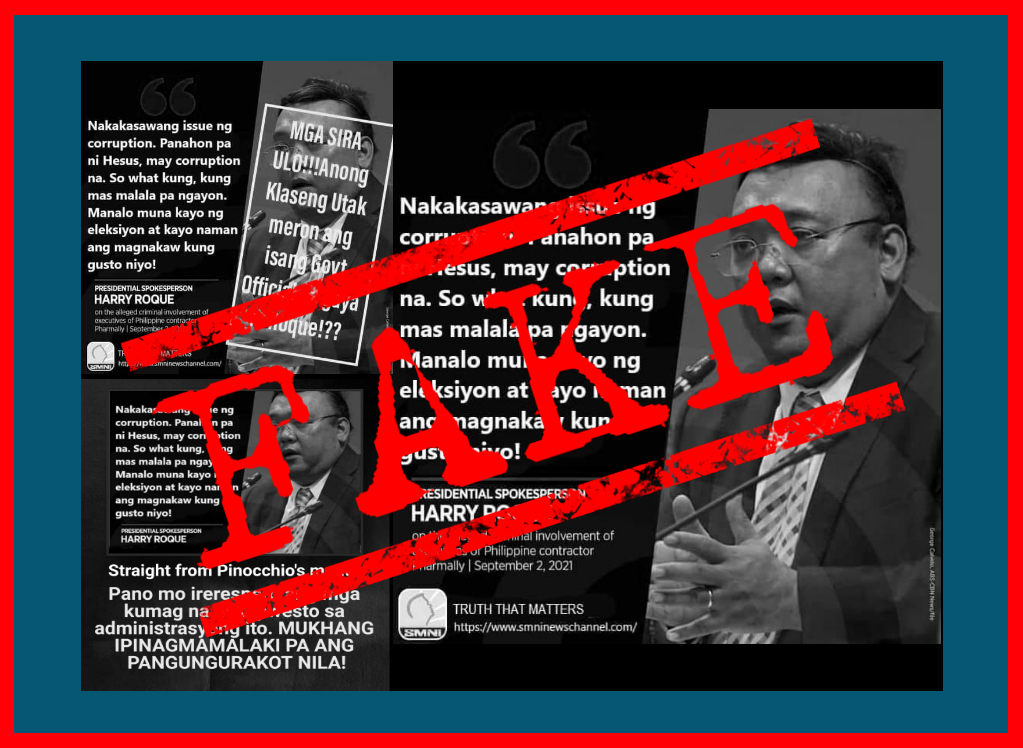 The card's creator also tagged news organization SMNI Network as source but the news outlet, on Sept. 4, released a statement "strongly disowning" the fake quote.
Roque shared SMNI Network's statement the same day as a "fake news alert." He also called out a lawyer on Sept. 6 who reposted a copy of the graphic with the fabricated quote.
The fake card appeared a day after Roque, during a Sept. 2 press briefing, was asked to comment on Sen. Risa Hontiveros' question on why the government transacted with two executives of Pharmally Pharmaceutical Corp. who were wanted in Taiwan. He then denied there was overpricing in the importation of Personal Protective Equipment (PPE).
A closer look at the font used in the graphic shows it is a manipulated version of a Sept. 2 image posted by ABS-CBN News, which quoted Roque's statement on the "separate personality" of Pharmally and its executives.
ABS-CBN's original text was covered in black paint and replaced with the made-up quote; with the news organization's details covered with SMNI's logo, slogan, and website link.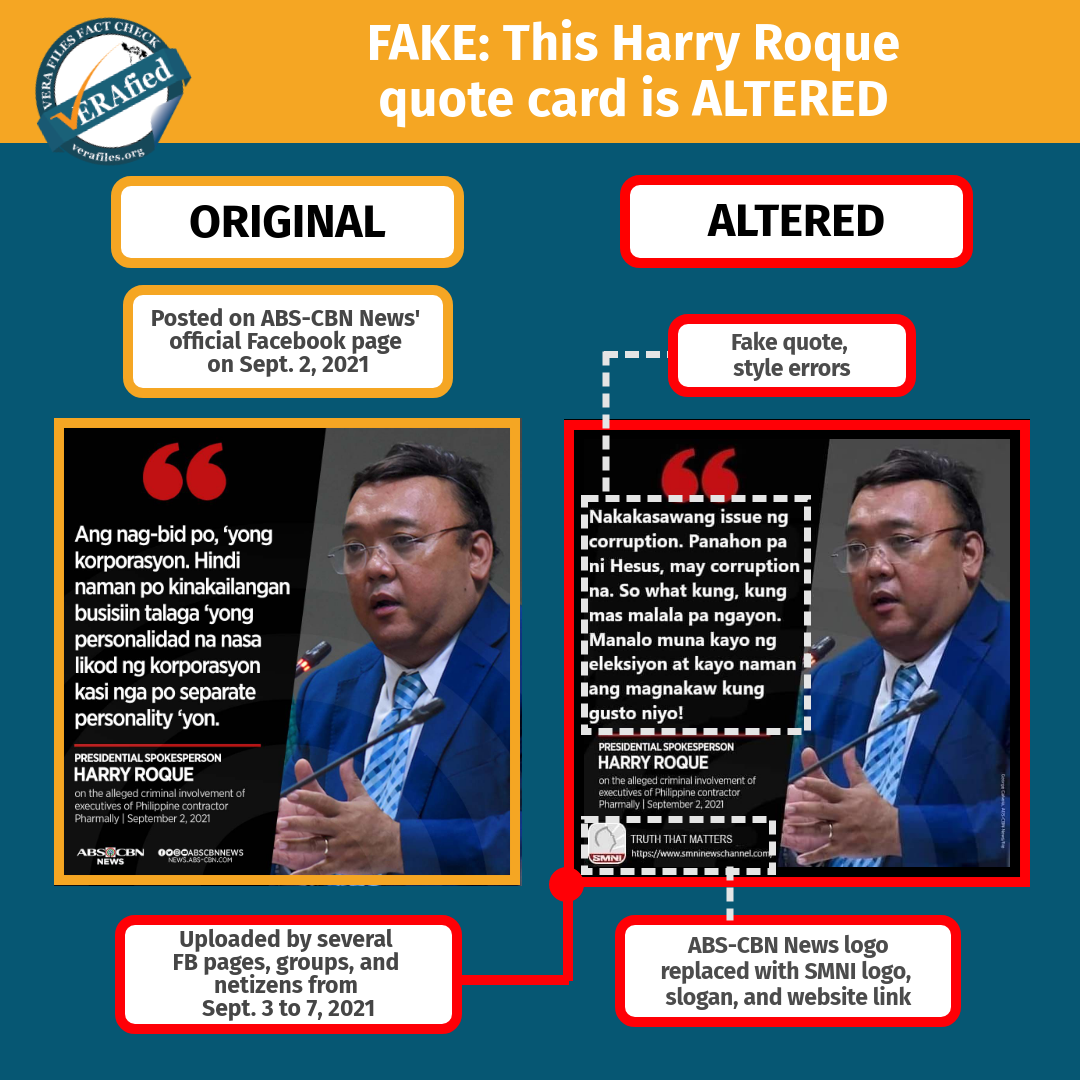 The earliest traceable copy of the fabricated quote card was posted Sept. 3 on Twitter, with 56 retweets, 21 quote tweets, and 177 likes. At least 75 FB groups, 14 FB pages, and 85 netizens reuploaded the questionable graphic.
Among those that generated the most interactions to the fake graphic were two netizens, FB group LABAN Senator Antonio Trillanes- Kakampi mo kami, as well as FB pages No to Marcos forever in politics and DDS Dark Secrets. The accounts were created in March 2017, June 2014, and May 2020, respectively.
(Editor's Note: VERA Files has partnered with Facebook to fight the spread of disinformation. Find out more about this partnership and our methodology.)