A YouTube channel presented as "breaking news" a false claim that presidential daughter and Davao City Mayor Sara Duterte-Carpio wants former senator Antonio Trillanes IV committed to a mental facility.
Uploaded by YouTube channel DDS NEWSINFO, the Jan. 11 video had a spurious banner that read, "Mayor Sara ipakulong si Trillanes sa mental hospital (Mayor Sara will have Trillanes held in mental hospital)." Another message was carried by its title: "BREAKING NEWS TODAY JANUARY 11, 2021 PRES DUTERTE MAYOR SARA PAPAKULONG SI TRILLANES (will have Trillanes imprisoned)."
Duterte-Carpio has said no such thing.
The YouTube channel used as its content a February 2018 two-minute and forty-second media interview with the local chief executive where she described Trillanes as "confused" and "going crazy."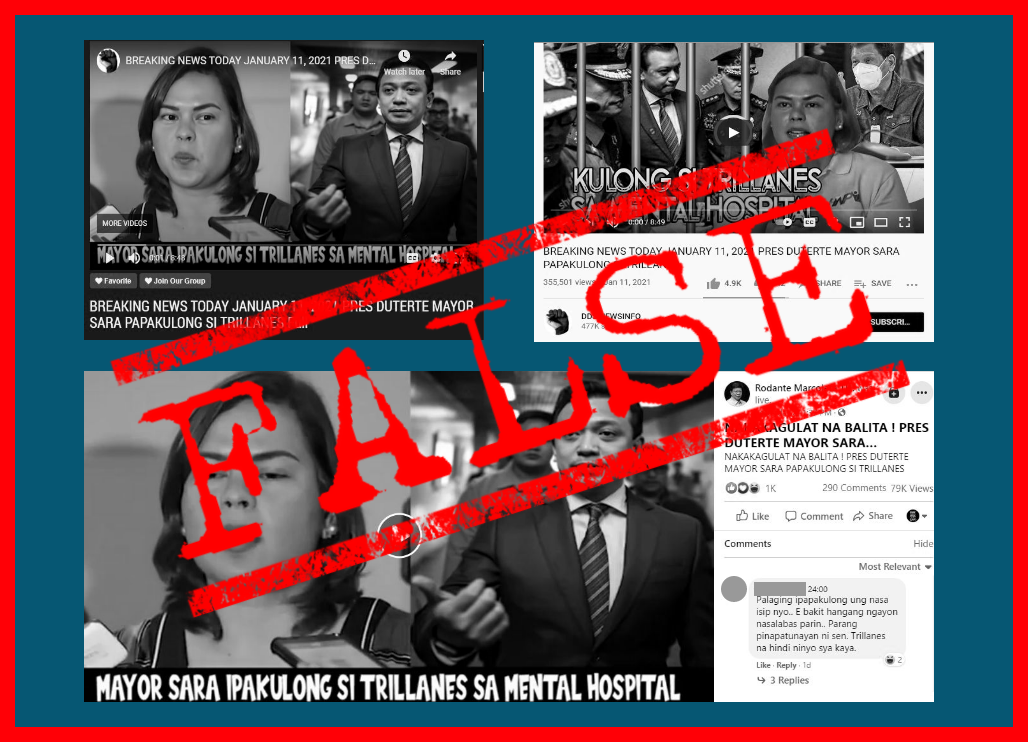 "I think I'm starting to believe the rumors about his getting hooked on something because there is no other explanation for his obsession with President Duterte," the presidential daughter said in the nearly three-year-old interview.
But nowhere in the interview did she say she will have Trillanes jailed or committed to a mental health facility. She has made no recent statement on the subject.
The 2018 interview was given by Duterte-Carpio hours after the former lawmaker sought a Senate probe into bank accounts owned by the Dutertes over "undisclosed transactions" worth at least P100 million. (See: VERA FILES AT 10: Duterte, Sara fail to declare P100M investments, documents show)
The rest of DDS NEWSINFO's spurious nine-minute video featured parts of a 67-minute address of President Rodrigo Duterte in April last year where he rebuked Trillanes. This was after the ex-senator tweeted a response to the president who had asked what his critics have contributed to address the COVID-19 pandemic.
DDS NEWSINFO's thumbnail also fed into its lie, using a Sept. 25, 2018 European Pressphoto Agency photo of Trillanes edited to make it look like he was behind bars. It was turned into a collage with a screenshot of Duterte-Carpio during a February 2018 press conference, and a May 2020 photo of Duterte.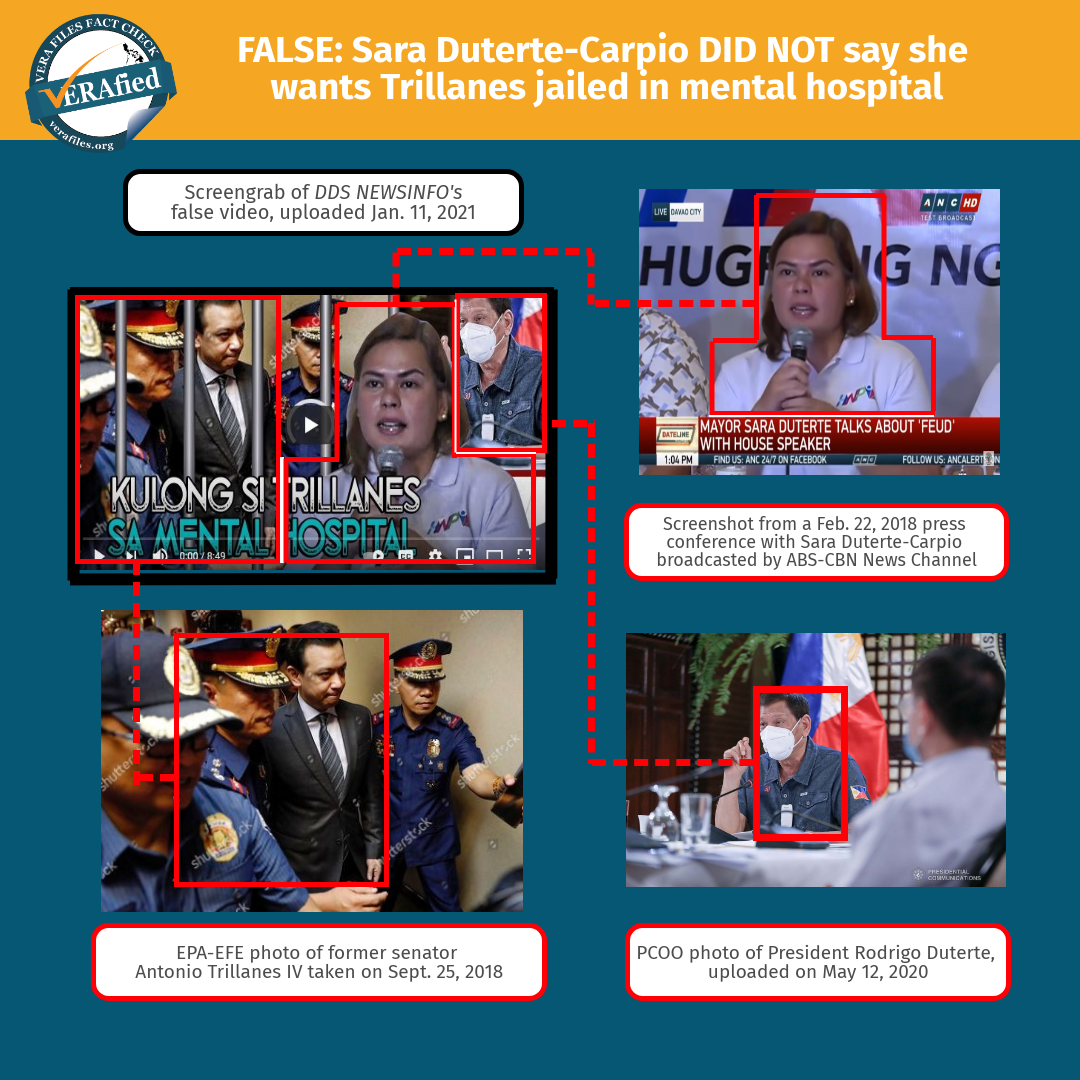 DDS NEWSINFO's false post has been viewed over 432,000 times on YouTube. It was also embedded by website fuziwara.com in a post that could have reached 230,000 people, according to social media monitoring tool CrowdTangle.
A version of the video looped for eight hours was posted by Facebook (FB) page Rodante Marcoleta TH. on Jan. 12 which CrowdTangle recorded as having gotten over 2,400 interactions and potentially reaching 333,000 people. Its top traffic generators were FB groups SARA DUTERTE for President Movement and FB pages Rodante Marcoleta live and Duterte News Info Live.
DDS NEWSINFO was created in December 2012, Rodante Marcoleta TH. in October 2020, and fuziwara.com in November 2019.
(Editor's Note: VERA Files has partnered with Facebook to fight the spread of disinformation. Find out more about this partnership and our methodology.)