Multiple Facebook (FB) posts used a clickbait to direct netizens to websites which carried digitally-altered photos claiming to show English TV personality Simon Cowell in a hospital bed or in his funeral. This is a hoax.
The clickbait post read: "We announce about 'America's Got Talent' Simon Cowell, he has been confirmed as…See more." 
Netizens who clicked the "See more" text were redirected to multiple websites (freshnews59.com, newstoday75.com and eight others), showing altered photos to falsely imply Cowell's death or hospitalization. 
This is the latest death hoax on Cowell, who has been the subject of fake death reports for months. He remains active on his official FB, Instagram, and Twitter pages and continues to be
a judge on ITV's Britain's Got Talent. According to the Daily Mail, he is cutting back on other TV commitments "to be a stay-at-home dad."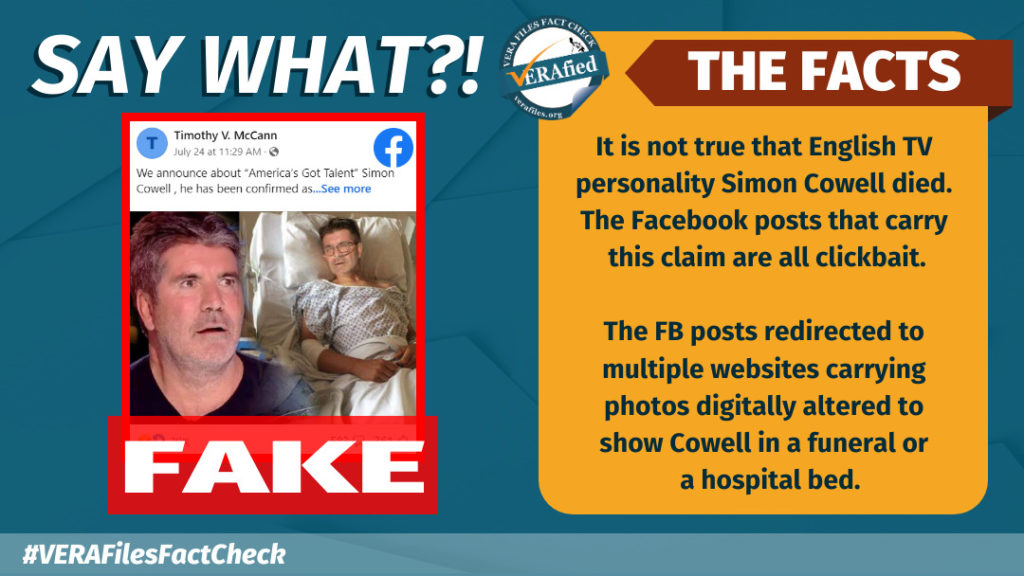 This death hoax post digitally added Cowell's face to the following photos: 
Another collage claiming to show Cowell's funeral is actually a composite of three different funeral photos: 
Posted from July 24 to 30, the ten erroneous FB posts garnered a total of over 36,906 interactions. Several Filipinos immediately called out the death hoax, while others who thought his passing was true said "rest in peace."
Have you seen any dubious claims, photos, memes, or online posts that you want us to verify? Fill out this reader request form or send it to VERA, the truth bot on Viber.
(Editor's Note: VERA Files has partnered with Facebook to fight the spread of disinformation. Find out more about this partnership and our methodology.)