A TikTok video used clips from an old interview to make it look like retired political science professor Clarita Carlos mocked Vice President Leni Robredo after the latter allegedly admitted getting millions in campaign funds.
This is misleading. The clips used were taken out of context.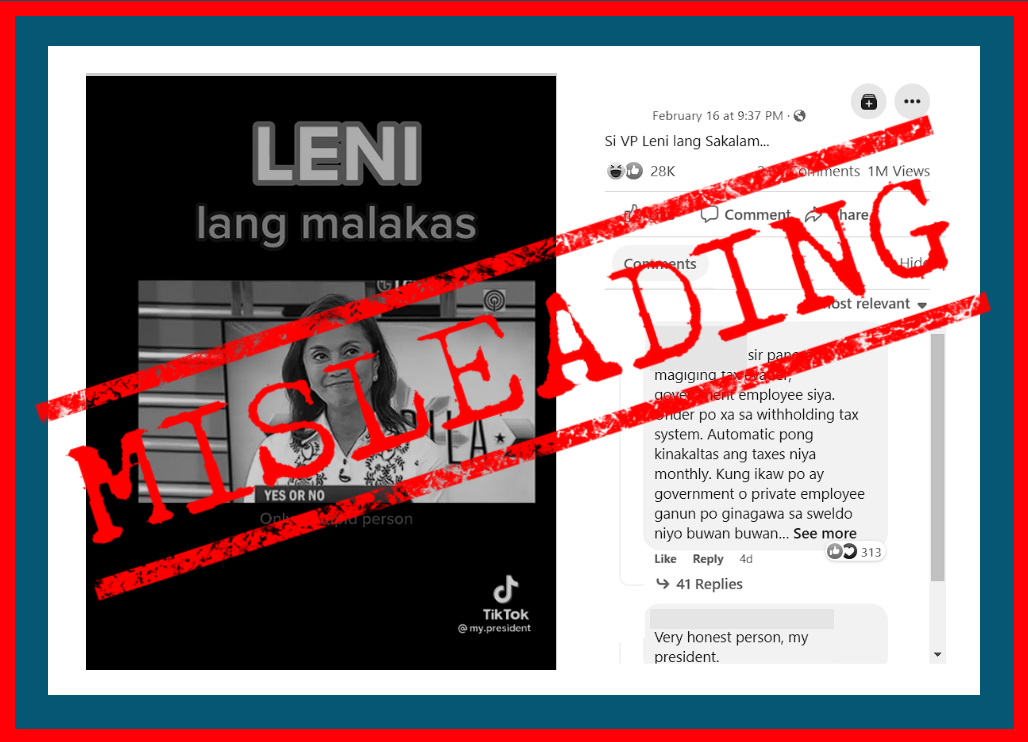 The circulating TikTok video started with this excerpt from Carlos during the Feb. 15 Sonshine Media Network Inc. (SMNI) presidential debate:
"Only a stupid person will report na nakakuha ako ng milyon diyan sa bayong (that I got a million pesos in a large bag)."
Carlos, a panelist at the SMNI event, said this in the context of some campaign donors supposedly placing their contributions in large bags (bayong) to avoid leaving a money trail.
She made the "stupid person" remark after fellow panelist Rolex Suplico said candidates are required to report their campaign expenditures and donations starting Feb. 8, the beginning of the official campaign season.
The video then showed a clip of Robredo during a May 2, 2016 episode of ABS-CBN's now-defunct late-night show Bandila where she said:
"Maraming mga nagdo-donate na pinapasok ko sa aking personal account. So kailangan ko iyon isiwalat (There were many donations which I put in my personal account. So I need to declare that)."
The clip also showed the vice president saying she has "around P8 million" in her bank account.
Contrary to the insinuation of the TikTok video, Carlos did not allude to the vice president in her remark.
In the 2016 Bandila interview, Robredo, then a candidate, was asked by host Karen Davila how much "cash on hand" she declared in her statement of assets, liabilities and net worth (SALN). Here was Robredo's full response:
"Hindi ko sigurado kung ano 'yung eksakto. Siguro mga P8 million, if I'm not mistaken. Pero medyo bloated kasi 'yon ngayon kasi nagkandidato ako nung… Nag-file ako ng certificate of candidacy noong October. Maraming mga nagdo-donate na pinapasok ko sa aking personal account. So kailangan ko iyon isiwalat."

(I'm not sure about the exact figure. Maybe around P8 million, if I'm not mistaken. But that's bloated right now because I became a candidate in… I filed my certificate of candidacy in October. There were many donations that I put in my personal account. So I need to declare that.)
Robredo is not the only candidate or public official who has placed campaign contributions in their bank accounts or declared millions in campaign donations.
For example, Manila Mayor Francisco "Isko Moreno" Domagoso said he kept some P50 million in leftover campaign funds from his Senate run in 2016. President Rodrigo Duterte also revealed in 2017 that the P3-million increase between his June and December 2016 SALNs came from excess campaign donations.
Commission on Elections (Comelec) Spokesperson James Jimenez was quoted in an Oct. 21, 2021 fact check article by Agence France-Presse Philippines that depositing excess campaign contributions in personal accounts is not an electoral offense.
"There are no rules regarding where funds raised ought to be deposited. If at all, this should be an issue between the candidate and their campaign contributors … This is not, therefore, subject to Comelec regulation," he said.
The misleading video, uploaded on Feb. 16 by Facebook page PVC Pipe Scarf (created on Jan. 20, 2021), got a total of 1.038 million total interactions. Its original copy, which does not exist anymore, was uploaded by now-deleted TikTok user my.president.
Have you seen any dubious claims, photos, memes, or online posts that you want us to verify? Fill out this reader request form or send it to 'VERA, the truth bot' on Viber.
(Editor's Note: VERA Files has partnered with Facebook to fight the spread of disinformation. Find out more about this partnership and our methodology.)