Two Facebook (FB) pages published videos erroneously claiming former senators Antonio Trillanes and Leila De Lima have been meted prison sentences. It also claimed Sen. Ronald "Bato" Dela Rosa revealed "evidence" against them.
On Aug. 12 and 14, two videos were posted with similar false headlines. It read:
 JUST IN: KARMA na! KU LONG ULIT TRILLANES DELIMA NAGPA NIC sa EBDENSYA NILABAS ni BATO Pbbm Vp Sara
Just In : Karma Na Ku L0ng Ulit Trillanes Delima Nagpa Nic Sa Ebdensya Nilabas Ni Bato Pbbm Vp Sara
(Translation: Karma! Imprisoned again, Trillanes, De Lima panicked over evidence released by Bato Pbbm VP Sara)
The words "kulong" (imprisoned) and "nagpanic" (panicked) were noticeably spelled with a space between syllables, ostensibly as a way to avoid detection.
No court has handed down orders recently to imprison the two former lawmakers.
Neither has Dela Rosa presented any so-called evidence against Trillanes or De Lima over any charge. In fact, the video made no mention of what supposedly led to their "imprisonment."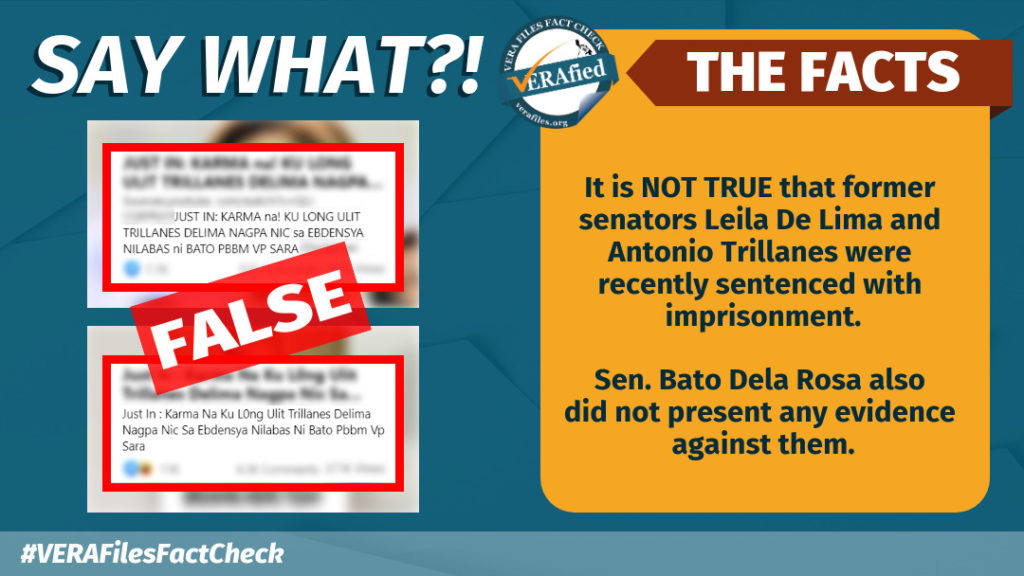 Instead, the videos featured an unrelated monologue of a vlogger over De Lima's Aug. 2 tweet calling for the Philippines to rejoin the International Criminal Court.
The same monologue clip was used in a video with another false claim about De Lima last week, debunked by VERA Files Fact Check. (See Marcos did NOT confront De Lima on ICC comment)
The false videos appeared a few days after the Office of the Ombudsman, in a nine-page resolution sent to De Lima's office on Aug. 8, dropped the bribery complaints against her and a former aide due to lack of probable cause.
FB pages Philippines News Today (created on March 11, 2020) and Bbm-Sara WATCH (April 3) published the videos, collectively garnering more than 18,500 reactions, 4,800 comments, 1,600 shares, and 609,000 views.
Have you seen any dubious claims, photos, memes, or online posts that you want us to verify? Fill out this reader request form or send it to 'VERA, the truth bot' on Viber.
(Editor's Note: VERA Files has partnered with Facebook to fight the spread of disinformation. Find out more about this partnership and our methodology.)