A two-year old article on a "big one" earthquake in Metro Manila is again circulating on social media after its publisher modified its publishing date.
On Oct. 29, hours after a 6.6 magnitude earthquake rocked Mindanao for the second time in two weeks, website Philippine News changed the publishing date of its February 2017 article entitled "Phivolcs Confirms 'Big One' Earthquake Might Now Strike Anytime."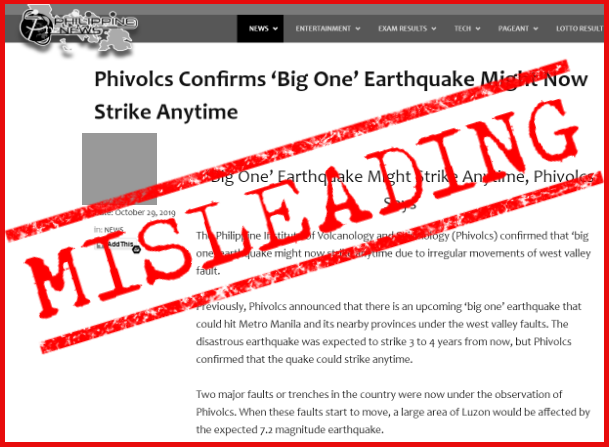 The write-up, which solely used as source the Facebook post of local radio station DWCM Aksyon Radyo Pangasinan dated Feb. 19, 2017, is about a 7.2 magnitude quake, also known as the "big one", that volcanologists say could strike Metro Manila and nearby provinces.
A review of the article's webpage source code revealed its original publishing date was Feb. 22, 2017, but this was modified last Oct. 29.
This is not the first time Philippine News changed the date of its article following an earthquake. Running the webpage through Archive.org's Changes tool, which is being developed to trace modifications on a webpage, revealed it was also modified on April 23, a day after a 6.1 magnitude earthquake jolted Central Luzon.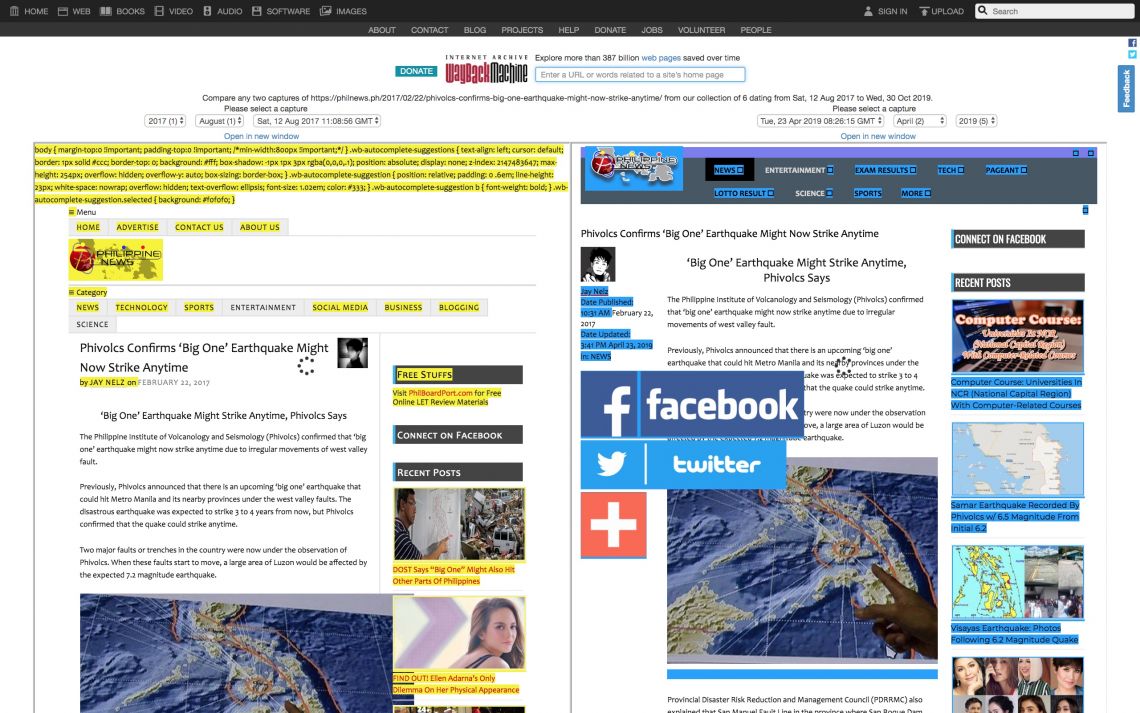 The Philippine Institute of Volcanology and Seismology (Phivolcs), the government agency designated "to mitigate disasters that may arise from volcanic eruptions, earthquakes, tsunami and other related geotectonic phenomena" has not released any revent advisory about the occurrence of the "big one" at "anytime." The big one is a term used to illustrate a "scenario" of a "strong" and "destructive" earthquake, according to Phivolcs Director Renato Solidum.
According to Phivolcs, the 7.2-strong big one quake generated by the movement of the 100-kilometer-long West Valley Fault stretching from Laguna, south of Manila,
to Bulacan province, north of the capital, could result in massive structural damage and kill almost 31,000 people. Solidum said this fault line, which moves every 200 to 400 years, is already "ripe" for movement as the last major earthquake it generated was in 1658.
Meanwhile, Phivolcs reminded the public in an Oct. 17 advisory on Facebook that there is still no "reliable technology" that can exactly predict "large earthquakes."
It also encouraged them to be always prepared, and avoid "sharing or believing" messages from unconfirmed and unreliable sources.
The modified article of Philippine News resurfaced on the same day that a 6.6 magnitude earthquake struck Tulunan town in Cotabato and nearby provinces in Mindanao on Oct. 29. The story was first published on Feb. 13, 2017, or more than a week after Surigao Del Norte was jolted by a 6.7 magnitude quake.
Philippine News' article could have reached over 3.2 million social media users, with traffic largely coming from Facebook pages RAHA Volunteers Fire Department, Radyo Bandera News Fm Gensan and Viral Facts.
(Editor's Note: VERA Files has partnered with Facebook to fight the spread of disinformation. Find out more about this partnership and our methodology.)