A Filipina vlogger is falsely claiming that the World Health Organization (WHO) admitted in its website that COVID-19 vaccines can cause multiple sclerosis (MS). The WHO itself has debunked this allegation.
"It is in the WHO website na may pag-aaral na… ang tuklaw nagca-cause ng… ang vetsin nagca-cause ng sclerosis (The WHO's website posted a study [proving that COVID-19 vaccines] cause sclerosis)," a video posted on June 8 by Facebook page Lynn Channel claimed.
Lynn Channel, which has a long history of making false claims about COVID-19 and vaccinations, referred to the vaccine as "tuklaw" (bite) and "vetsin" (MSG) in her video.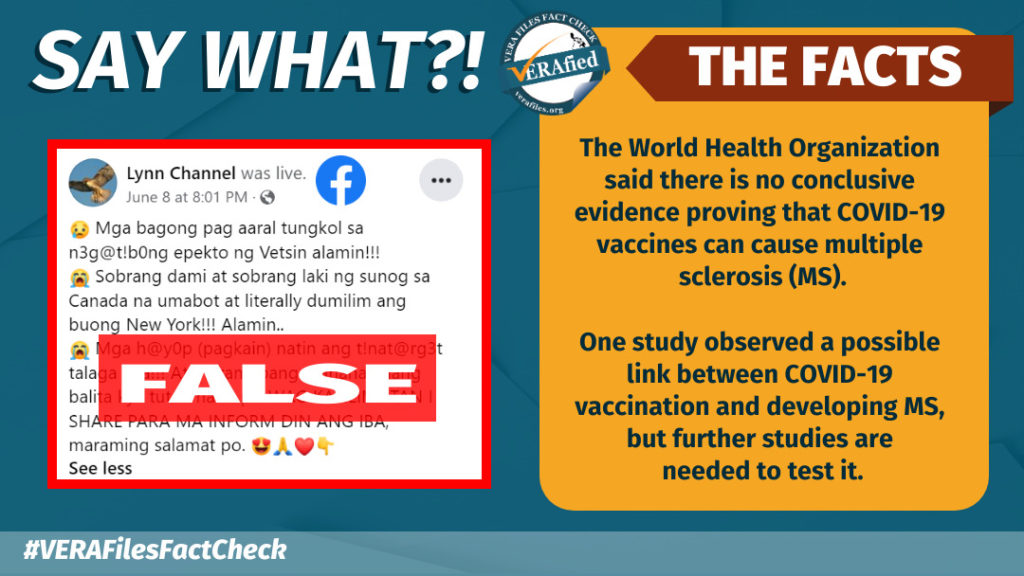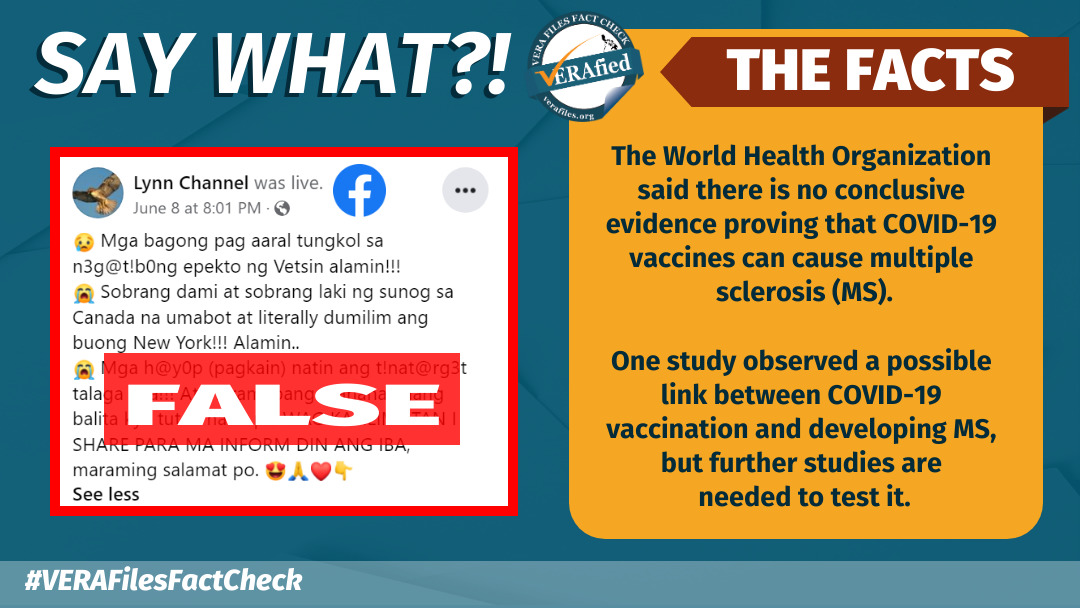 "There is no conclusive link between multiple sclerosis and COVID-19 vaccination," the WHO told VERA Files Fact Check via email on June 16.
MS is a disease of the central nervous system which can lead to vision problems, muscle weakness and spasms, and mobility issues.
Study misinterpreted
In the comment section of her video, Lynn Channel uploaded a screenshot of a study titled: "Covid-19 vaccination can induce multiple sclerosis via cross-reactive CD4+ T cells recognizing SARS-CoV-2 spike protein and myelin peptides".
The research in question is an abstract published in the Multiple Sclerosis Journal in October 2022. It was carried by the WHO COVID-19 Research Database, from which Lynn Channel took the screenshot.
The database gathers, not authors, international scientific research on COVID-19.
Regarding the study, the WHO told VERA Files Fact Check:
"It is too early to draw conclusions from this study as case-control studies do not establish causation but instead establish likely links between two events that warrant further study."

Source: Personal correspondence with the World Health Organization, June 16, 2023
Roland Martin, a neurology professor at the University of Zurich and one of the research's authors, said the study examined two cases where COVID-19 vaccination was very likely related to an onset of multiple sclerosis. 
"I sincerely hope that on the one hand science will not be negated, but on the other also not be (ab)used to argue in an unscientific way against the vaccinations," Martin told VERA Files Fact Check in an email also dated June 16. 
The Associated Press has also fact-checked a similar claim. 
Lynn Channel's erroneous video got 1,042 reactions, 2,300 comments, and 11,000 interactions. It appeared five days after the Philippines received 390,000 bivalent COVID-19 vaccines from Lithuania.
Have you seen any dubious claims, photos, memes, or online posts that you want us to verify? Fill out this reader request form or send it to VERA, the truth bot on Viber.
(Editor's Note: VERA Files has partnered with Facebook to fight the spread of disinformation. Find out more about this partnership and our methodology.)