Editor's note: There are more than 159,000 Filipino immigrants and migrant workers in Taiwan. To address the misinformation threat the Philippine diaspora communities are facing as diaspora, Taiwan FactCheck Center partners with Vera Files, the IFCN-certified Philippine fact-checker who launched their bilingual fact-checking tipline, VERA last November, to introduce VERA to Filipino communities in Taiwan.
Last February 26, 2022, a Filipino researcher from Taiwan FactCheck Center along with two volunteer Filipino students launched a campaign at Taichung's Our Lady of Immaculate Conception church promoting VERA "The Truth Bot", a Viber-based tip-line chatbot that can fact-check news posted on Tiktok, YouTube, or Facebook if such are truthful or not, created by partner Filipino fact-checking organization Vera Files. The students set up a booth at the church's entrance, introducing the new service to the clergy of more than 300 people.
Flyers were given out to overseas Filipino clergy detailing instructions on how to utilize "Vera" on Viber and advertised as a way to check if certain information about COVID-19 is true or not. Freebies such as masks & perfumes were given to those who opted to add the fact-checking chatbot during the one-day campaign. Additionally, a raffle with a price of $1000 NTD was held for those who answered a Google Form survey about their experience utilizing the chatbot.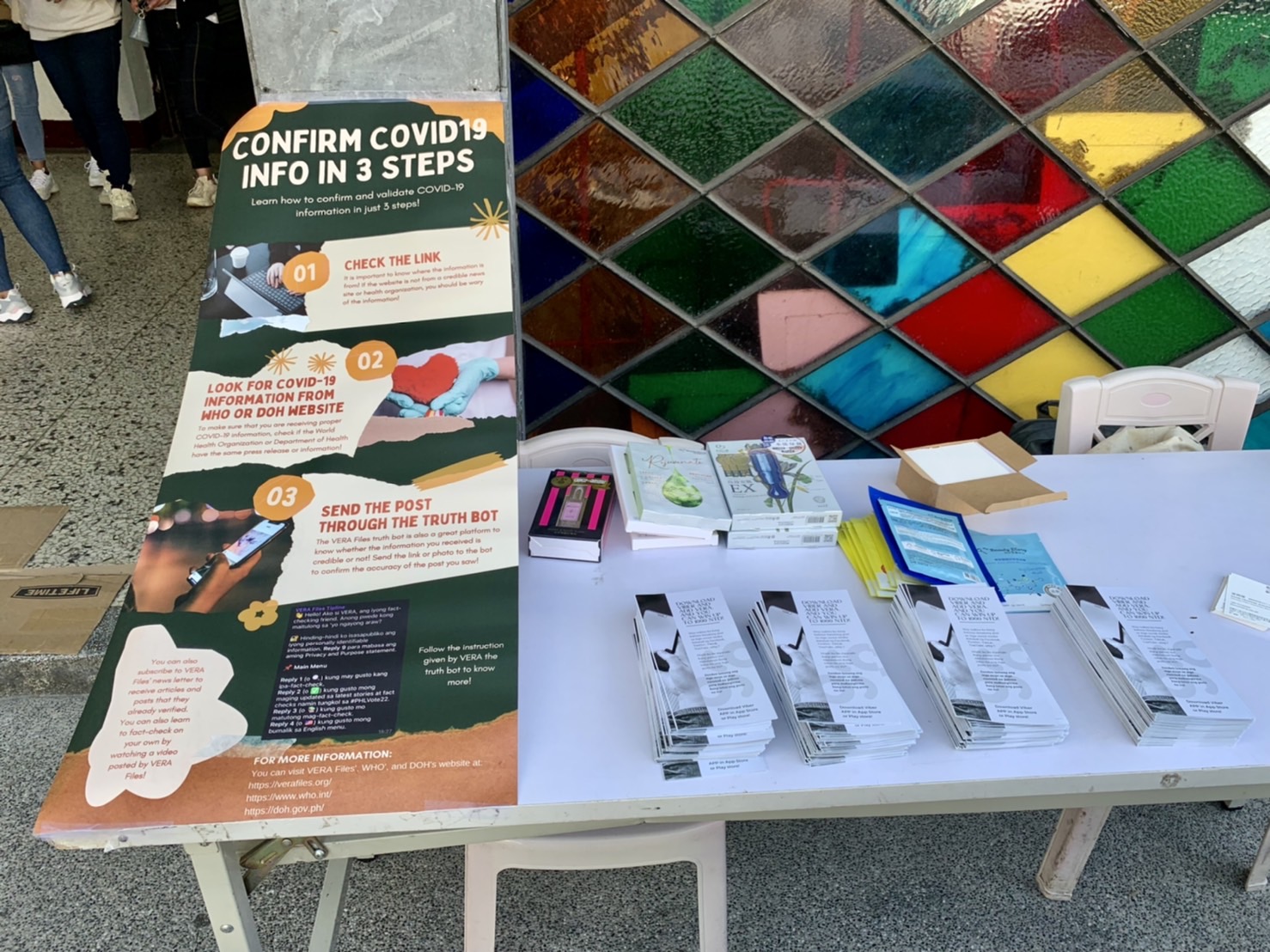 The booth from Taiwan FactCheck Center to introduce VERA Tip Line was set at the church's entrance. (Photo by Gino Lopez)
The campaign was held from 10:00 am in the morning before the start of the church's Filipino service, until the afternoon when the mass ended. Isaiah Christian Antonio, a recent graduate of National Taiwan University's Masters of Sciences in Global Health, spearheaded the project.
"So far, this is an experimental project to test out how the overseas Filipino community will receive this fact-checking chatbot. Nothing is certain as this is just the trial phase, and plans are yet to be made for expansion," Antonio remarked. "However, it was an exhilarating and very eye-opening experience to engage in this campaign," said he.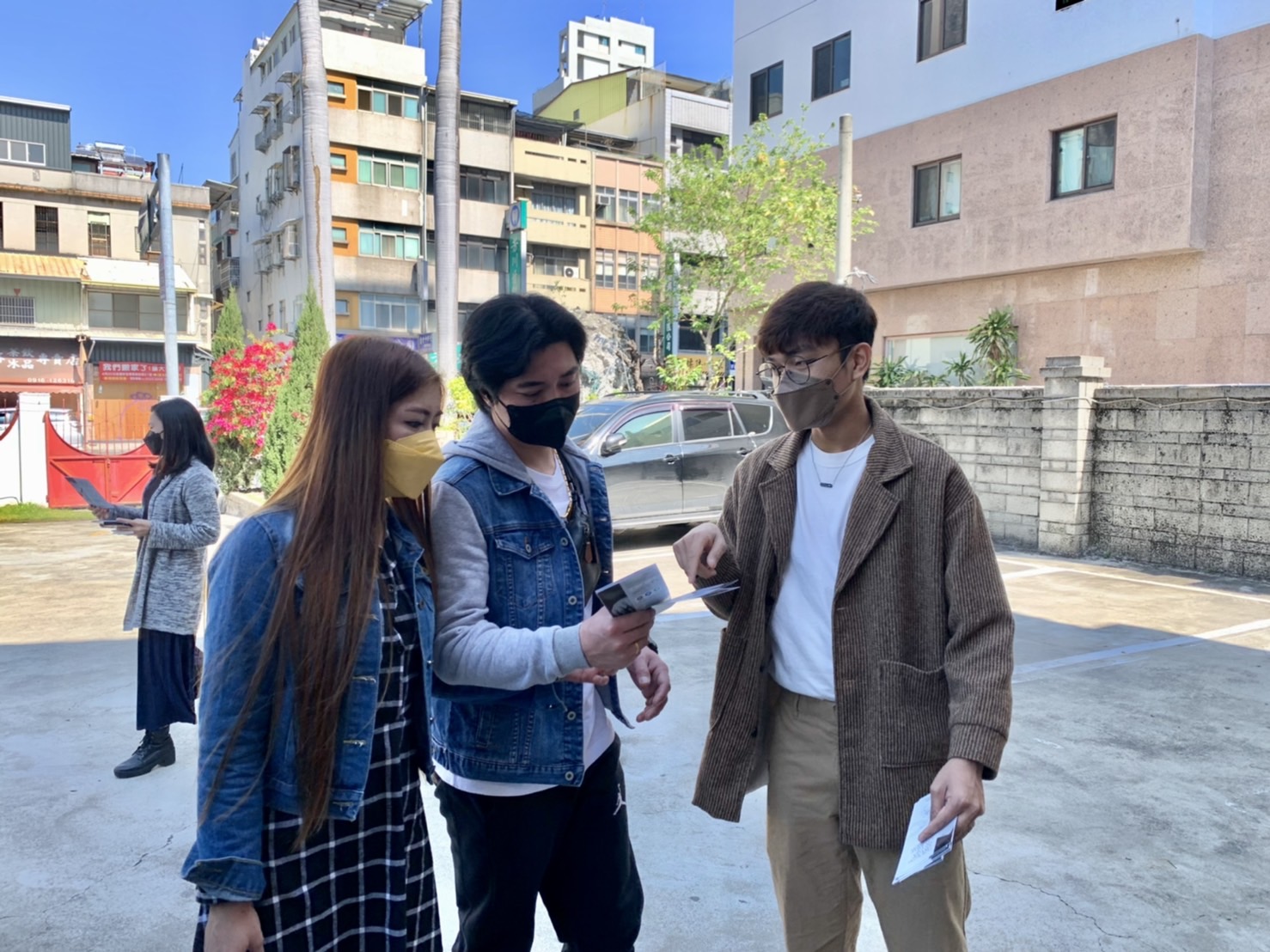 Isaiah Christian Antonio explained VERA Chatbot to Filipinos who attended the church service. (Photo by Gino Lopez)
The initiative was appreciably supported by the presiding priest, Fr. Joy F. Tajonera, who encouraged parishioners and patrons to fight disinformation and stressed the importance of fact-checking news articles and posts seen online, as well as to add the fact-checking chatbot on their Viber applications.
Fr. Tajonera, the church's priest, is also a migrant workers' advocate and related the significance of fact-checking in asserting one's rights as overseas laborers in Taiwan.
"Magagamit niyo to para patunayan kung totoo talaga na kailangan bigyan ang iyong passport sa mga amo niyo, which is hindi. Maaari din itong gamitin para patunayan kung totoo ba na magnanakaw ang isang kandidato (You may utilize this [fact-checking chatbot] to verify if it's true that you need to give your passports to your employers, which is false. You can also use this to check if it's true that a certain [electoral] candidate has cases of corruption)," Fr. Tajonera stated during his pre-mass lecture.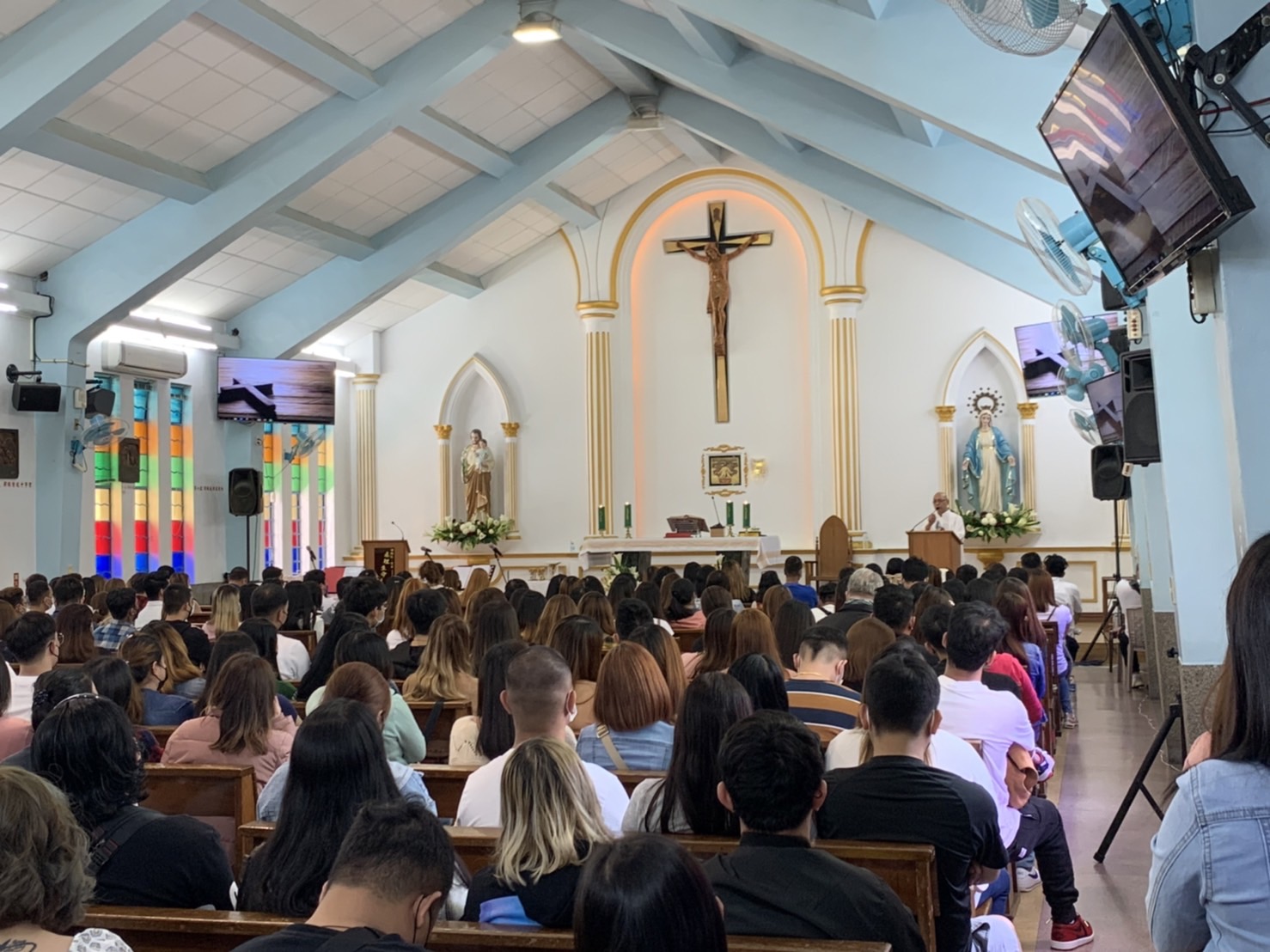 Around 300 Filipinos joined the gathering at Taichung's Our Lady of Immaculate Conception church on February 26, 2022. The church's priest, Fr. Joy F. Tajonera, also encouraged parishioners and patrons to fight against disinformation. (Photo by Gino Lopez)
The campaign was first launched in a migrant shelter in Taichung City in the first week of February, with a face-to-face orientation to guide each participant on how to utilize the fact-checking chatbot. Thus, Antonio stated that the flier and promotion style campaign in the city's church was also its first trial in a public setting with a different demographic of the Filipino migrant community.
VERA, the Truth Bot, is powered by technology from Meedan and a part of the fact-checker VERA Files' Misinformation Tip Line. It is the first-ever public misinformation tip line on Viber in the Asia Pacific region. The non-profit media entity, in its press statement, stated that this tip line was launched to combat misinformation concerning COVID-19 amidst an ongoing global pandemic, as well as increasing false & misleading information as the 2022 Philippine presidential election nears.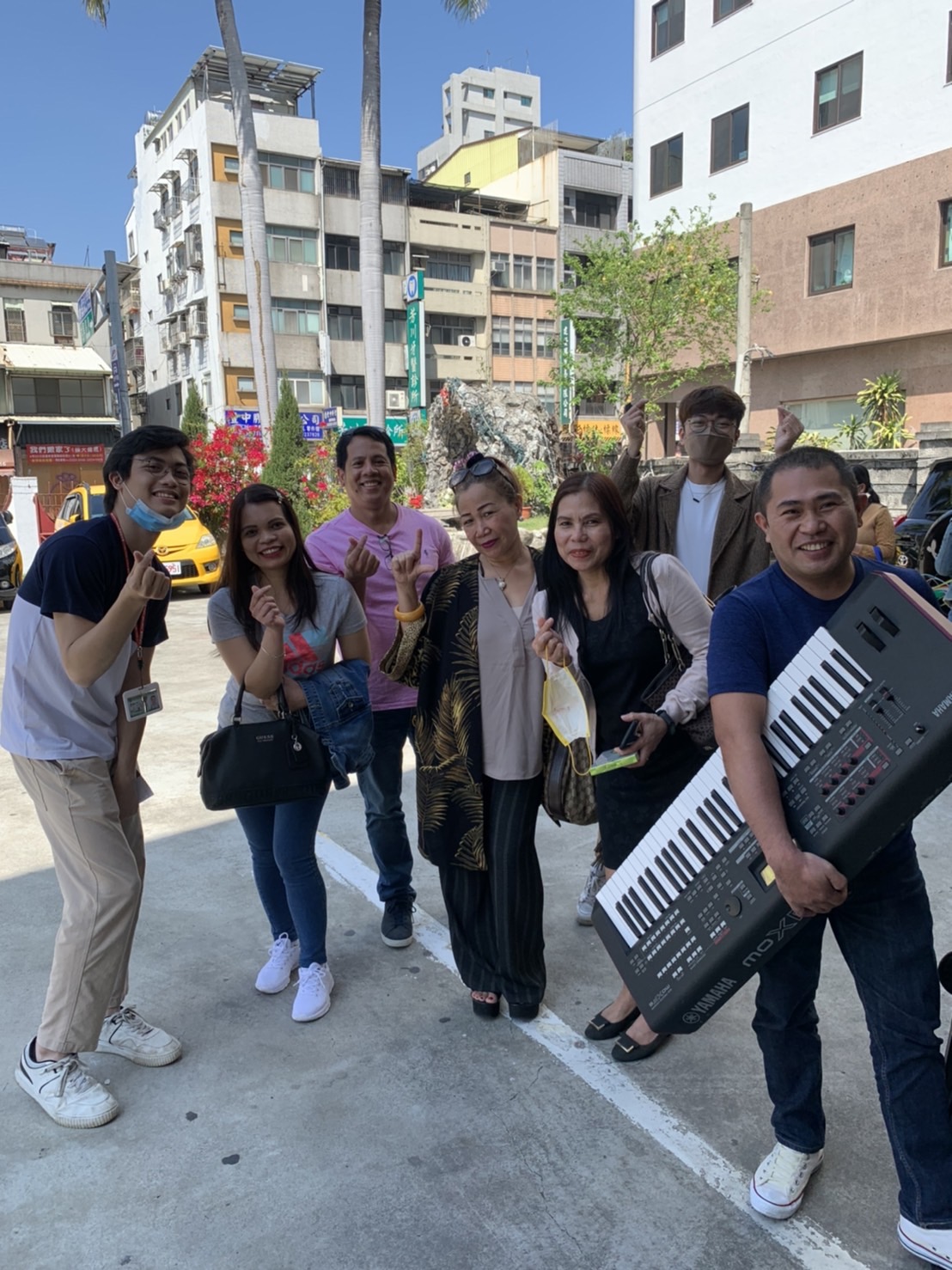 Taiwan FactCheck Center's staff, volunteers, and overseas Filipinos posed in front of the church. (Photo by Gino Lopez)
This story was originally published by Taiwan FactCheck Center. Read it here.
Gino Lopez is a Filipino student at Chengchi University in Taiwan. He is a volunteer helper to this VERA Files project.