The House of Representatives on Jan. 28 passed House Bill 8858, which seeks to lower the minimum age of criminal responsibility in the country from 15 to 12 years old. This amendment of Republic Act 9344or the Juvenile Justice Welfare Act of 2006 is an expressed wish of President Rodrigo Duterte even before he won the presidency.
Duterte said the law authored by Sen. Francis Pangilinan has produced a "generation of criminals." Government data do not support the president's claim. (See: VERA FILES FACT CHECK: Did Pangilinan law produce a generation of criminals?)
A public perception survey released by the Commission on Human Rights and the Social Weather Stations on Jan. 29 showed that 15 years old is still the preferred minimum age of criminal responsibility. It also indicated that a majority believes children who commit heinous crimes should be jailed, contrary to what the current law prescribes. CHR has opposed measures to lower the age of criminal liability.
As the Senate gears to deliberate on the counterpart bills filed in its chamber, here are things you need to know about the Juvenile Justice Law and the proposed changes.
What happens to a child in conflict with the law under the "Pangilinan law?"
Children below 15 years old who run afoul of the law are exempted from criminal, but not civil, liability. Immediately after being apprehended, they are released to their parents, guardian or other authorized government and nongovernment institutions. They will then be subjected to community-based interventions or referred to Bahay Pag-Asa, a government-run youth detention home.
Minors between 15 to 18 years old who commit offenses that are not punishable by life imprisonment may be released to their parents or guardians on bail or on recognizance — under a special condition with the court. But if the court determines the offense was committed with discernment, children in conflict with the law will have to undergo one of two things:
A diversion program, instead of a formal court proceeding
Transfer to a Bahay Pag-Asa during the court proceedings
Discernment is defined by the Supreme Court as a child's capacity to "understand the difference between right and wrong and the consequences of the wrongful act."
Diversion programs include community service, institutional care, attending trainings and seminars, and making a written or oral apology, among others. The programs are supervised by a barangay captain or a law enforcement officer, and a social welfare and development officer.
A court case will only be pursued if children in conflict with the law (CICL) do not qualify for diversion — the children or their parents or guardians do not agree to diversion, or a prosecutor finds that diversion is not the appropriate course of action.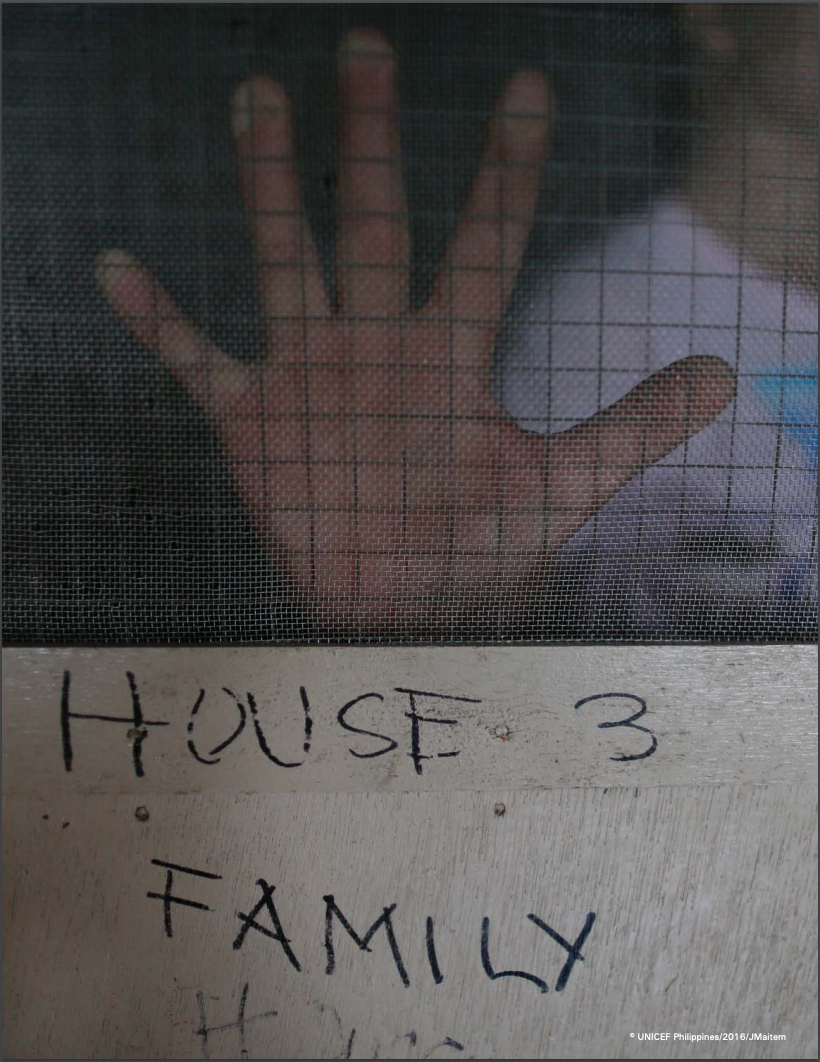 Photo courtesy of UNICEF Philippines
What are the proposed changes to the "Pangilinan law?"
House Bill 8858 and Senate Bills 1603 and 2026 all propose to lower the minimum age of criminal responsibility — or of "social responsibility," as the House puts it — from the current 15 years old to 12.
With the three bills, more — and younger — children may be committed to youth detention centers or the Bahay Pag-Asas, or undergo diversion programs.
On CICL below the criminally responsible age
The current law states that even CICL who are at least 12 years old can also be referred to Bahay Pag-asa, provided it is done "in the best interest of the child."
The House bill maintains this qualification, while the Senate versions propose that the minimum age for commitment be lowered to 9.
On CICL of criminally responsible age
HB 8858 and SB 1603, filed by Sen. Frank Drilon, maintain that CICL of criminally responsible age — between 12 to 18 — are exempt from criminal liability unless proven that they knowingly committed an offense.
Senate President Vicente Sotto III's SB 2026, on the other hand, proposes the opposite: CICL aged 12 to 18 will be held criminally liable for their offenses unless proven they acted without discernment.
On CICL who commit "serious crimes"
For children who commit "serious crimes," RA 10630 — an amendment to RA 9433 — states that those aged between 12 to 15 be mandatorily committed to a Bahay Pag-Asa for not less than a year.
Serious crimes involve "parricide, murder, infanticide, kidnapping, and serious illegal detention where the victim is killed or raped, robbery with homicide or rape, destructive arson, rape, or carnapping where the driver or occupant is killed or raped under RA 9165 punishable by more than 12 years of imprisonment."
HB 8858 proposes the same for children below 12 years old; SB 1603 for children aged 9 to 12 years. SB 2026 wants children aged 9 to 12 years old who commit serious crimes also be placed in Bahay Pag-Asa, but does not specify the period of time.
Of the three proposals, it is the House version that only introduces a provision for a reduced sentence for CICL who are found guilty. The provision reads:
SEC. 37-A. REDUCED SENTENCE FOR CHILDREN IN CONFLICT WITH THE LAW. – All laws to the contrary notwithstanding, and subject to other provisions in this Act relative to the sentencing of children in conflict with the law, the court shall impose the penalty two degrees lower than that prescribed in the law for crimes committed by children in conflict with the law. In cases where the law prescribes a fixed period of imprisonment, the period shall be reduced by two-thirds. For crimes punishable by life imprisonment, the penalty imposed shall be imprisonment of up to twelve (12) years.

Source: Section 9, House Bill 8858
Sources:
Act No. 3815, s. 1930 (Revised Penal Code)
Republic Act 9344: Juvenile Justice and Welfare Act of 2006
Republic Act 10630: Amendment to RA 9344
January 29, 2019. Commission on Human Rights Press Conference Facebook Live
Supreme Court Revised Rule on Children in Conflict with the Law A.M. 02-1-18 SC
Office of the Court Administrator Circular No. 204-2018
(Guided by the code of principles of the International
Fact-Checking Network at Poynter, VERA Files tracks the false claims,
flip-flops, misleading statements of public officials and figures, and debunks
them with factual evidence. Find out more about this initiative and our
methodology.)