By PABLO A. TARIMAN
TRAILED by TV cameras, Vice Ganda arrives in the presscon venue in casual elegant black, hugging a bouquet with an entourage that includes Maricel Soriano who plays his mother in his fifth movie team-up with director Wenn V. Deramas.
The movie, " Girl, Boy, Bakla, Tomboy"  is  Star Cinema's  entry in the 2013 Metro Manila Film Festival.
It is a grand, if, fitting entrance for someone who made something of himself after living an unheralded life along Jose Abad Santos St. in Manuguit, Tondo where he was the youngest in a family of five.
His face changes hues as he remembers all the dark Christmases in that part of Tondo and what the family had to put up with. "We had this small, green Christmas tree in a dark living room. Everything was simple, every member of the family was there and somehow we managed to have a happy Christmas."
His rise from stand-up comedy to movie and TV stardom changed all that – even the color of Christmas.
From the dark Christmases of the late 70s and early 80s when he was still known quite simply as Jose Marie Borja Viceral,  the Yule season now – by his own admission — is indeed bright with all the signs of prosperity all over the place.
He has a house fit for a prince, he helped send all his siblings to school, he managed to give his mother a car but in the process, he admits he lost his privacy. "My boyfriend and I have to go abroad to enjoy that lost privacy. Not that there is anything to be ashamed of in our relationship. We enjoy each other while we can but we have to go elsewhere before everybody starts figuring out where my boyfriend came from and what his supposed intentions are for getting involved with me."
Deramas said it wasn't difficult handling Vice because he came from another form of theater which is stand up comedy. "I met him during one of his gigs at The Library and I can say that what he was doing can't be easily duplicated by any actor on the legitimate stage. He can dissect people in the audience and make something funny about it in seconds."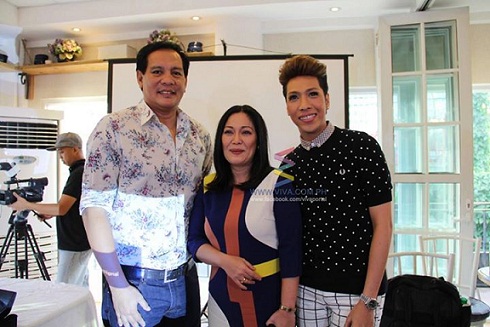 Of course that sense of humor can go overboard as when he singled out a TV host in an imaginary gang rape episode. He has realized its consequence and has properly apologized.
For now, Vice Ganda is up there in the highest echelon of tinsel town.
He is enjoying the usual perks: astronomical talent fees, his share of fame and recognition.
What he didn't enjoy in showbiz is quite revealing of victims of showbiz.
"To be robbed of your real self is something I can't accept about showbiz. Some people will ask you to do something against your will and principle but you have to do it all in the name of so-called professionalism."
Even Vice Ganda's presscons are filled with peals of laughter over his  acerbic one-liners. "The sadness behind the laughter is also true even among non-comedians," he points out when asked if comedians actually suffer behind that happy façade. "Look at those victims of Typhoon Yolanda in Samar and Leyte. Recovery is a long way to go but when a TV camera pans them, they give their real, sincere smile as though everything is all right with the world."
But come Christmas, he will celebrate it as a matter of personal choice.
"We should help our poor brothers and sisters as they go through recovery period. But we should celebrate the birth of Jesus in our own simple ways. We need not postpone it. After all, we are not celebrating a disaster. We are simply recalling the birth of our Savior."
Even his idea of happiness hews along the same line.
"I will be very happy if I am able to do things that my heart dictates, not to live up to some image expected of me by the public. That is the only way I can find true happiness."
A small but significant wish from someone who didn't even finish a bachelor's degree (political science) at the FEU of his earlier youth.