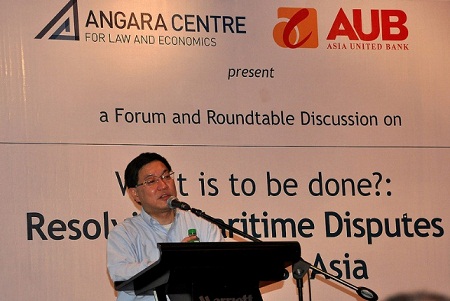 THE possibility of China pulling out of the United Nations Convention on the Law of the Sea has been mentioned in informal discussions among foreign affairs experts and observers but it was the first time that a Chinese scholar said it in public.
Shen Dingli, speaking to reporters after his speech in a forum "What is to be done?: Resolving Maritime Disputes in Southeast Asia" organized by the Angara Centre for Law and Economics at Marriott Hotel last Thursday, said it was a mistake for China to have joined the 1982 UNCLOS, "an international treaty that provides a regulatory framework for the use of the world's seas and oceans to ensure the conservation and equitable usage of resources and the marine environment and to ensure the protection and preservation of the living resources of the sea."
UNCLOS also addresses such other matters as sovereignty, rights of usage in maritime zones, and navigational rights, the UN website states.
"We should not have joined UNCLOS," Shen said.
Shen, a professor of international relations at Fudan University, qualified his statements as "personal"  but everybody knows that no one in China speaks in international without the permission of the government. That means, what he says, has the tacit approval of the government.
A highly regarded academician, Shen is the founder and director of China's first non-government-based Program on Arms Control and Regional Security at Fudan University. His research areas cover China-US security relations, nuclear arms control and disarmament, nuclear weapons policy of the United States and China, regional non-proliferation issues concerning South Asia, Northeast Asia and Middle East, test ban, missile defense, export control, as well as China's foreign and defense policies.
Shen received his PH.D in physics from Fudan University and did his post-doctorate in  arms control at Princeton University.
UNCLOS came into force on November 16, 1994 after the requisite 60 countries' ratification. As of November 7, 2012, 164 States have ratified, acceded to, or succeeded to, UNCLOS including the Philippines and China .(The United States, although it recognizes it as general international law  has not ratified it.)
Asked what China would do if the UN Arbitral Court under UNCLOS where the Philippines lodged a suit to declare China's nine-dash line map illegal, upheld the Philippine position, Shen said, "We don't care a bit."
China's 9-dash line covers some 85 per cent of the South China Sea and encroaches on the territory of other countries including the Philippines, Brunei, and Malaysia. Taiwan and Vietnam.
China has refused to participate in the UN judicial process. Although Philippine officials said the U.N does not have to the mechanism to compel China to abide by the decision. Neither does the Philippines have the naval might to implement it.
But it will be a blow to China's international image, which leaders  are  sensitive about.
"If China quits UNCLOS, it will not be bound by it," he said adding that the Asian superpower can quit UNCLOS anytime it wants to." China has a right not to be party to it. Anybody can quit the treaty if the treaty is not to its interest."
Shen said there are four ways to settle a territorial conflict like what is straining Philippine-China relations: war, UN tribunal, negotiation, mediation.
He said the Philippines opted for the UN tribunal while China wants negotiations. He suggested to try out mediation by a neutral country like India.