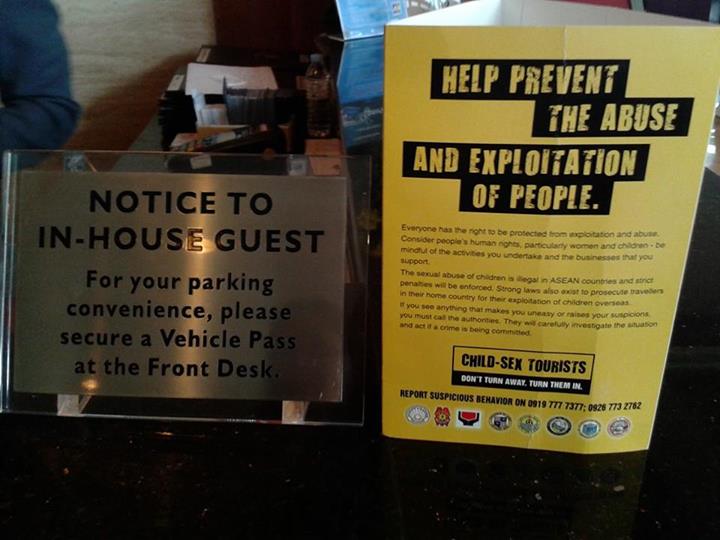 By MECHELLE FLORITA
CEBU CITY—At least one passenger is being offloaded almost every day at the Mactan Cebu International Airport, all of them possible victims of trafficking, including some who could be victims of typhoon "Yolanda" seeking jobs overseas, the antitrafficking task force here said.
From September to November this year alone, the Bureau of Immigration offloaded 800 passengers, Ligaya Abadesco of the Inter-Agency Council Against Trafficking-Mactan Cebu International Airport Task Force said in an interview.
In late November, City Assistant Prosecutor Liceria Rabillas, head of the Cebu's IACAT, told journalists that survivors of Yolanda from Samar, Leyte and Cebu are vulnerable to illegal job recruitment and trafficking.
Earlier this week, Manila Auxiliary Bishop Broderick Pabillo, convenor of the Philippines' Interfaith Movement Against Human Trafficking, also said Yolanda victims were "extremely vulnerable" to trafficking.  
Pabillo issued the statement days ahead of the Dec. 12 commemoration of the International Day Against Human Trafficking.
Abadesco said most of the passengers prevented from flying are adult women bound for Asian countries who either had incomplete or fake documents.
The BI is the last agency to check the passengers boarding international flights.
"When the BI personnel sees the incomplete documents of the passengers or any situation showing the possible manifestation of trafficking, the BI personnel will offload the passenger and will refer the case to the  task force," Abadesco said.
To travel overseas for work, she said a passenger must have overseas employment contract, proof that the passenger has attended the pre-departure orientation seminar, a certification issued by the Philippine Overseas Employment Administration and other requirements.
To avoid detection, trafficking victims increasingly use tourist visas to evade being spotted and offloaded in airports. Recruiters will also produce fake documents used by the victims in entering transit areas like Cebu, which has long been tagged as a trafficking hotspot because it is a major exit point.
"Other passengers are not coming from Cebu. Others are from Mindanao and even Luzon which have airports. It's very questionable for us. There is an airport in Manila; why are they passing through Cebu?" Abadesco said.
All the possible victims of trafficking are referred to IACAT. The task force then aids the victim with the help of its partner agencies. If the victim needs a temporary shelter or protection, for example, IACAT refers the case to the Department of Social Welfare and Development.
Abadesco said the act of trafficking for local flights is hard to determine.
"It could be known only if there are reports from parents or friends of the possible victims," she said. Traffickers, when recruiting, often masquerade as representatives of government-registered employment agencies.
To avoid trafficking, Abadesco said each person should know what is "trafficking" and to know the exact information of his or her employer and to secure a copy of the employment contract.
Airports as hotspots
Just last Nov. 19, authorities at the Mactan airport arrested a Singaporean businessman and two Filipinas for allegedly recruiting a Cebu-based model to work as a prostitute overseas.
Robin James Chua, his girlfriend Fraulline May Soria, and her aunt Lurlie were charged under Republic Act 9208 or the Anti-Trafficking in Persons Act of 2003 and Republic Act 8042 or the Migrant Workers and Overseas Filipinos Act of 1996.
The model was to travel as a tourist and then work as an entertainer in bar and earn P20,000 a week. But she was also told that she "may choose to have sex with customers."
On April 3, immigration officials intercepted two suspected human trafficking victims after finding their visas and tickets hidden in a tissue paper.
The BI in its website reported that the two passengers were traveling as tourists to Hong Kong but later admitted that they were undocumented overseas workers bound for Korea and Jordan.
"Mactan Cebu International Airport is one of the busiest airports in the country and it is also international. We know for a fact that trafficking is not only within the country but also across borders," Abadesco said.
The U.S. Department of State's Trafficking in Persons 2013 report said recruiters employ various methods to avoid government-run victim detection units at airports and seaports.
"Traffickers utilized budget airlines, inter-island ferries and barges, buses, small private boats, and even chartered flights to transport their victims domestically and internationally," it said.
In its findings, Filipinos are often trafficked from rural areas to urban centers like Cebu, Manila and Angeles City, and are sent to countries like Malaysia, Singapore, Hong Kong in Asia and Saudi Arabia, Qatar, Kuwait and Syria in the Middle East.
"During the year, traffickers increasingly used email and social networking sites to fraudulently recruit Filipinos for overseas work," it added.
To curb this worrying trend, IACAT in November signed a memorandum of agreement with stakeholders of Mactan Cebu International Airport (MCIA) to prevent trafficking in persons at the airport. More support will be provided to mobilize airport personnel for the campaign.
The task force was launched in MCIA in 2010, stepping up the government's campaign against trafficking to prevent Filipinos from being the victim.
The IACAT-MCIA task force is composed of different agencies such as Bureau of Immigration, Airport Police, 7th Police Aviation Security Unit, Philippine Overseas Employment Administration, Department of Social Welfare and Development, Department of Labor and Employment, National Bureau of Investigation and nongovernment organizations.
This story was produced under Vera Files' Trafficking Casewatch, a project supported by the Embassy of the United States and Embassy of Canada.