By MYLENE LISONDRA
CEBU City— Disability is not a hindrance. That has been Arleigh Sitoy's mantra for the past five years. He proved that once again after winning a fresh term as member of the provincial board of Cebu's 6th district in Monday's elections.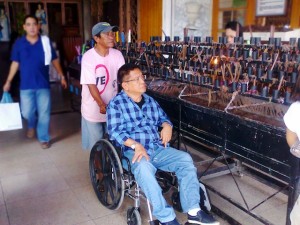 Sitoy is a person with disability (PWD). Because of a stroke he suffered five years ago, he is now dependent on a wheelchair and a pair of crutches. But that has not stopped him from pursuing his passion for public service.
The second-term provincial board member started in politics in 1995 as municipal councilor of Cordova, in the 6th district of Cebu. He became its mayor from 1998 to 2007.
In 2010, he ran and won as Provincial Board Member. But he was a different man by then. He had a different kind of zeal.