By YEN BLANCO DELGADO
ZAMBOANGA CITY—Human trafficking syndicates are preying on refugees displaced from their communities by the Moro National Liberation Front's siege on Zamboanga City last September, taking advantage of the poverty and uncertainty that have gripped evacuation centers.
Anti-trafficking groups said they have uncovered a prostitution operation within the Joaquin Enriquez Memorial Sports Complex, the city's biggest evacuation center. A pimp operating a "sex tent" was nabbed in that entrapment.
"Matagal na namin narinig na may ganito sa grandstand. Pero November 14 lang namin nagawa ang entrapment (We had been hearing of this happening at the grandstand, but it was only on Nov. 14 that we were able to do an entrapment)," said Jackie Repana, social worker of the nongovernment organization Visayan Forum.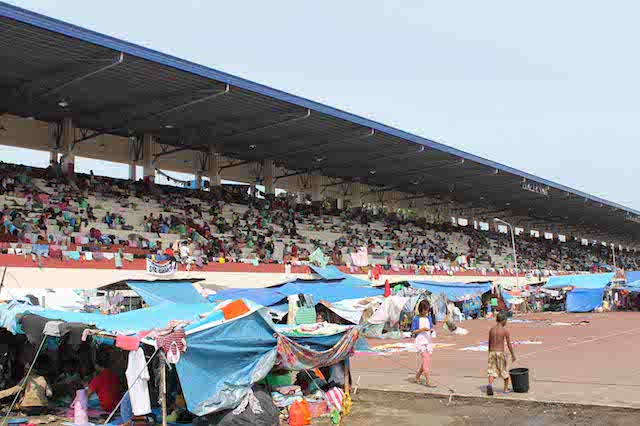 Two women caught working at the sex tent at the time of the entrapment have been moved from the evacuation center to the Department of Social Welfare and Development, along with their spouses. Repana said both the pimp and the sex workers were evacuees.
An estimated 100,000 residents from seaside barangays here were displaced from their homes by the standoff between the Armed Forces of the Philippines and the Nur Misuari faction of the Moro National Liberation Front (MNLF) that lasted practically the whole of September. The heavy flooding that submerged parts of the city in early October displaced more residents.
Although many evacuees have since been moved to temporary villages, thousands remain at the half-dozen or so evacuation centers.
Repana said the entrapment seems to have discouraged such activity in the evacuation center. "After the entrapment so far wala na kaming naririnig na ganitong nangyayari (We no longer hear of such occurrences)," she said.
Advocates working to combat the Trafficking in Persons (TIP) problem have issued the warning that evacuation centers have become trafficking magnets. But even without these magnets, Zamboanga City remains a hotspot for human trafficking in the Philippines. Zamboanga hosts an international seaport in which ships traveling to and from Sandakan and Sabah in Malaysia dock. This makes Zamboanga an enticing exit point for traffickers to smuggle their victims out of the country. Aside from the international seaport, there are dozens of other privately owned ports in the city.
In 2011, the various government and non-government agencies working against trafficking formalized their collaboration by forming the Sea-Based Anti-Trafficking Task Force (SBATTF). The task force's area of coverage includes the Zamboanga Peninsula, Basilan, Sulu, and Tawi-tawi.
The primary duty of SBATTF is to conduct intelligence, surveillance and monitoring activities of trafficking operations within the Zamboanga International Port and Zamboanga International Airport. The task force takes a unified, coordinated and synchronized interception, arrest and investigation of suspected traffickers in persons as well as rescue of trafficking victims at the two ports.
This story was produced under Vera Files' Trafficking Casewatch, a project supported by the Embassy of the United States and Embassy of Canada.