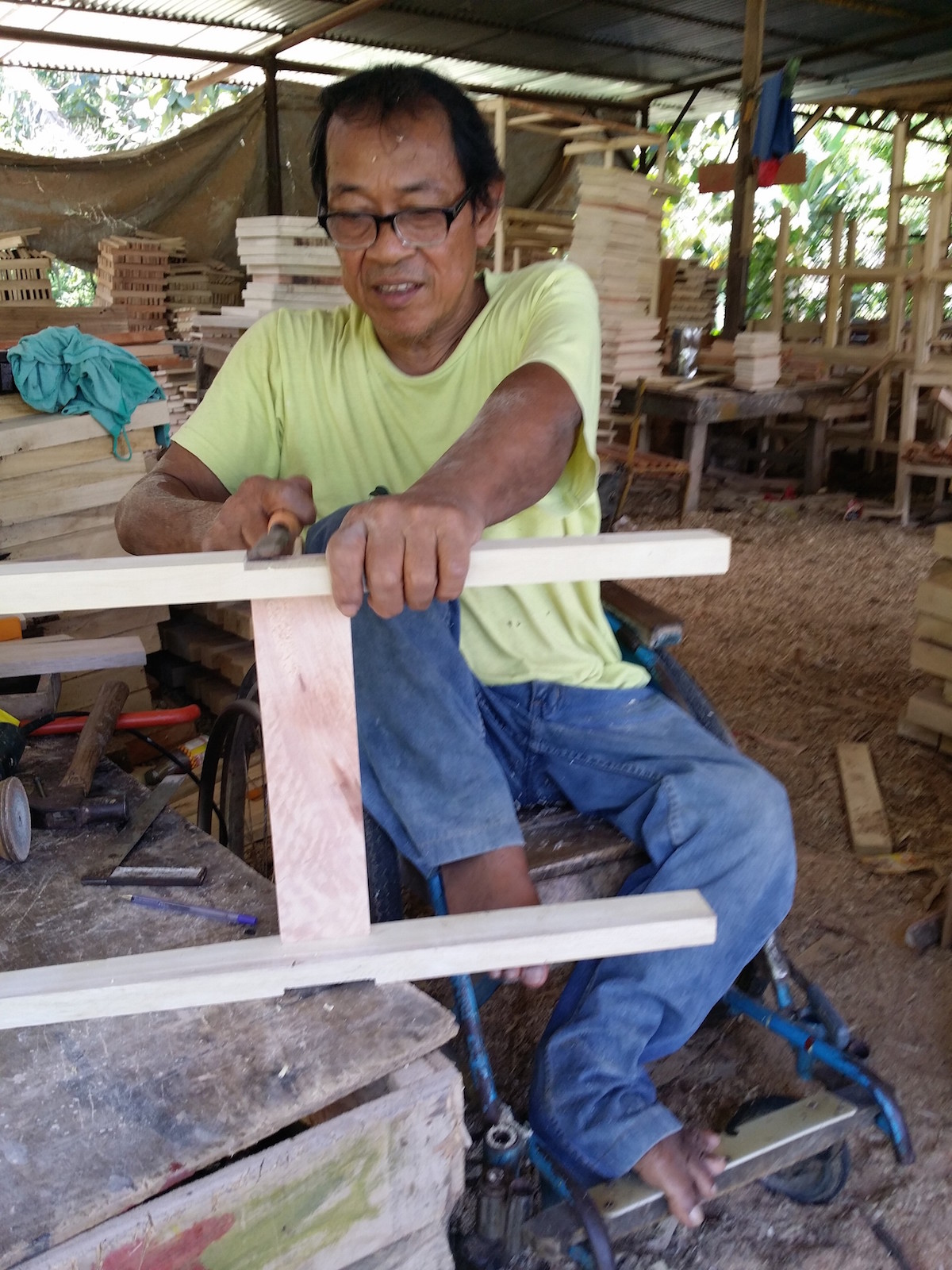 Text and photos by JOHN FRANCES C. FUENTES
DAVAO CITY — Wheelchair user Sofronio Floro, 54, has carefully assembled an armchair, one of the hundreds he and his fellow workers with disabilities have made the past couple of days.
The armchairs and desks will be shipped hundreds of miles away from the city — to the Department of Education (DepEd) Central Office in Manila, and will be distributed to public schools.
The tables and chairs will be used by students who probably will never know that they were handcrafted by people with disabilities (PWDs) living in a village in Davao.
Located 14 kilometers from downtown Davao is the Association of Differently-Abled Persons (ADAP) Village, a community of PWDs that provides livelihood opportunities for members through cooperativism.
Built around a 9,601-square-meter lot in Indangan, Buhangin, the community was set up with the support of the Lions Club and Habitat for Humanity. PWD members of ADAP also helped in the construction of the 40 housing units in the village.
Through the famed "bayanihan" spirit, the PWDs lined up and passed concrete blocks to one another going to the construction site.
"It was what we call as our sweat equity," said Alicia M. Fabiaña, manager of ADAP Multi-purpose Cooperative, whose members include the residents of ADAP Village.
Fabiaña, a person with post-polio syndrome, said 75 members of the cooperative qualified for the housing project but only 40 houses have so far been built. The rest of the members have yet to construct their houses on the 70- to 80- square-meter lot allotted per unit, she explained, adding that the residents pay P180 to P250 per month for 25 years as their monthly amortization.
ADAP members who have no houses of their own, especially those who are married, were given priority in the housing project. They have sought the help of the National Housing Authority for the purchase of the land.
The ADAP Village is probably what the framers of the Magna Carta for Persons with Disabilities had in mind when they penned its Section 39, which says, "The National Government shall take into consideration in its shelter program the special housing requirement of disabled persons."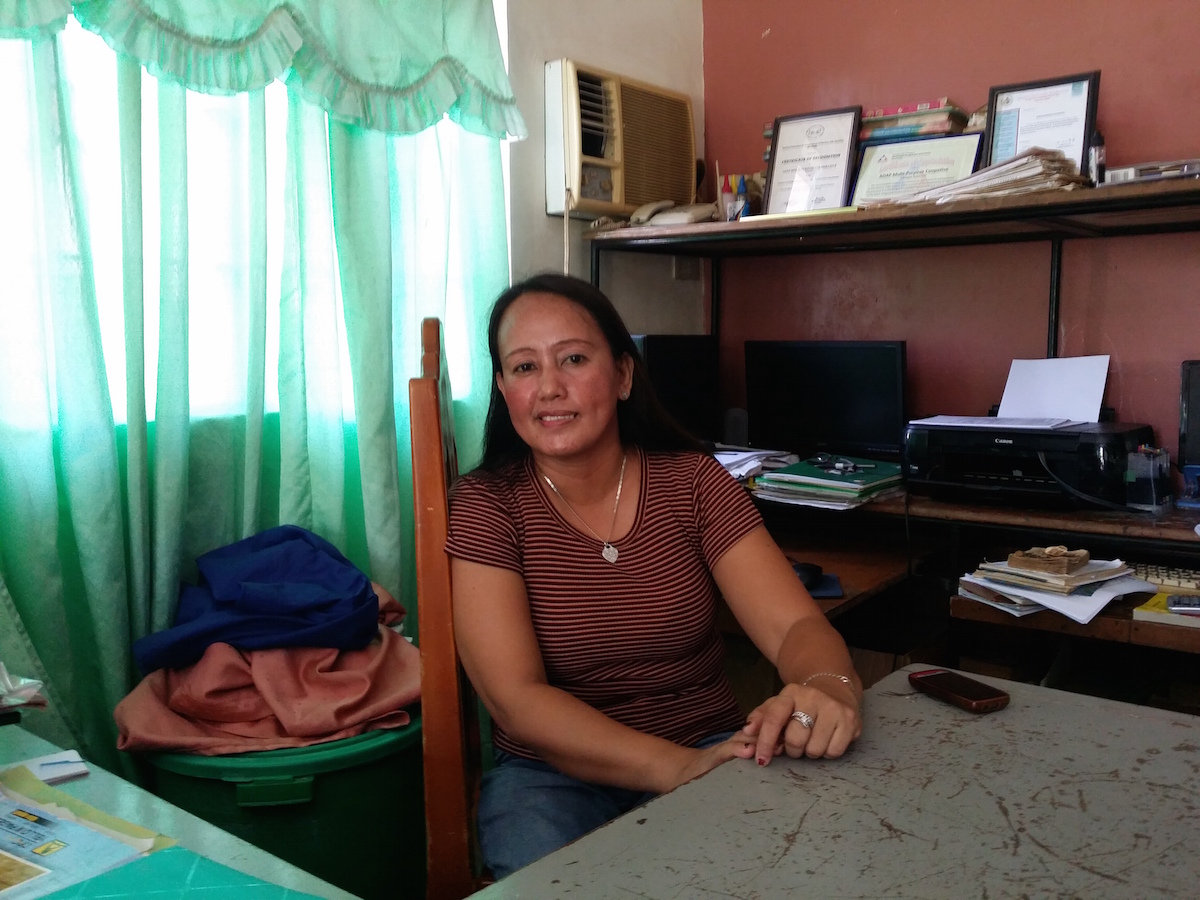 Sections 40 and 41 also talk about the role of local government, national agencies and nongovernment organizations in providing livelihood opportunities and vocational rehabilitation measures for PWDs.
Executive Order No. 105 which mandates putting up of housing programs intended for poor older persons and PWDs was signed on May 16, 2002 by former President Gloria Arroyo.
"We saw the need of our fellow PWDs to have a house of their own. It's a dream come true for us that we finally have a place of our own," Fabiaña said.
The residents are thankful to have a house of their own while working at the same place. "We don't have to go far just to report to work. We are saving our time and our money for daily commute."
Livelihood opportunities within the village
Aside from helping provide housing to its members, the cooperative also offers livelihood opportunities.
The ADAP MPC Rotary Centro ng Pangkabuhayan operates a workshop inside the village where PWD members who are skilled in carpentry and welding can earn from making armchairs, desks and other furniture and fixtures.
"I'm used to this kind of work (carpentry). It's not that difficult," said Floro, from New Bataan in Compostela Valley province.
A person with post-polio syndrome since he was nine months old, it was only in 1991 that Floro was able to use a wheelchair. He used to earn a living by transporting coconut lumber. He did this by dragging the wood with the help of his carabao from interior areas to the poblacion.
Enrique Rollon, 44, has been working for the ADAP Multi-purpose cooperative for two years. A farmer in Maragusan also in Compostela Valley, the father of four lost his left leg in a vehicular accident in 1993. He now relies on his prosthetic leg so to move around without the aid of crutches while doing his work as welder and carpenter.
Floro and Rollon were once trained in carpentry and welding at the Our Lady of Victory Training Center when it was still operating in Sasa, Davao City. But when it was transferred to Babak, Island Garden City of Samal, which would require the two men to take a ferry boat ride and a habal-habal ride to reach, they decided to stay in Davao and find means to support their families.
Workers like Floro and Rollon earn at least P8,000 a month for making the armchairs and desks.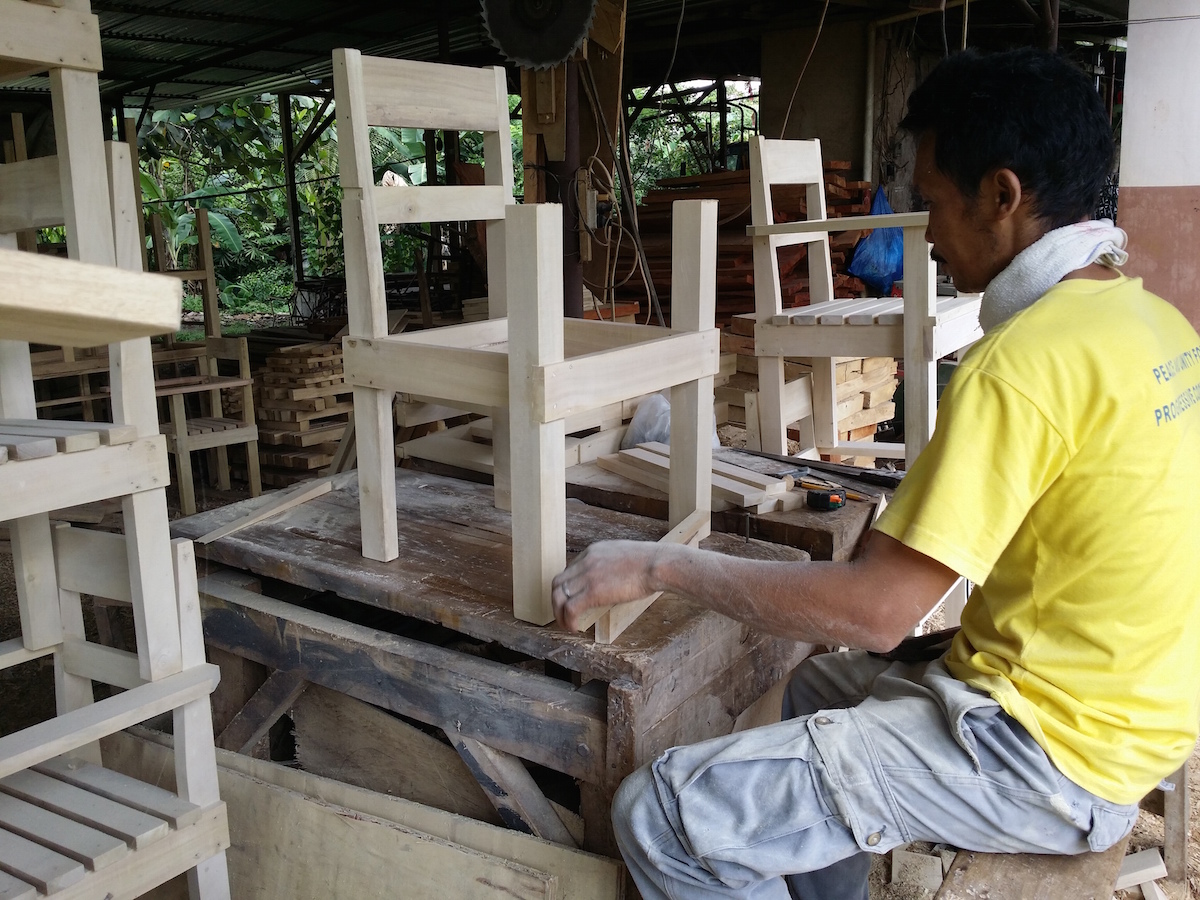 There are also residents who earn a living from other skills like repairing appliances.
A person with post-polio syndrome, Bernardo Dela Cruz, 47, makes ends meet for his wife and only son through his income earned from repairing appliances of his neighbors and other households.
His 47-year-old wife, Josephine, also a person with post-polio syndrome, runs a small sari-sari store.
To help people like the Dela Cruz couple improve their livelihood, ADAP MPC is planning to revive a small loans scheme that members can tap for emergency or use as capital to start a small business.
Aside from money lending, the board members of ADAP MPC are looking into the possibility of putting up a bakery and a rice distribution store where they can sell bread and rice for members and non-members alike.
"We want to be productive and develop our entrepreneurial side. This will help us to change the notion that PWDs only earn a living through charity and dole-outs," Fabiaña said.
She explained that there are also PWD residents who continue to work in the downtown area like in the Davao City Hall and in the government-owned Southern Philippines Medical Center.
"At first, we found it hard to commute from Indangan to the downtown area but we have learned to appreciate the distance. At least, when we go home, we can have our rest in this area far from the hustle and bustle of the city," Fabiaña said.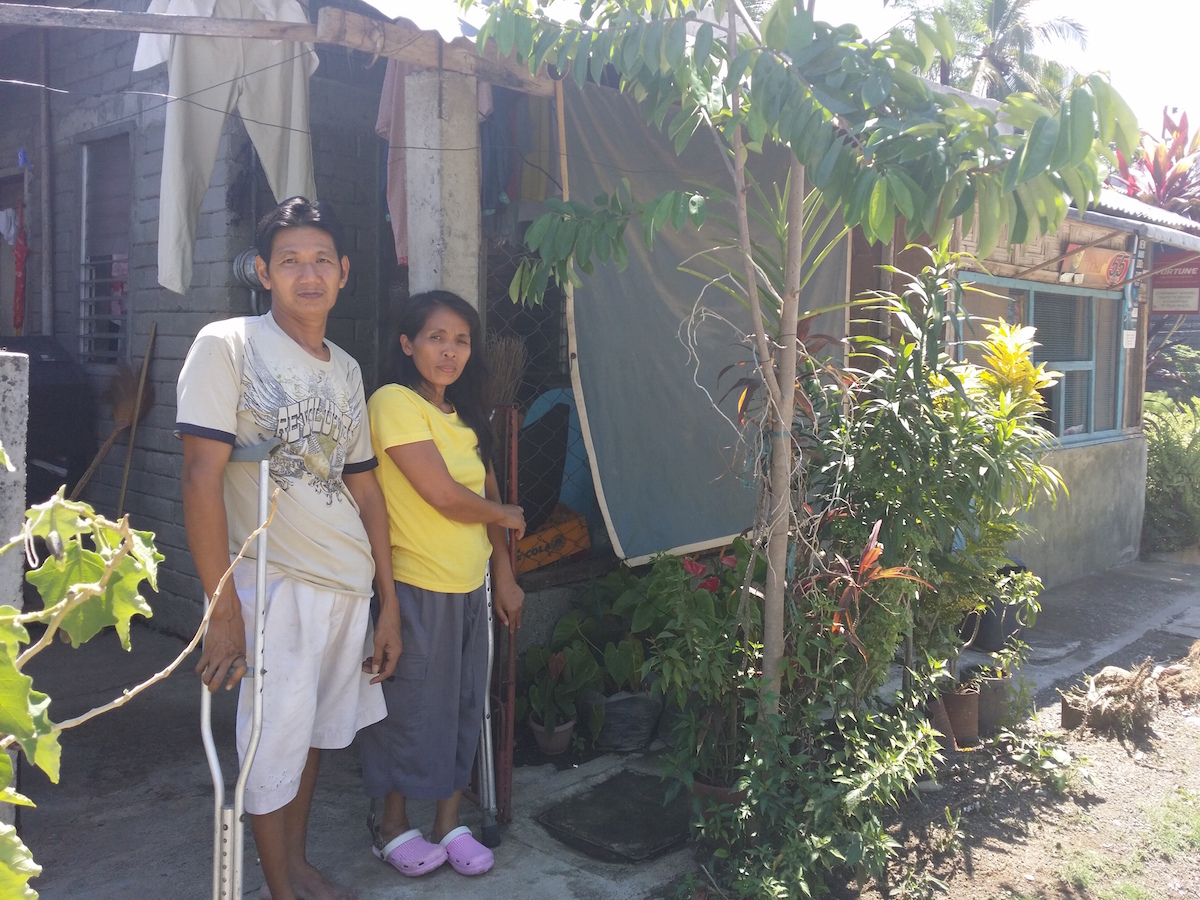 The DepEd Central Office is ADAP MPC's major partner, the official said, adding that the cooperative is a recipient of a grant to manufacture and supply their products to public schools. But she said they are also partnering with different private and public institutions to help ensure continuing job orders.
The cooperative, Fabiaña explained, is also using social media to promote their products and inform netizens about their village. There have been visitors from different PWD groups in the country who came to ADAP Village after seeing their online posts.
The ADAP Village is not the first in the country, but it is in Mindanao. A 2009 report by the Disability Rights Promotion International says three major housing projects for PWDs have been launched in 1983, 1987 and 1988, years before the enactment of RA 7277 and EO 105.
These are the Munting Pamayanan in Escopa, Project 4 built in 1983 through the partnership of the Department of Social Welfare and Development (DSWD), National Housing Authority (NHA) and Christoffel Blinden Mission (CBM), a nongovernment organization.
Four years later, the same organizations built the Karangalan Village Shelters in Pasig City. In 1988, the DSWD and NHA, this time with a different NGO, Epitaph Foundation, built the Padilla Housing Village in Antipolo City.
More than just working
While working in the workshop and in the downtown area is the routine on weekdays, some of the members of ADAP Village have formed a choral group and they sing every Sunday in the nearby Our Lady of Miraculous Medal Parish.
"When we were still starting as a group, some of us found it hard to attend the mass, feeling that we are ridiculed by the people because of our handicaps but I explained to my fellow members that people are just afraid to relate to them the same way that the PWDs are also afraid to befriend the other mass-goers who are not differently-abled," Fabiaña said.
After reaching out to other mass-goers and bonding with other choir groups and servers in the parish, she said, the PWD choir members slowly gained confidence.
"PWDs like me should not lose hope. We must always do our best and continue praying. I understand that the challenge for PWDs to become productive is big but we should not give in to self-pity and shame. We are just like the others; normal beings who also have their own struggles," she said.