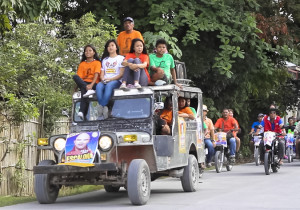 By VERA Files
COTABATO CITY— Candidates for barangay elections in this city spent the last day of the campaign period engaging in partisan activity that violated the Omnibus Election Code, but no one stopped them or even called them to task for their offense.
After signing the covenant for peaceful elections at the Cotabato City State Polytechnic College Gymnasium, candidates held simultaneous motorcades and marches around the city that showed everything barangay election campaigning shouldn't be.
Under the Omnibus Election Code or Batasang Pambansa (BP) 881, barangay elections should be non-partisan. This means that candidates should have no political affiliations and barangay captains no lineup of councilors.
But this was not the case when candidates made their last minute campaigns around the city.