A staged video at least two weeks old, supposedly showing a ballot pre-shaded with ultraviolet (UV) ink was still making rounds on Election Day, May 13.
While the footage and its other versions show ballot ovals of senatorial candidates from the Otso Diretso slate were already marked when viewed under UV light, the ballot featured in the clip fail to show the Commission on Elections' (Comelec) UV-sensitive security feature that should appear at the top half of official ballots.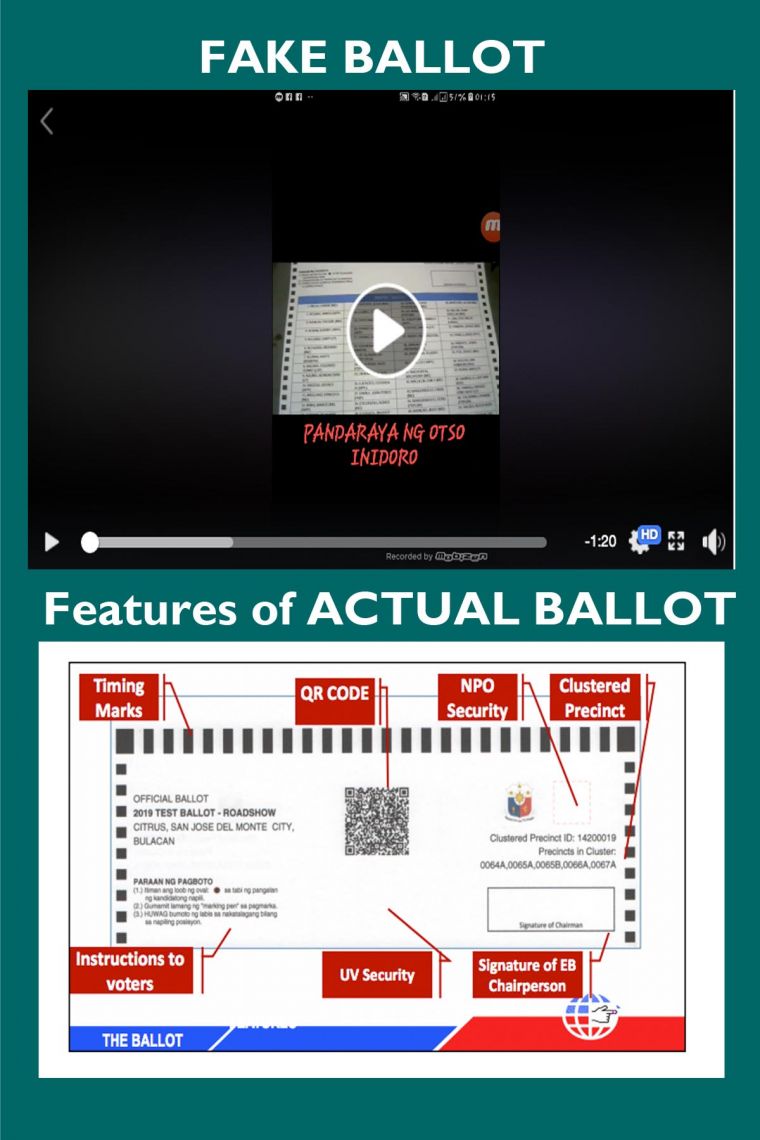 A vote counting machine (VCM) presentation by election watchdog Parish Pastoral Council for Responsible Voting (PPCRV) shows that official ballots should have a UV security portion beside the election instructions and below the QR code on each ballot. The lack of both the UV-sensitive security feature and QR code imply that the ballot used in the video is fake.
Comelec has also debunked the online post, citing the lack of a QR code, serial number and precinct assignment in the ballot.
UV security features for ballots have been employed by Comelec for at least two elections – in 2013 and 2016 – where a 2013 Comelec resolution said the UV marks should be detected "using any commercially-available hand-held UV lamp."
Comelec also showed the media in 2016 how the UV-sensitive security feature on the 2016 ballots would appear when scrutinized under UV-light.
Comelec shows ballots have UV marks; will light up under UV light; rules out use of counterfeits | @JCGotinga pic.twitter.com/1OY8Pao19h
— CNN Philippines (@cnnphilippines)
(Editor's Note: VERA Files has partnered with Facebook to fight the spread of disinformation. Find out more about this partnership and our methodology.)
(VERA Files is a part of Tsek.ph, a collaborative fact-checking initiative by the academe and the media for the 2019 Philippine midterm elections.)