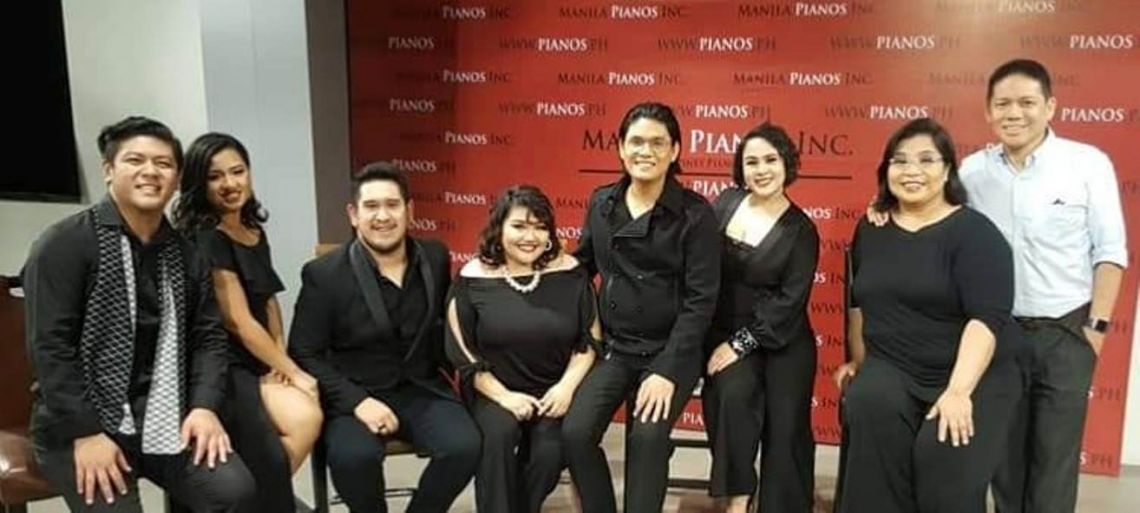 Some members of Viva Voce Lab with their teachers Camille Lopez Molina and Pablo Molina, right

Viva Voce Lab, just about the country's foremost vocal ensemble, is downscaling in its current performance series that is running for six consecutive months. The first concert of Broadway gems is already done.
Artistic director Camille Lopez Molina called the series "vignettes" or "glimpses, miniatures, if you will, compared to our full-blown, pull-out-all-the-stops 'Opera Gala' last December and 'Viva Voce on The Great White Way' last February."
For the vignettes, Viva Voce Lab chose Manila Pianos at the Lifestyle Center on Paseo Magallanes in Makati as venue. Molina said, "Because of the size of the salon, its acoustics lend themselves really well to intimate performances, and of course, we get to use their beautiful pianos. Director Anton Juan fell in love with the pianos all laid out in the salon that he decided he wanted Viva Voce to sing in their midst."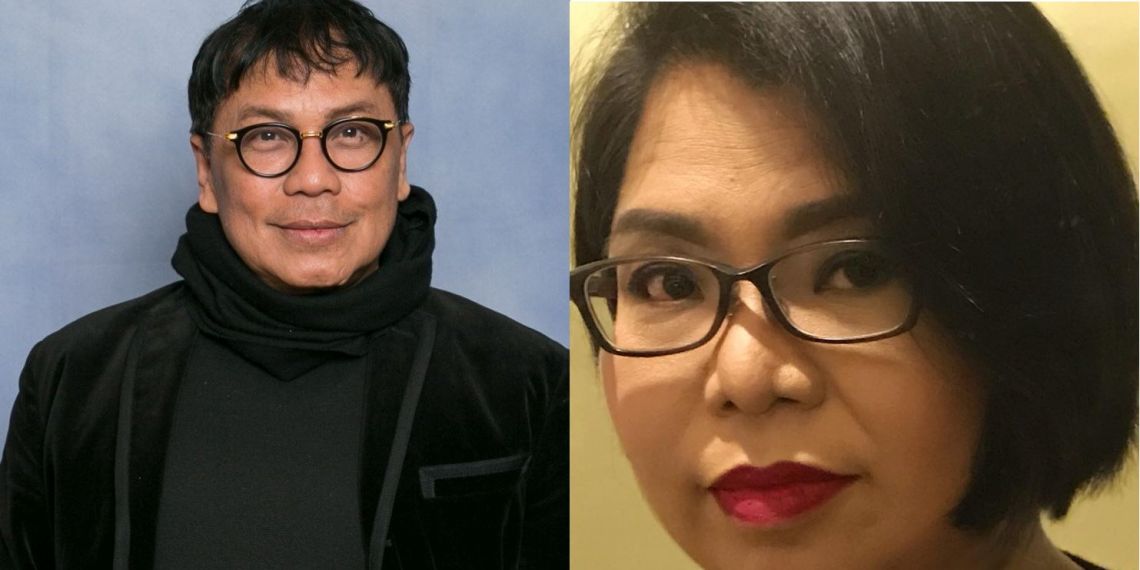 Director Anton Juan and Vocal coach Camille Lopez Molina
She crossed her "fingers, toes and everything else" to summon the courage to ask Juan to direct their coming concert, "Gabi ng Musikang Pilipino," on Aug. 17 at 7 p.m. at Manila Pianos.
She recalled the moment when she asked him, "When I learned he was in town, all I did was muster the courage to ask him. He said yes right away. Viva Voce has had a long history with Direk Anton. Most of our young singers were mentored by him through the many collaborations we've had with Jay Valencia Glorioso's MusicArtes, our guardian angel. Her unfailing support helped in developing young talents who performed in MusicArtes' 'Opera Gala' in Resorts World, 'Madame Butterfly' at the Cultural Center and 'Opera Rocks' at Mirror Studio Theater."
She continued, "On top of his being a genius writer, actor and director par excellence, Direk Anton is a brilliant and committed teacher so working with him is always an eye-opening and enriching experience. Audiences of 'Gabi ng Musikang Pilipino' can expect the same. The evening promises to be one of nostalgia, romance, laughter and a celebration of what it means to be Pinoy."
For Aug. 17, she promised "a celebration of us, Pinoys, as reflected in the language of the song selections. The songs go back to our idyllic roots, the countryside, among the trees and rice fields, where funny, carefree and flirtatious lads and lasses sing and dance. It also brings to the fore how we find our courage and will through our sense of humor and community, our play with words, both ribald and naughty and yet also strangely naive."
The nine-year-old Viva Voce Lab's membership usually numbers between 12 and 24 at any given time, subject to people's availability for performances. Molina said of the members' age range, "our members are from 18 years old to secret! We also have a couple of 16-year-olds who will soon be making their presence felt."
Among the members is soprano Andrea Mangila Manuel who has just been offered what Molina described as a "substantial scholarship grant" at the Guilhall School of Music and Drama in London.
Meanwhile, another "Guildhaller" and Viva Voce member, soprano Myramae Meneses, is back with her master's degree from London.
Molina said of the difference in Meneses's singing now: "Her most valuable contribution is continuing to work on her singing and letting others watch, listen and observe. Not many singers will let others in on their process so that is a privilege granted that must not be taken for granted and definitely respected. Her voice has definitely matured. The previously lighter and younger voice has given way to a fuller and richer sound, with more bloom in the body and closer to her natural resonance. Her interpretation and musicality is much more organic now."
The rest of the Viva Voce Vignettes schedule for the year runs:
Sept. 21, "Opera Ha! Ha!: This time the soprano doesn't die";
Oct. 26, "Prost! A night of drunken revelry without the hangover";
Nov. 16, "Tenors in Tiaras: A gender-bending extravaganza"; and
Dec. 14, "Baby, It's Cold Outside: My frozen heart. Alone this Christmas? So are we."
For tickets, contact Roxy Aldiosa at 0927-245-5242.#