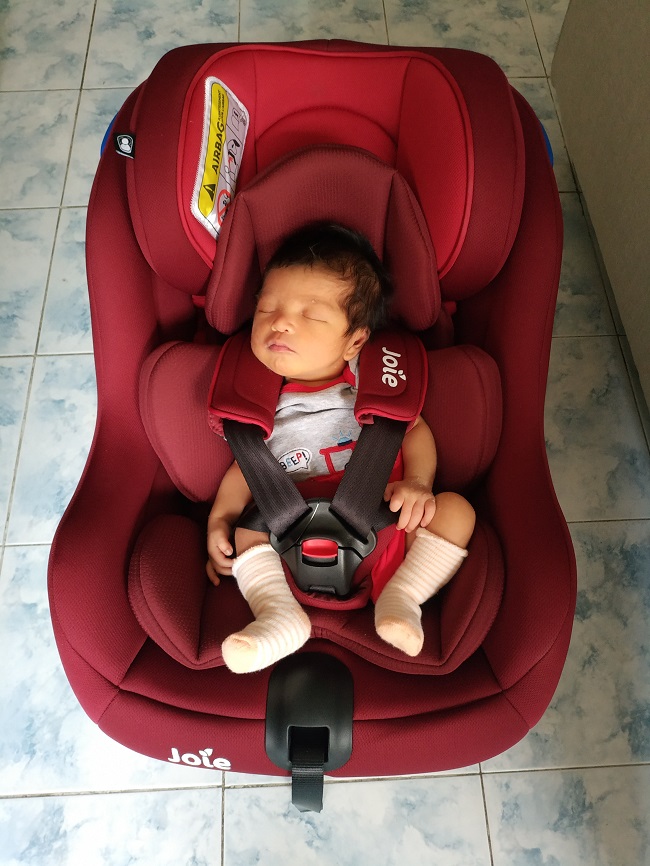 Road safety advocates in the Philippines had reason to rejoice on March 12, 2019. On that day, it became public knowledge that President Rodrigo Duterte signed the Child Safety in Motor Vehicles Law, or Republic Act 11229, on February 22, 2019.
The Act requires the drivers of private vehicles to transport children below 12 years old in child restraint systems (CRS) such as car and booster seats that must be appropriate to their age, height, and weight. The Department of Transportation aims to promulgate the Implementing Rules and Regulations of the law within six months from the effectivity of the Act.
But even before RA 11229 was signed into law, there were those already buckling their little ones into child restraints to keep them safe on every car ride. And they are right to do so: These seats do save kids' lives.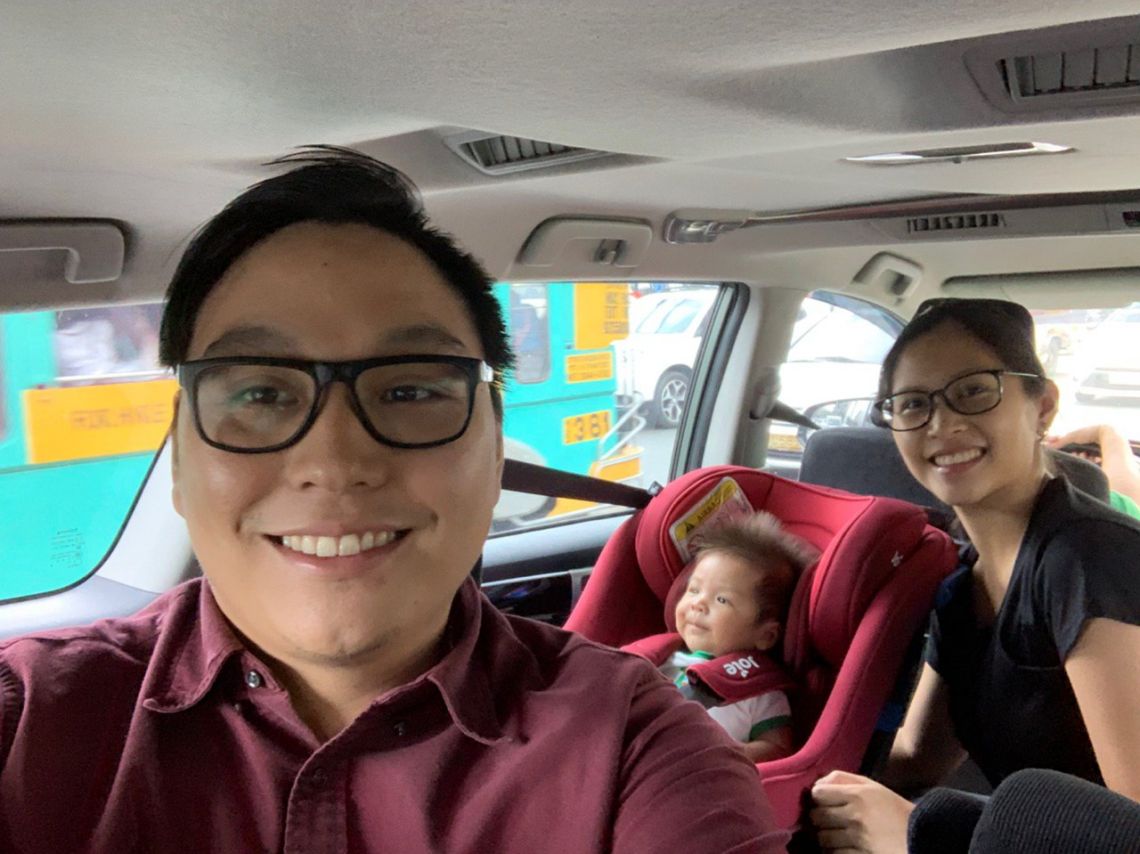 Bea Soriano Almario with son Agus and husband Agno: A car seat is cheaper than a high-end smartphone." (Photo: Bea Soriano Almario)
Agus Virgilio Almario was born on February 19, 2019, just three days before the law requiring car seats was approved. Prior to that, his mom, Bea, asked friends about the things she had to buy for the baby. A car seat was one of the things that popped up.
"We considered buying one, even if we don't have our own car. We borrow a car from my husband's family, "Almario said. "We intended to buy a car seat, but before we could do so, someone gifted us with a brand-new rear facing car seat."
The car seat the family originally wanted to buy can be used until the child is 12 years old. It costs 15,000 pesos. The one they received costs about 4,000 pesos and it can be used until the child is four years old.
"My husband usually puts the car seat in the car. Everything's on YouTube. It's easy to check how to install it. If we have to take Grab, we will definitely bring the car seat.Agus likes being in the car seat," Almario explained.
Cost should not be an issue
Many parents have misgivings about buying a car seat because of the price, she added, but she would tell them that 5,000 pesos is nothing compared to the cost if the child was hurt in a road crash.
And Almario knows this only too well. When she was about five years old, she hit her head on the windshield when her dad had to abruptly stop their car. "I was seated in front, not wearing a seatbelt, and I sustained a bump on my head. Of course, I want to spare Agus from the same experience."
"I don't remember my siblings and I ever using a car seat, and we all grew up okay. I'm sure many people share this sentiment," the first-time mom said. "Still, why risk your children's safety now that we have an opportunity to make our vehicles safer for them? Cost should not be an issue. A car seat is cheaper than a high-end smartphone."
Lack of information on child safety is also a reason parents are reluctant to spend on a car seat, Almario pointed out, but if they knew about its benefits, they would be more willing to buy one, she said, adding that policy makers should focus on information dissemination.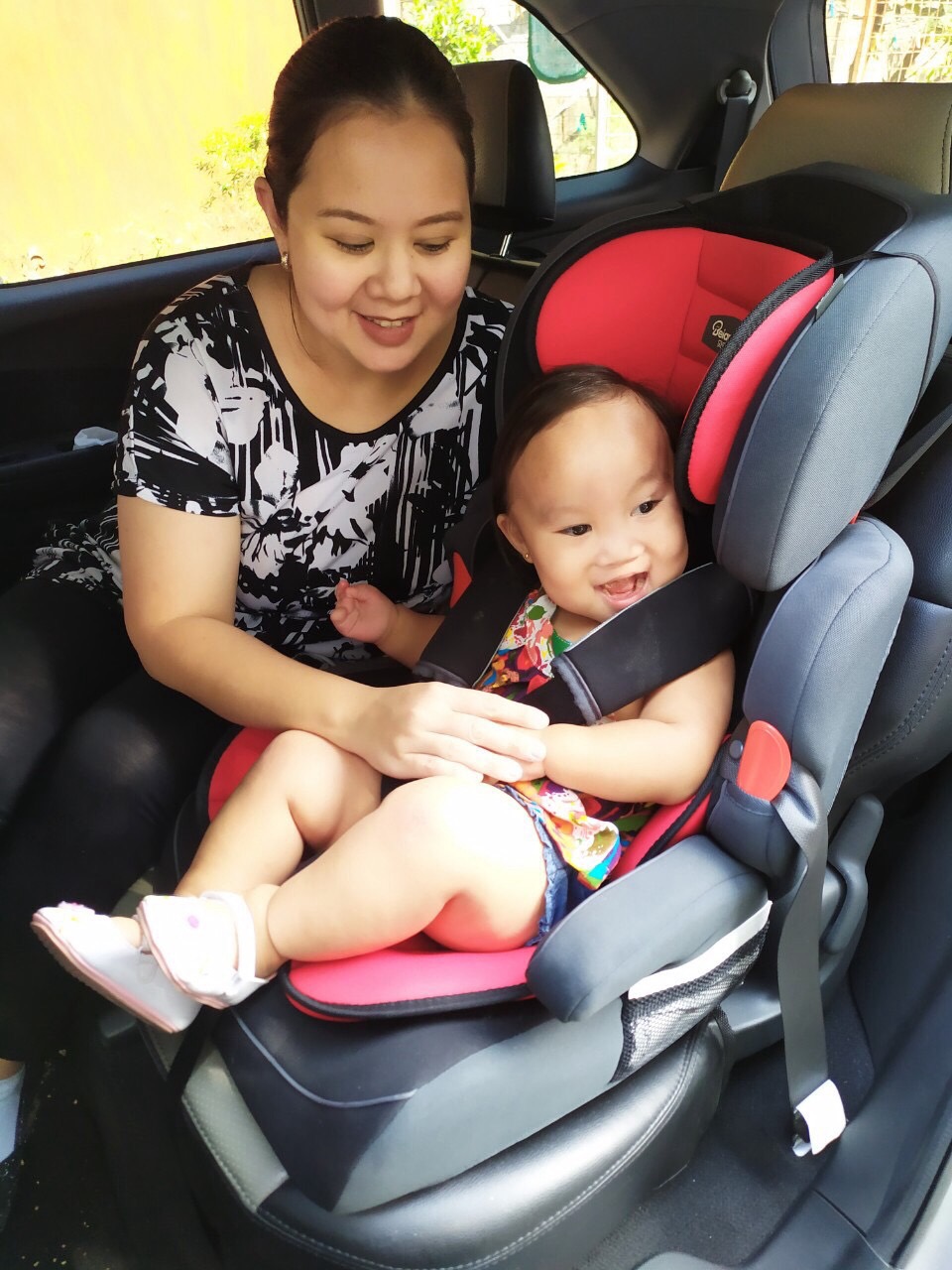 Sarah Cruz and daughter Agatha: "I used to think that carrying my baby in the back seat would be enough. Now using a car seat for Agatha gives me peace of mind that she is safe during travel." (Photo: Rommel Cruz)
Agatha Cruz is 19 months old, and she's been using a front-facing car seat since December 2018. Before she was born, her parents got a pre-loved or used car seat from an in-law living in the United States. But it was hard to set it up in their car.
The child's early months were hectic with doctor's appointments and operations, her mom, Sarah, said. It took a while before they really got around to getting a new car seat, setting it up, letting her try it.
In the Philippines, it is not common to have kids in car seats; some would argue that they know more people who get by without them.
Cruz also used to think that carrying her baby in the back seat would be safe. But as she and her husband got to know more about how much of an impact a car seat would really make, in case of a crash, they were convinced that it's a real need.
"My husband, Rommel, and I found a brand-new car seat on an online shopping site. It cost less than 4,000 pesos. I had doubts when he told me about its low cost, but it has been a good find."
Agatha likes her car seat, Cruz said. She's much more comfortable in it, rather than bouncing around in the car.
"Using a car seat for Agatha gives me peace of mind that she is safe during travel. I know she's secure. My husband can focus on the road, and I worry less in the back seat," she said.
A permanent fixture in one's car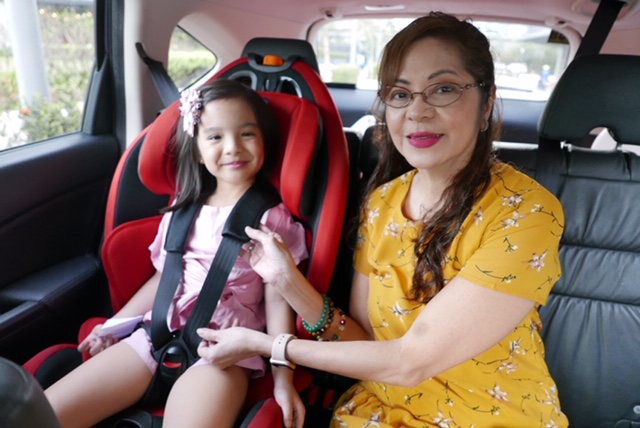 Gwendellyn Rose Samonte and granddaughter Mireille Alessa Tayag: "On the rare occasion that Mireille refuses to be buckled up in her car seat, I tell her that we will not go anywhere unless she rides in it. And she knows that I mean business." Photo: Gwendellyn Rose Samonte
Being an occupational safety and health consultant accredited by the Department of Labor and Employment, Gwendellyn Rose Samonte is a role model for safety. When her granddaughter, Mireille Alessa Tayag, was born in April 2014, she pushed the baby's parents to get her a car seat. They bought a second-hand seat that would fit a child from 0 to 24 months old.
"My grandchild is now six years old. She has two car seats. One is a five-point harness car seat which we bought when she was just 2 ½ years old. It cost 10,000 pesos in January 2016. This seat is installed in my car," Samonte said.
Mireille also has a booster car seat in her dad's car. "I encouraged her parents to buy one for their car since I live in another house, and we want the car seat to be readily available when she travels. There are times when I need to fetch her from school, and I also bring her to ballet or piano lessons on weekends," she explained.
If one has been given a huge responsibility to take care of a child, a car seat should become a permanent fixture in one's car. In this way, there will be no excuse for not using a car seat.
Since the family started to teach Mireille the value of safety at a very young age, she knows that it is for her own good to be restrained in a car seat. Buckling up in it has become a must for her.
"On the rare occasion that she complains about it, I tell her that I will not drive the car and we will not go anywhere if she refuses to be buckled up in her car seat. And she knows that I mean business," Mireille's grandma said.
"I would like to tell the parents who do not provide car seats for their children that this is irresponsible parenting. Our roads have become more hazardous. So many motorcycle riders violate traffic rules; many drivers of public transit vehicles are reckless; and truck drivers often drive even though they are tired."
A road crash can happen to anyone at any time, whether the travel is just one kilometer or more than 100 kilometers.
"As parents, do we want to leave our children unprotected from such dangers? Or should we minimize their exposure by providing them car seats? Surely, we cannot control the behavior of other drivers, but we can do something to manage the safety of our children," Samonte concluded.
Cost should not be an issue at all when it comes to children's safety. If parents can afford a car, then they can well afford a car seat, she said.
Fast facts: These seats do save kids' lives

Source: Global Road Safety Partnership Child Restraints Fact Sheet https://www.grsproadsafety.org/wp-content/uploads/GRSP-Child-Restraints-Fact-Sheet.pdf
How many children risk injury and death each time they get in a passenger vehicle in the Philippines? No data is available on the number of children who ride passenger vehicles in the country.
Yet it is certain that they are exposed to road crash risks. Based on the 2015 census, 31.9 million children—31.8% of the population—are aged 0 to 14 years old. This is the age group for which the use of child restraints is appropriate.
Buckling your little one into a child restraint will keep him or her safer in the car. Here are the key facts from the Global Road Safety Partnership Child Restraints Fact Sheet:
Rear-facing restraints for babies and infants (under one year) have been shown to reduce the risk of death or injury by 90% compared to being unrestrained.
Forward-facing child restraints reduce the risk of serious injury by almost 80% compared to children restrained only by seatbelts.
Children in booster seats, generally aged four to 10 years, have a 77% reduced risk of being injured in a crash compared to unrestrained children.
Finally, the use of child restraints can lead to a 60% reduction in deaths, states a World Health Organization fact sheet.
At a glance: The Child Safety in Motor Vehicles Law or Republic Act 11229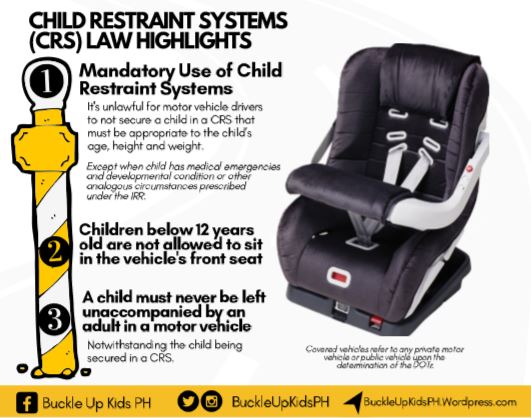 Source: Initiatives for Dialogue and
Empowerment through Alternative Legal Services, Inc.
Any driver violating RA 11229 shall be fined:
1,000 pesos for the first offense;
2,000 pesos for the second offense; an
5,000 pesos plus suspension of the driver's license for the succeeding offense.
This story was produced with the help of a grant from The Global Road Safety Partnership (GRSP), a hosted project of the International Federation of Red Cross and Red Crescent Societies (IFRC). Dinna Louise C. Dayao's road safety reporting has also been supported by the Pulitzer Center on Crisis Reporting. This story first appeared in Business World.