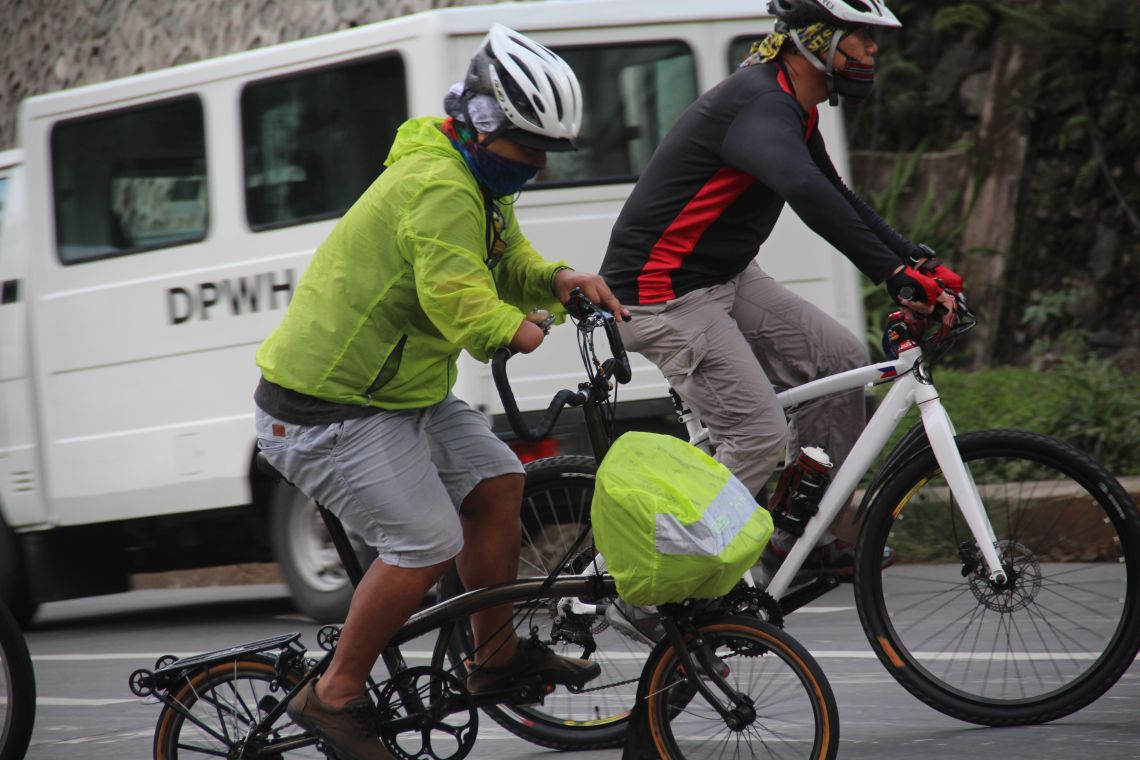 Photo by Lauren Alimondo
President Rodrigo Duterte has declared the fourth Sunday of November of every year as National Bicycle Day.
"There is a need to highlight the importance of non-motorized transportation as a means of fostering sustainable development and promoting environmental health that is conducive to the physical health and well-being of Filipinos," according to Proclamation 1052 issued on Nov. 18.
Bicycle enthusiasts and cycling advocates couldn't agree more.
"More people on bikes instead of on cars means less pollution and better air quality," said public transport advocate Robert Siy Jr. during a webinar on bicycle use earlier this month.
"Reduced consumption of fossil fuels translates to lower emission of greenhouse gases. When we're battling climate change, every bit counts," he pointed out.
In addition to protecting the environment, he said cycling to work will also help decongest traffic and provide a healthy alternative to crowded buses and trains amid the pandemic.
"More people cycling means shorter queues and less congested public transport services."
Bike enthusiast Mia Bunao of cycling advocacy group Kalyetista, said apart from environmental benefits, cycling can help riders "feel better physically and mentally."
"It also creates a sense of community. You can interact with your community while biking."
Dr Antonio Dans, spokesman of the Healthcare Professional Alliance against COVID-19 (HPAAC), cites the enormous benefits of cycling especially in the middle of a pandemic.
Biking increases physical activity, which reduces the risk of diseases such as diabetes, hypertension, stroke, heart attack and cancer, he said during a road safety forum on Nov. 9, adding that cycling to work reduces traffic and the likelihood of fatal road crashes.
History repeats itself
This is not the first time bicycles gained prominence amid a health crisis.
A pandemic more than a century ago popularized the use of bicycles as a means to get around and help control the spread of the Spanish flu. Today, in the middle of COVID-19, biking advocates are looking to the two-wheelers to fill the current transport gap and provide a healthy alternative to crowded public utility vehicles.
"It is like we are living in 1918, during the pandemic, but one known similarity between now and 1918 that few people recognize is the use of bicycles," said Dans, explaining that bicycles were promoted then as an alternative to trains and buses and other forms of public transport.
The scenario is no different today. At the start of the health emergency, public transportation was not allowed for fear of coronavirus transmission but cycling was encouraged. In fact, in many parts of the country, doctors, nurses and other frontliners cycled to their places of work.
"The problem with public vehicles is there are always some things you can't do. They may be crowded and there may be no adequate ventilation, but bikes can satisfy all the criteria," Dans explained.
Bike lanes, bike-sharing
Metropolitan Manila Development Authority (MMDA) Traffic Discipline Office Director Neomi Recio said in the same online forum that the agency "fully supports biking," citing the setting up of protected bike lanes in parts of Metro Manila.
The MMDA and the Department of Transportation (DOTr) are working together with local government units to complete the project, she said. The cities of Pasig and San Juan, she added, are among those that have installed protected bike lanes.
Describing the set-up on a major highway, Recio said a divider will be formed between the cyclists by the sidewalk on the right and other motor vehicles. Buses have their own lane on the left side.
She assured that cars can easily go in and out of parking areas through gaps and signages will also be placed to alert the pedestrians, bikers and motorists of an incoming vehicle.
Apart from bike lanes, another DOTr initiative is a smart bike-sharing program.
DOTr Road Sector Consultant Alberto Suansing said the agency is coordinating with the Department of Public Works and Highways (DPWH) for the bike-sharing program and other bike infrastructure projects.
The bike-sharing program is part of the active transportation initiative under the Bayanihan 2 Law where the bikes will be available in certain stations, not just in Metro Manila, but also in Cebu and Davao.
Asked about the cost of renting a bike, Suansing said it has yet to be set "but surely, it will be cheaper than commuting by bus or per kilometer."
In 2013, the MMDA launched its first bike rental program but it was halted following reports of theft. It was relaunched in 2015 but was again stopped the same year due to security concerns: alleged robbers used the bikes to enter a private subdivision in Makati.
Suansing claims the DOTr has learned from past mistakes. The new bicycles will have a Global Positioning System to track down the users. Proper identification of the renter will be sought before a bicycle is handed out for better tracking.
Bike-related crashes amid the lockdown
Because of the restrictions on public transportation during the lockdown, there has been a big volume of bicycles on the roads. "Naturally, the number of bicycle-related (crashes) increased," Recio said.
Crashes involving bicycles in metro Manila rose to 1,828 cases since the lockdown, compared to 1759 in 2019, she said.
"There are many reasons but most of them show it is the error of the driver or the cyclist," Recio explained, citing the need for education on road rules and safety awareness.
Both bikers and drivers of four-wheeled vehicles need proper education. They need to be responsible, she said. Bikers, meanwhile, "should also know the traffic rules and regulations, the markings on the road, the signages," she added.
Filipinos as undisciplined road users a misconception
Dans said the claim that the Filipinos' lack of discipline is to blame for road crashes is a misconception.
"I think it all depends on the system of incentives and disincentives on the road. It's how you make the bike lanes," he said, claiming that road engineering and infrastructure dictate behavior.
More work needs to be done, especially at a challenging time, such as the pandemic, but Dans said tragedies and disasters can help "shape urban development."
Today "marks an opportunity to transform the transport system" including the conversion of some roads into open spaces for pedestrians and cyclists, he said. "Let us convert this tragedy into something good."
For his part, Siy stated: "The best transport investment we can make today is not a railway, not an expressway, not a bridge. It is a protected bicycle lane: low-cost, short gestation, pro-poor, pro-climate, pro-clean air, pro-health, pro-road safety, pro-mobility and pro-resilience."