By MARIA FEONA IMPERIAL
A broad range of national issues, ranging from poverty to illegal drugs and political dynasties, was tackled in the first leg of presidential debates last Sunday.
For one electoral reform advocate, though, it would have made sense if the candidates covered issues closer to home.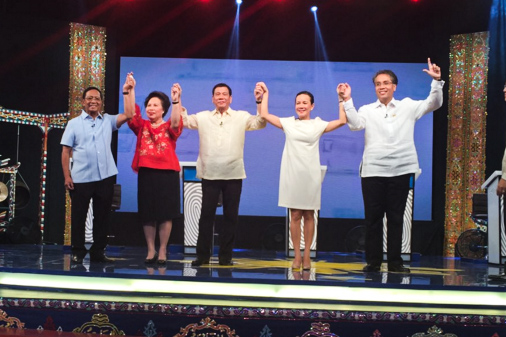 Pressing concerns in Mindanao could have been discussed more extensively in the two-hour debate held at the Capitol University in Cagayan de Oro, said lawyer Rona Ann Caritos, executive director of Legal Network for Truthful Elections (LENTE).
Mindanao has historically suffered from neglect, Caritos explained, so holding the first in a series of debates in the southern region was symbolic.
But she said Mindanao issues brought up in the debate were limited to peace talks and conflict issues, which were too general. Development issues were mentioned in passing, she added.
Administration candidate Mar Roxas acknowledged that Mindanao had lagged behind, but said it is no longer the case.
"In fact, Mindanao today has twice the amount of infrastructure in the last five years than it had in the last 12 years," he said.
Davao City Mayor Rodrigo Duterte maintains that Mindanao gets a meager share of the national budget compared to other regions. The budget given to Region XI in 2015 was only P19 billion, he explained, while Metro Manila received 64 billion.
Duterte also pushed his advocacy for federalism, which he described as having "the same configuration as the Bangsamoro Basic Law (BBL)."
"With the failure of BBL, there is a great, great hurt there. Unless we can come up with another card, which is federalism, nothing. Nothing at all can appease Mindanao," he said.
Federalism, he emphasized, is the only way "to right the historical wrong committed against the Moro people."
Independent presidential aspirant Senator Grace Poe said a more efficient devolution of powers must be carried out so that local governments are given the prerogative in allocating their budget. She added that the 30 percent budget allotted to local governments must be increased to 40 percent.
Caritos said the debate could have dwelled more deeply on issues of infrastructure, territorial disputes, and security, but localized in the Mindanao context.
But as some reports have earlier pointed out, Caritos agrees that time constraints and the format of the debate did not allow candidates to expound on their platforms. (SeeGrace Poe took the first presidential debate)
"The 90 seconds allotted is very short to have an idea or a clearer picture of how the candidates think, or their platforms or plans of action," she said.
In effect, the candidates did not have anything new to share than what they have been telling the public for the last two months, she said.
On the issue of mudslinging and personal attacks, Caritos said it was very welcoming that not a lot of candidates "threw bad shots" at each other. Substantive issues, not personalities, should be the focus of debates. (See Talk about issues, platforms, urges poll watchdog)
Last Sunday's presidential debate lasted 135 minutes, but 48 minutes or 35.5 percent were allotted for advertisements, some of which are political advertisements.
"It's a business, that's the carrot Comelec offered to the giant networks," Caritos said.
"But hopefully in the next two debates, mas ma-limit commercials (would be limited)," she said. The next debate will be held in the Visayas on March 20.
She said candidates too, should come more prepared in the next debates.
"Angat na angat kung sino 'yung (it was evident who among the candidates were the most) prepared, nag-aral, na-brief nang maayos ng adviser (who studied and were briefed well by their adviser)."