Alex Magno, a columnist of the Philippine Star, wrongly stated that the late president Benigno Simeon Aquino III did not participate in any debate while campaigning during the 2010 elections.
STATEMENT
In his Jan. 27 column, Magno questioned the "pink" supporters of Vice President Leni Robredo for criticizing Ferdinand "Bongbong" Marcos Jr. for his absence in an interview of presidential aspirants in the upcoming elections:
"No one remembered that Noynoy Aquino did not participate in the 2010 debates. In the latter case, it was a correct tactical decision: Aquino was leading all rivals."
Magno, who served as director at the Development Bank of the Philippines (DBP) during the presidency of Gloria Macapagal-Arroyo, added:
"No one remembered that when Marcos submitted to a Jessica Soho interview in 2016, the venue was filled with LP supporters who heckled his every answer."

Source: Alex Magno, "First Person" Column entitled "Pageant" on the Philippine Star, Jan. 27, 2022 (archive)
FACT
Contrary to Magno's claim, then-senator Aquino of the Liberal Party (LP) attended at least one debate and two fora for presidential candidates in the 2010 elections.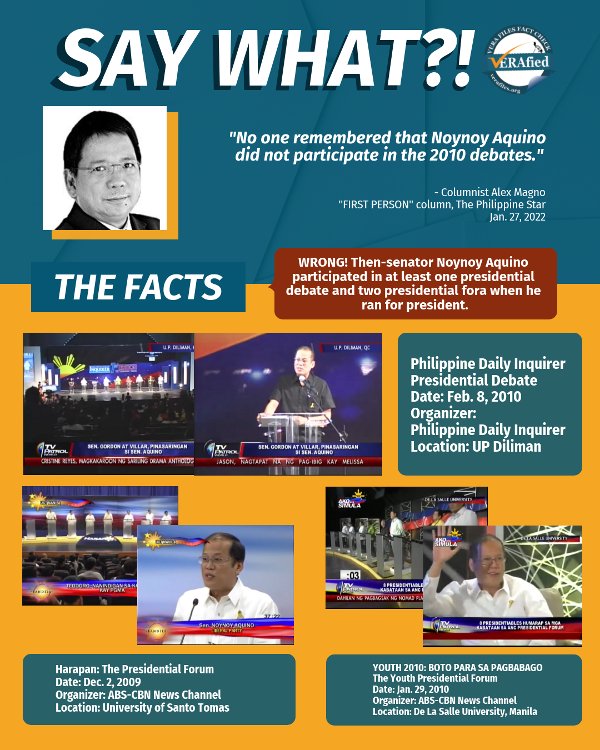 Aquino, who won that race and became the country's 15th president, participated in The Presidential Debate organized by the Philippine Daily Inquirer on Feb. 8, 2010. He was joined in the debate by seven other candidates, including his cousin Gilbert Teodoro and Manny Villar, who came out fourth and third in the polls, respectively.
ABS-CBN set another debate for March 2010, which they canceled after a number of presidential and vice-presidential candidates declined to participate due to conflicts in schedule.
Aquino was also present in at least three presidential fora, including two organized by the ABS-CBN News Channel (ANC) in December 2009 and January 2010. The other forum was arranged by the Philippine Chamber of Commerce and Industries (PCCI) on Feb. 16, 2010.
Magno also wrote that LP supporters heckled Marcos Jr. during an interview with journalist Jessica Soho of GMA-7. There were no news reports or statements corroborating his claim.
The only reported heckling incident involving Marcos Jr. was during his participation in the vice presidential debate hosted by CNN Philippines in April 2016. Several activists chanting "Never again! Never again to martial law!" interrupted his opening speech. The chants referenced the 14-year military rule of his father, the late dictator Ferdinand Marcos Sr.
Marcos Jr. has been criticized recently for turning down at least two presidential interviews with media giant GMA-7 in late January. He refused to be interviewed by Soho, saying she is biased against the Marcos family. The Jan. 28 interview with Super Radyo DZBB did not push through and was canceled the same day due to poor communication access.
He was also absent in the Feb. 4 presidential forum, organized by the Kapisanan ng mga Brodkaster ng Pilipinas, in which five other aspirants, including Robredo and Sen. Panfilo Lacson, were present.
Filipinos can expect a series of presidential debates in the lead-up to the May 9 national and local elections. The Commission on Elections stated in Resolution No. 10730 that television and radio stations should sponsor one vice-presidential and three presidential debates. Candidates are not required to attend these events, however. (See VERA FILES FACT SHEET: Campaigning during the COVID-19 pandemic)
Have you seen any dubious claims, photos, memes, or online posts that you want us to verify? Fill out this reader request form.
Sources
Alex Magno, Column entitled "Pageant" on The Philippine Star, Jan. 27, 2022 (archive)
Official Gazette, Speech of President Arroyo during the Philippine Forum 2002, Jan. 12, 2002
United Nations Global Compact, DBP annual report 2003 (pdf)
ABS-CBN News, Fiery debate between presidential bets at Inquirer forum, Feb. 8, 2010
ABS-CBN News, HARAPAN tandem debate cancelled, March 26, 2010
ABS-CBN News, Bandila: 7 presidential aspirants face nation in Harapan, Dec. 3, 2009
ABS-CBN News, TV Patrol: 8 presidential bets show mettle in La Salle forum, Jan 29. 2010
Tomasino Web, UST Holds Harapan: The ANC and ABS-CBN Presidential Forum, Dec. 10, 2010
Senate of the Philippines, Like a three-ring circus, Feb. 16, 2010
Ferdinand "Bongbong" Marcos Jr. official website, Statement of Atty Victor D. Rodriguez Chief of Staff and Spokesman of presidential aspirant Bongbong Marcos On BBM not joining the Jessica Soho show, Jan. 22, 2022
GMA Network, GMA Network statement on Bongbong Marcos' reason for not joining 'The Jessica Soho Presidential Interviews' | GMA News Online, Jan. 22, 2022
GMA Network, Super Radyo dzBB's statement on postponement of 'Ikaw Na Ba? The Presidential Interview' with Bongbong Marcos | GMA News Online, Jan. 28, 2022
Inquirer,net. Bongbong Marcos heckled at VP debate, April 10, 2016
CNN Philippines, Transcript of vice presidential debate, April 12, 2016
Official Gazette, Republic Act 10368, 2013
Commission on Elections, results of the 2010 polls
Kapisanan ng mga Brodkaster, Panata sa bayan, Feb. 3, 2022
ABS-CBN News Channel (ANC), Comelec Spox: Participation in election debates not mandatory, Feb. 18, 2022
(Guided by the code of principles of the International Fact-Checking Network at Poynter, VERA Files tracks the false claims, flip-flops, misleading statements of public officials and figures, and debunks them with factual evidence. Find out more about this initiative and our methodology.)