In a Facebook (FB) post, veteran actress Vivian Velez misquoted Vice President Leni Robredo and made her look like she contradicted herself while addressing a question on whether or not the Philippines is a narco country.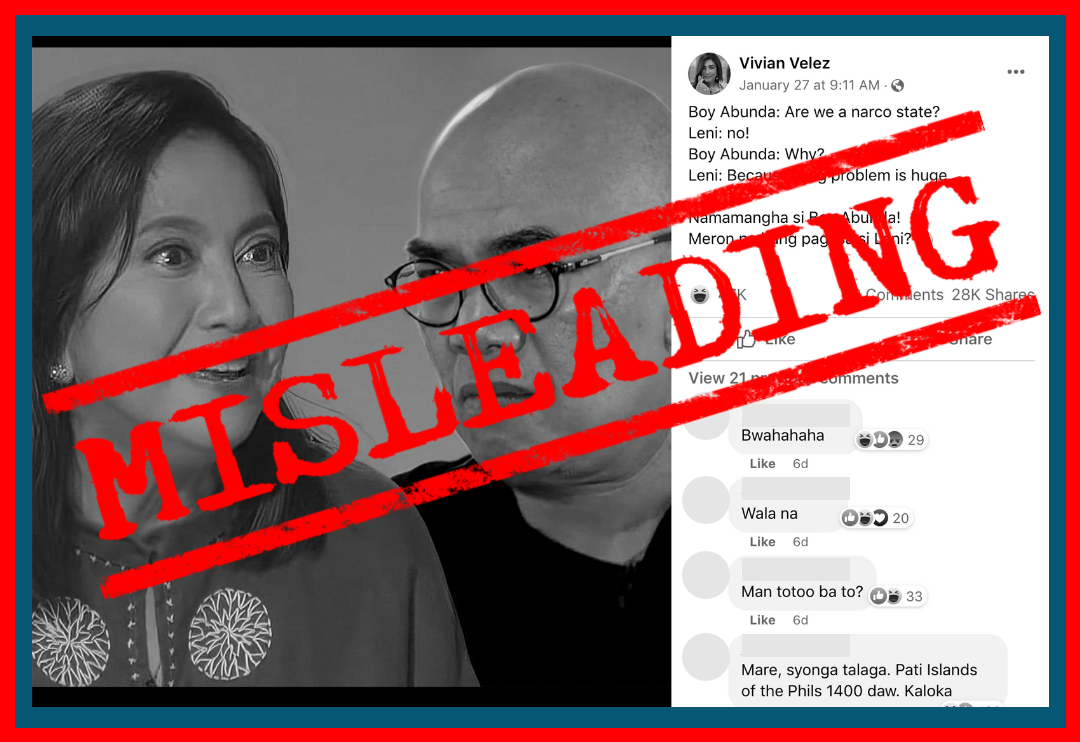 On Jan. 27, just a day after Robredo's episode in the 2022 Presidential One-On-One Interviews with TV host Boy Abunda was aired, Velez published on her FB account a juxtaposed image of Robredo and Abunda. It carried the caption:
"Boy Abunda: Are we a narco-state?
Leni: no!
Boy Abunda: Why?
Leni: Because drug problem is huge.
Namamangha si Boy Abunda! Meron pa bang pagasa si Leni?
(Boy Abunda was astonished! Is there any hope for Leni?)"
Source: Vivian Velez Facebook Account, Boy Abunda…, Jan. 27, 2022 (9:11 a.m.)
A narco-state, as defined in Oxford University Press' online dictionary Lexico, is a country "whose economy is dependent on the trade in illegal drugs."
In the post's comments section, netizens mocked and laughed at Robredo for her supposed answer, with one saying her "brain is fired," another calling her syonga (stupid), and a few questioning her being a lawyer.
A review of the footage from Abunda's interview with Robredo revealed that Velez misquoted the vice president and also presented an incomplete version of her answer. This was the full exchange:
Abunda: To the best of your knowledge, Vice President Leni, are we a narco country?Robredo: No.
Abunda: Why do you say so?
Robredo: The drug problem is huge. And ako naniniwala ako na (I believe that) we have to pursue it with as much vigor. Pero (But) there is a way of doing it.
The Boy Abunda Talk Channel, The 2022 Presidential One-On-One Interviews with Boy Abunda featuring Vice President Leni Robredo, Jan. 26, 2022
Prior to this, Robredo talked about her five-point recommendation in addressing the country's drug problem, which included a whole-of-government approach, interventions based on data, and the removal of Oplan Tokhang — the Duterte administration's anti-drug war program largely associated with extrajudicial killings.
These are detailed in a report following her 18-day stint as the co-chair of the Inter-Agency Committee on Anti-Illegal Drugs in November 2019.
But Velez' post excluded this, making it look like Robredo was refuting her own statement.
The misleading FB post already got over 47,000 reactions, 32 comments, and 28,000 shares from netizens.
Have you seen any dubious claims, photos, memes, or online posts that you want us to verify? Fill out this reader request form.
(Editor's Note: VERA Files has partnered with Facebook to fight the spread of disinformation. Find out more about this partnership and our methodology.)