Ligalig: Art in a Time of Threat and Turmoil is an exhibit on the social realist art movement, presenting the varied responses of Filipino artists who have persisted in exposing the ugly side of society. It runs at the Ateneo Art Gallery until May 29, 2022.
The Ateneo Art Gallery Collection started with a core collection of postwar modern art and through the decades, it has acquired a substantial trove of social realist works of different artistic persuasions initiated under Emmanuel Torres, AAG's first curator.
The origin
The late 1960s have witnessed political unrest and the repression of human rights that only increased with the imposition of martial law in 1972. Filipino artists turned to more popular forms of art with high visual impact such as wall paintings, portable murals, and political graffiti, as described by art historian Alice G. Guillermo in Social Realism in the Philippines, 1987.
In the late 1970s, a group of artists formed Kaisahan, an art group that sees art as a tool for social change, and led the movement for socially committed art that became known as social realism.
Guillermo defines social realism as "a shared point of view, which seeks to expose or to lay bare the true conditions of Philippine society as well as to point out solutions…to achieve a truly human order."
Recent years have seen similar issues again and again: Political killings, exploitation of workers, human rights abuses, press freedom, hunger, poverty, greedy politicians, red-tagging, and more.
The artists and their works
Among the 18 artists featured in the exhibit are the following: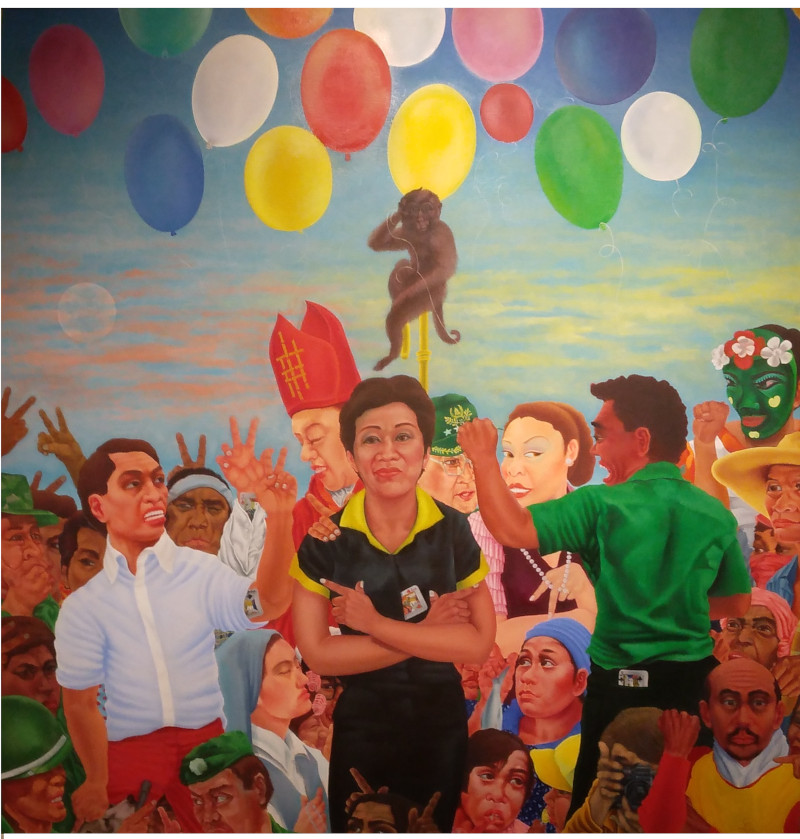 Set in a riot of colors and fiesta fun, Jack en Poy (1987) is Lazaro "Aro" Soriano's (1943-2020) most well known work on the state of Philippine politics after 1986. Who's in and who's out? Soriano elevated a children's game as a critical metaphor on political figures playing musical chair in their search for power and destiny, without rhyme or reason: Jak en Poy, Hali-hali-hoy! Sinong matalo, Siya'ng unggoy!
Painter, sculptor, and art restorer, Soriano was known for works inspired by the country's folk tradition. A teacher at the Philippine Women's University, he received the Thirteen Artists Award, Cultural Center of the Philippines in 1992.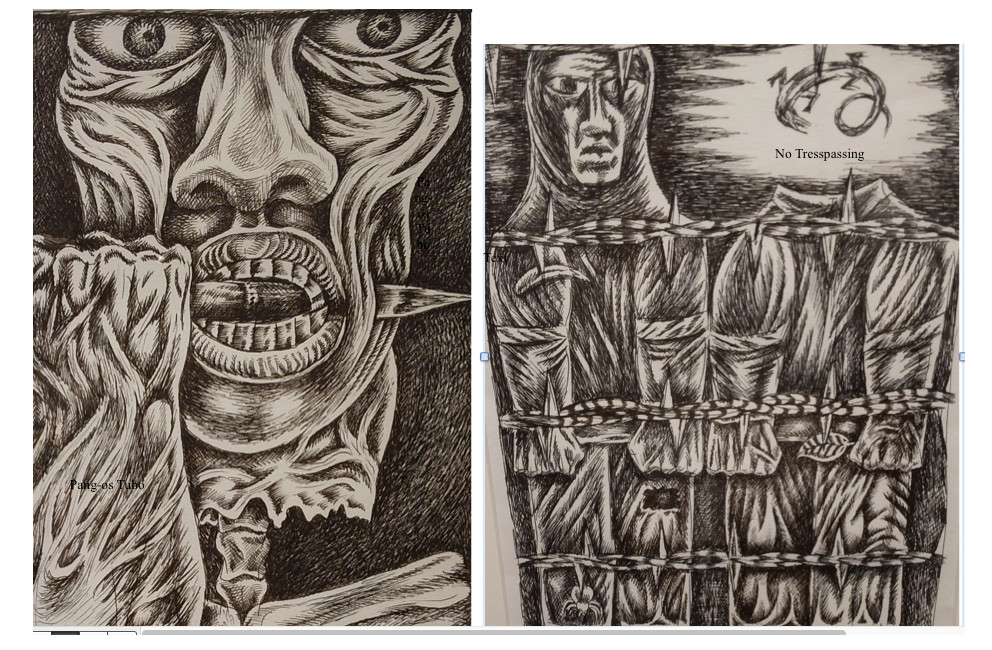 Nunelucio Alvarado (b. 1950), who lives in Sagay City, Negros Occidental, is a pioneer in the art movement in Negros. He is mainly known for his works on the sacadas, the sugarcane workers whose plight epitomizes the brutal exploitation of workers in the 1970s.
In two pen-and-ink works, No Tresspassing, Pang-os-Tubo, 1998, Alvarado renders in excruciating detail what it means to be oppressed and hungry always.
The recent Art Fair Philippines 2022 has honored him with a special exhibition of his works. He received the Thirteen Artists Award, CCP in 1992.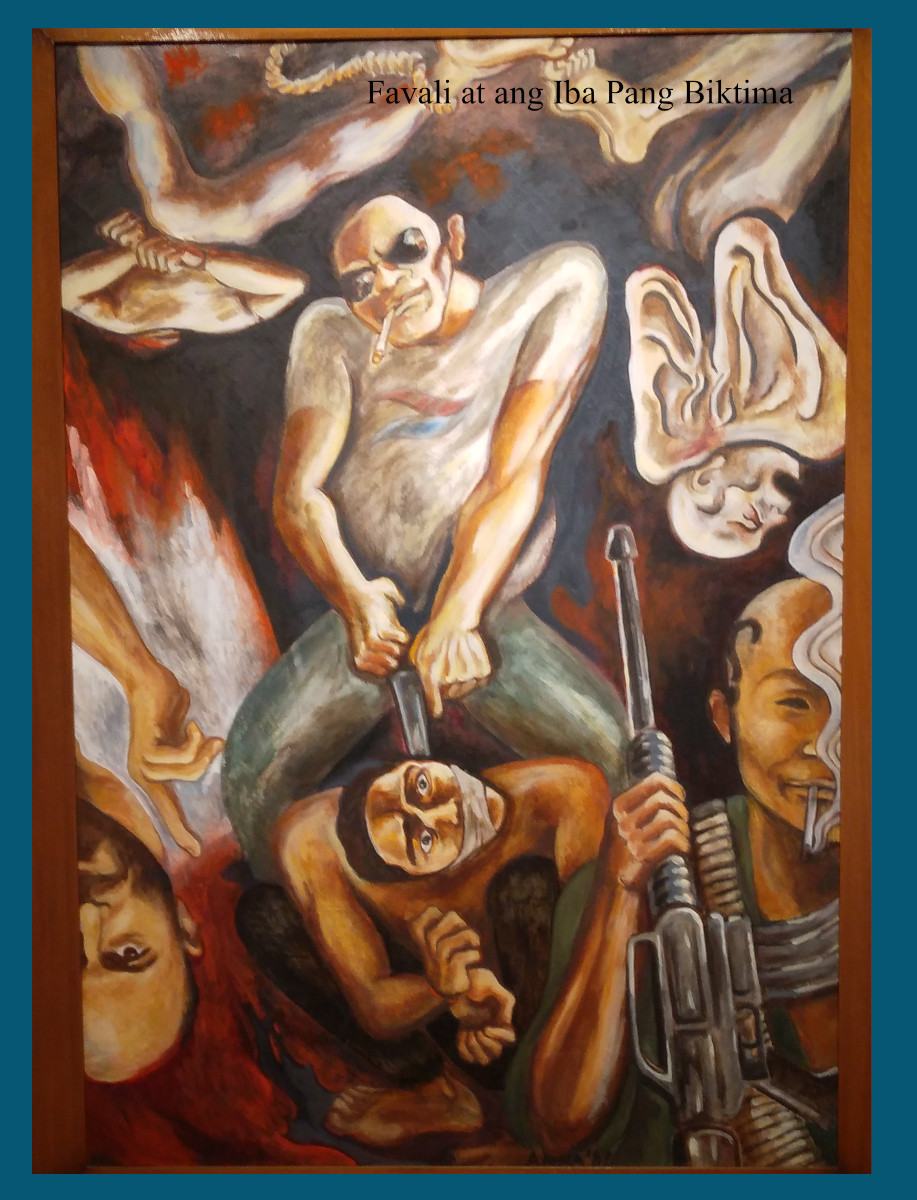 Favali at ang Iba Pang Biktima (1987) by Anna Fer (b.1941) refers to the brutal killing in 1985 of Fr. Tullio Favali, an Italian missionary serving North Cotobato, by a paramilitary group during martial law.
A Foul Wind in February '86 is J. Elizalde Navarro's (1924-1999) work on the killing of Evelio B. Javier, the governor of Antique province, and an opponent of the Marcoses. He was killed in February 1986, a few weeks before the People Power Revolution that ended the Marcos regime.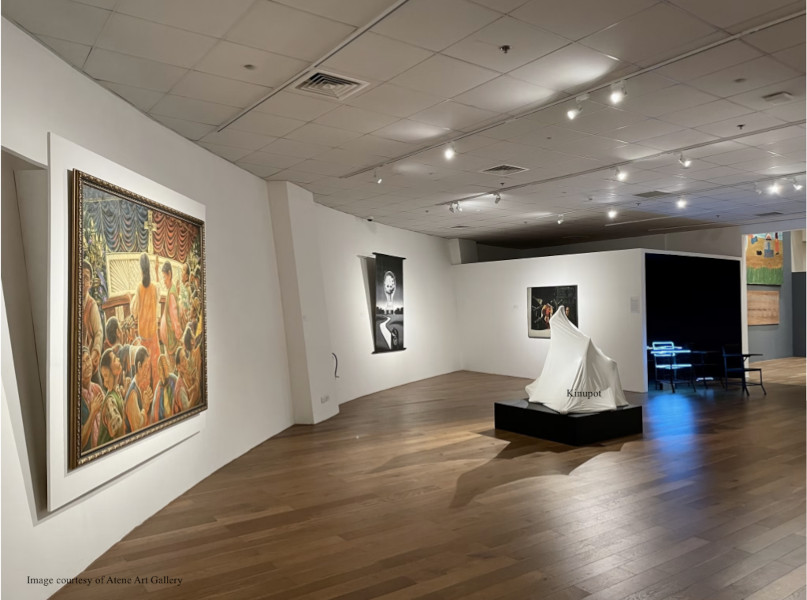 Edgar Talusan Fernandez (b. 1955) presents, Kinupot (1977) and an acrylic painting, The Year to Remember (1983). Both works speak of human lives violently snuffed out of its time. Kinupot is a haunting installation of a shrouded figure, a reference to missing persons or "the disappeared ones" during the martial law period. The title combines two words, kinuha (to take) and sinupot (to bag).
After sparking public outrage over the assassination of Senator Benigno Aquino in 1986 that remains unsolved, The Year to Remember  (1983) depicts yellow cloths and blood-soaked cloths with a dark background, alluding to the darkness of Martial Law that would have sociopolitical ramifications in Philippine society to this day.
In Alay sa Mga Bagong Bayani (1984) by Pablo Baens Santos (1943-2021), a group of people grieves over a coffin draped in a Philippine flag and a streamer in the background reads "Hustisya para sa mga Biktima ng militarisasyon."
A major figure in the social realist movement, Santos is one of the founding members of Kaisahan, a social realist art group formed in 1976.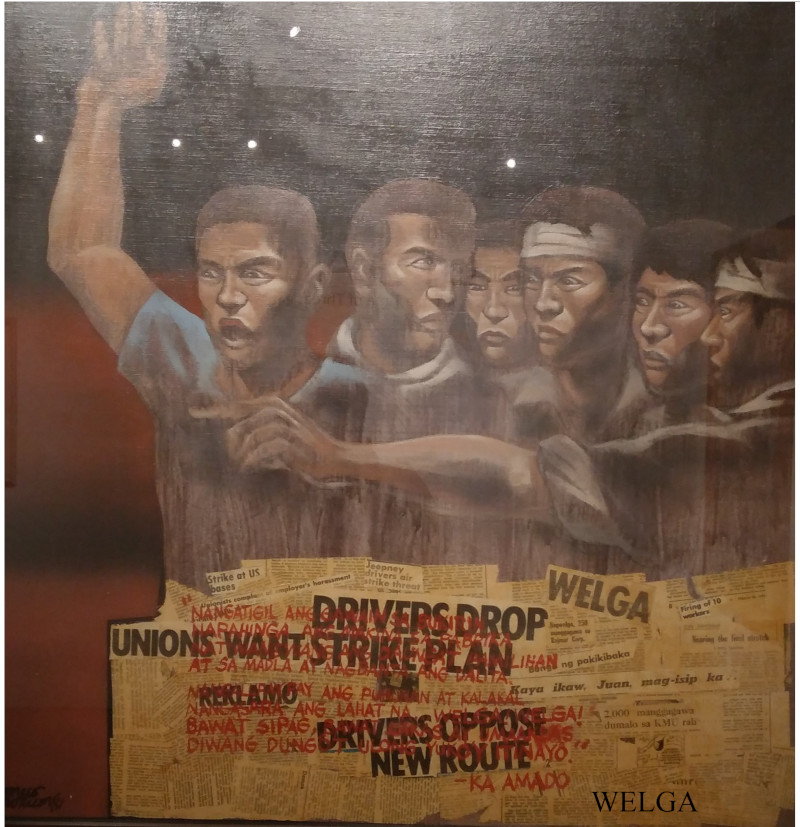 The iconic Welga (1981), an acrylic and newspaper collage work of six jeepney drivers, their hands raised in protest against the Marcos regime, is by Leonilo "Neil" Doloricon (1957-2021), visual artist, printmaker, and editorial cartoonist. In his over 40 years of artistic practice, Doloricon is one of the most consistent practitioners of social realism, whose works tackle current the issues of the day.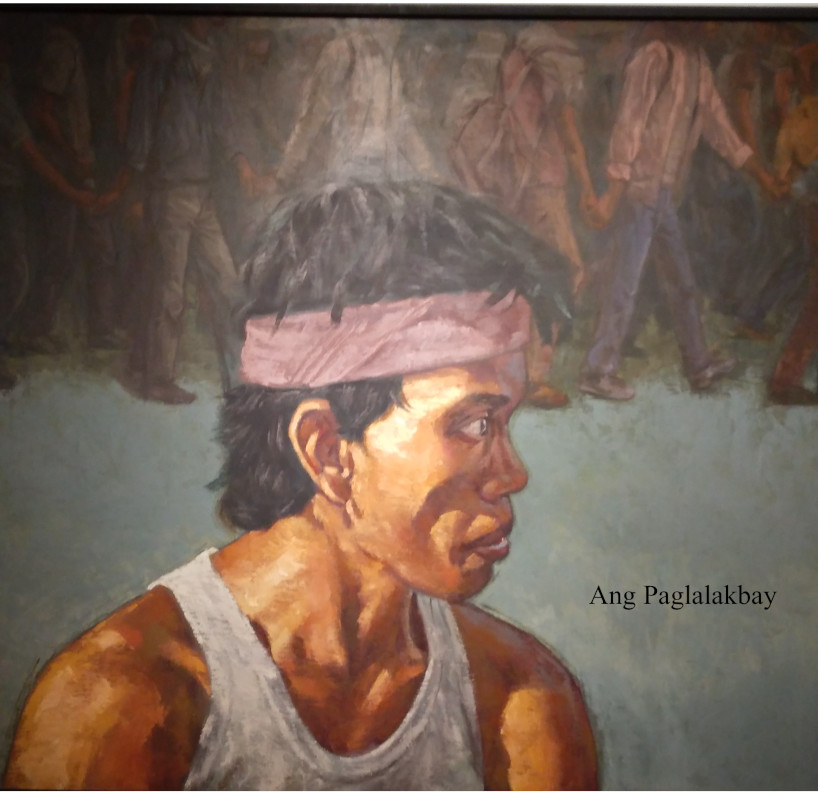 Ang Paglalakbay (1984) by Antipas Delotavo's (b. 1954) presents a brawny worker, looking at the long line of people with faces hidden, all moving forward that seem to pass him by. In Delotavo's words, he "opted for realism, the most accessible art form for the masses."