The Ateneo Art Gallery has unveiled its Virtual Tour recently, offering selected current and past exhibitions. One of them is a tandem exhibit entitled Dark Memories & Alaala ng Martial Law by Rick Rocamora and Edgar Doctor.
As a means of remembering and ensuring that "history is not forgotten, distorted, or revised," this exhibit marks the Ateneo Art Gallery's commemoration of the 50th year since the imposition of martial rule in 1972.
History and memories
Dark Memories: Torture, Incarceration, Disappearances, and Death during Martial Law by Rick Rocamora consists of 49 photographs of martial law victims, survivors, friends, and families. Alaala ng Martial Law consists works done in the early 1970s and presented to the public for the first time by Edgar Doctor. Personal accounts accompany the photographs.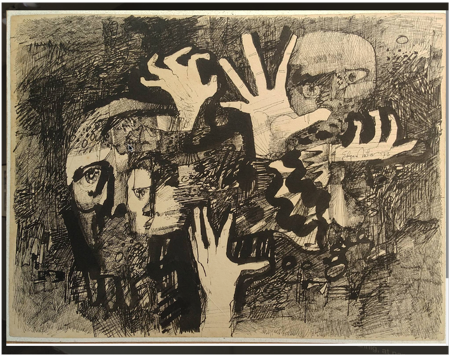 In clear and straight language, the experience of arrests, torture, and detention are described by individuals, their firsthand account to the history of the tumultuous 1970s and the early 1980s. For the younger generation who have not experienced this period in Philippine history, the images "are attestations or historical narratives of atrocities committed to individual, families, and communities."
Torture
The accounts contain details of  being inflicted pain, physical and mental: forced to watch the torture and cries of fellow detainees, electrocution in  the genitals, water poured continuously on one's face, Russian roulette where a loaded shotgun is forced into one's mouth and triggered, "San Juanico Bridge" where one's body dangles midair between two cots, naked and sitting on a block of ice while being interrogated, acts of lasciviousness, gang rape,  and dunking one's face into a filthy toilet bowl. The list goes on.
Speaking the truth
In black-and-white, Dark Memories capture the men and women in close-up shots, now in their 60s and 70s, looking straight into the viewers' eyes, and speaking their truth. Familiar or unfamiliar names include Alfredo N. Salanga, Romeo Capulong, Edgar Jopson, Horacio Morales, Edicio de la Torre, Fulgencio S. Factoran Jr, Emmanuel Lacaba, and many more.
Revealing starkly the subjects' faces, the photographs (not photoshopped, no, thank you) show their lines and wrinkles as silent witness to endurance and fortitude in surviving pain and torture. Surviving such horrors also mean leading purposeful and intentional lives, years and decades later.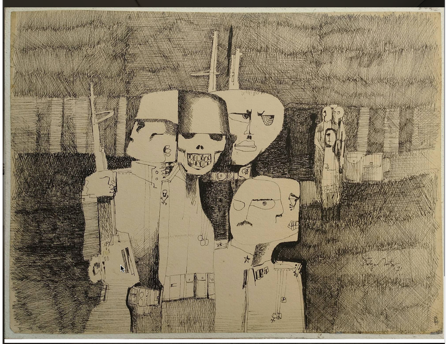 When imprisoned, they were as young as a sixteen-year-old or in their twenties —students, writers, teachers, farmers, workers, lawyers, nuns, and priests—a cross-section of society. Decades later, they would become professors, editors, university heads, poets and writers, National Artists, journalists, bankers, CEOs, entrepreneurs, lawyers, and public servants— still undimmed in their vision of a better, and equitable society for all.
Rocamora's series of Dark Memories started in 2011 with the initial group of human rights violations claimants. Permission from each of the featured martial law victim or their family members to be included in the exhibition had been obtained.
Somber drawings
"Ang mga iginuhit na ito ay batay lamang sa aking nasaksihan, narinig, at naramdaman sa pulso ng publiko noong Martial Law," notes Edgar Doctor.
Twenty drawings made from 1971 to 1974 are on exhibit, including the series of drawings entitled Alingawngaw ng Pagtutol, Timping Alimpuyo, and Mga Pinagpala.
Nagbabadya ng Pagkubkob (1971), depicts a group of soldiers glaring menacingly at a family, a note that armed state forces have been part of the militarization of the country, long before martial law.
The Filipino people's response to martial law, a sense of tempered resistance against dictatorial rule, is expressed in the Timping Alimpuyo series (1971-1974).
In Mga Pinagpala show the enablers and cronies who kowtowed to the powers-that-be and enriched themselves. In Masarap Ba? (1974), a man's face resembling the deposed dictator with a mouth wide open, wolfing down paper money, and his hands clutching more money.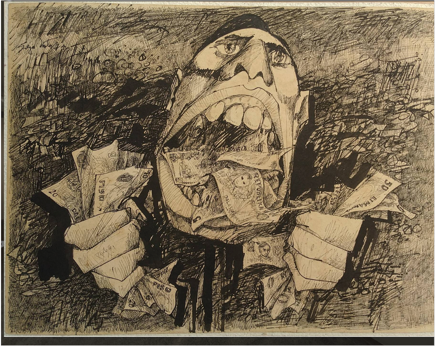 Marked by deep shadows and luminous highlights, Doctor's drawings capture the complex feelings of disquiet and perseverance against all odds during that time.
Rick Rocamora: With multiple awards to his name, he is the author of five photobooks, among them: Filipino World War II Soldiers: America's Second-Class Veterans (2009), Blood, Sweat, Hope and Quiapo:Rodallie S. Rosende Story (2015), and Long Road to Dignity (2021), again on Filipino war veterans. His work has been part of the permanent collection of the San Francisco Museum of Modern Art, the U.S. State Department Art in Embassies Program, and private and institutional collectors.
His focus on the Philippines is on its political, social, and economic life, especially on human rights violations.
Edgar Doctor (b.1941): a modern and contemporary artist who is known for his colorful landscapes and abstract paintings. A 1965 fine arts graduate of University of Santo Tomas, he worked for the National Historical Commission as an illustrator and diorama artist.
A similar exhibit by Rick Rocamora was shown at UP Diliman's Academic Oval in 2022 and the exhibit of Rocamora and Doctor at the Ateneo Art Gallery last September 2022.