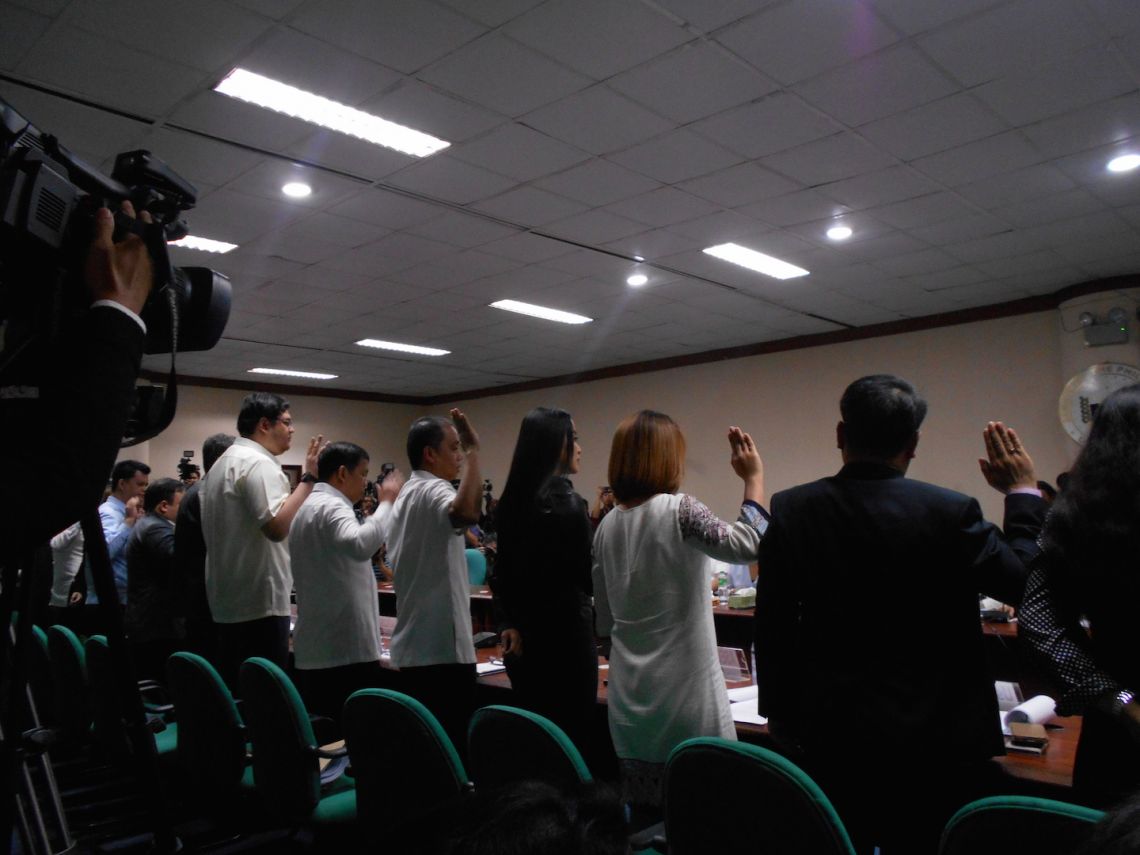 Sen. Paolo Benigno "Bam" Aquino IV released Wednesday a list of websites and social media pages spreading false content, many of which he said "carry the name" of President Rodrigo Duterte.
Aquino told a Senate committee hearing on a bill seeking to penalize fake news that the 87 websites, 95 Facebook and 56 Youtube pages on his list were culled from the list released by the Catholic Bishops' Conference of the Philippines in January, "plus our own research."
Presidential Communications Undersecretary Joel Sy Egco denied Malacañang's involvement in the fake news sites.
"It's so easy to put up a website, name it after Bam Aquino or the president, and then pagka nabuking ka na (when you get caught), you take down the site, and you put up another," he said.
But he agreed with Aquino that it was "troublesome" that many of the sites carry the president's name. "People would think that these websites are actually allied to the president's camp," Egco said.
Several Palace officials, including Presidential Communications Secretary Martin Andanar and Assistant Secretary Mocha Uson, who was present in the hearing, have been accused of spreading wrong information.
"Blogger po ako, hindi po ako journalist (I'm a blogger, not a journalist)," Uson said, despite being a regular columnist for mainstream broadsheet The Philippine Star, and formerly hosting a radio show before getting suspended.
Uson added that unlike the mainstream media, she is not compelled as a blogger to seek balance in her posts. More, she said her opinions reflect her views as a private individual.
Sen. Nancy Binay, however, said that Uson is bound by the code of ethical standards for public officials.
"Baka it's high time for you to decide kung gusto mo maging blogger o gusto mo maging Asec (It might be high time for you to decide if you want to be a blogger or an assistant secretary)," Binay told Uson.
Pro-Duterte blogger Rey Joseph Nieto, who puts out ThinkingPinoy and is now a consultant at the Department of Foreign Affairs (DFA), said some people prefer fake news to "real news" from the mainstream media "kasi po minsan yung real news sobrang sabog, sobrang unbelievable din at sobrang slanted (because the real news is too messy, too unbelievable, too slanted)."
Nieto also repeated an earlier accusation that photojournalist Jes Aznar posted a live video of military operations in Marawi City, purportedly endangering the lives of government snipers.
The National Union of Journalists of the Philippines (NUJP) in a statement called Nieto out for what it said was an attempt "to resurrect his utterly discredited accusation" against Aznar.
"That Nieto did all this under oath should have earned him a perjury charge or a contempt citation at the very least," the NUJP said.
"That he did so as a consultant of the DFA, paid with the people's money, makes it a hundred times worse," it added.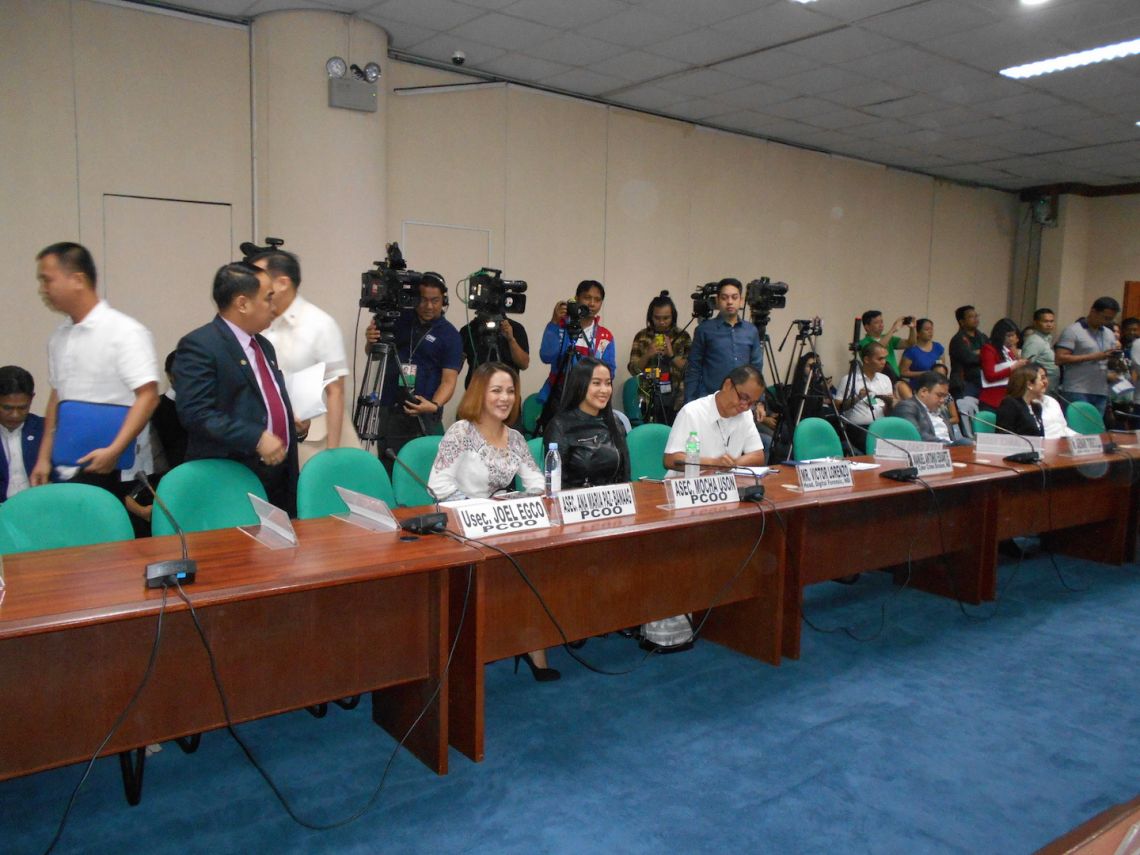 Andanar, citing unverified information, accused Senate reporters in February of receiving bribes.
"Sometimes people, even officials, say unverified statements," said Assistant Communications Secretary Ana Maria Paz Banaag during the hearing, when pressed by Sen. Antonio Trillanes IV to comment on Andanar's gaffe.
Uson, who takes charge of the Palace communications social media office, faces a libel complaint filed by Sen. Antonio Trillanes, who accused her of maliciously depicting him as being corrupt by sharing on her Facebook page fake details of his supposed offshore accounts.
Libel, a crime under the Revised Penal Code, is already an available remedy for persons victimized by fake news, said Sen. Franklin Drilon during the hearing.
"Avail of the libel law," Drilon said, adding that any form of constraint on free speech is a "slippery issue."
Yet, Sen. Joel Villanueva, the proponent of Senate Bill No. 1492 or the anti-fake news act, which proposes stiffer punishments for public officials, said the measure if enacted would be different from libel.
"Ang pinaparusahan sa fake news ay ang malisyosong paggawa, paglalathala, pagpapakalat ng maling balita (What the anti-fake news law seeks to penalize are the malicious creation, publication, and spreading of fake news)," Villanueva said.
"Sa libel, kahit totoo ang impormasyon, kapag napatunayang walang mabuting motibo para ipakalat, maari po kayong kasuhan (In libel, even if the information were true, if no good motive is found, one could still be liable), he added.
The definition of "fake news" could be left to the courts, the senator said.
At present, the National Bureau of Investigation cannot act on cases of circulation of fake news, said Cybercrime Division Chief Manuel Antonio Eduarte.
"If the fake news will result in libel or other cases, it will be actionable by the office. Otherwise, we cannot act on it," he said.
Journalist Ellen Tordesillas said the country's libel and cybercrime laws are already enough, with the real problem being government officials themselves who spread falsehoods and wrong information.
"A number of government officials, politicians and other public figures tend to play fast and loose with the facts in the process of misleading the public," said Tordesillas, president of VERA Files. "These lies spread easily owing to the big following and wide reach of these public figures, including on social media."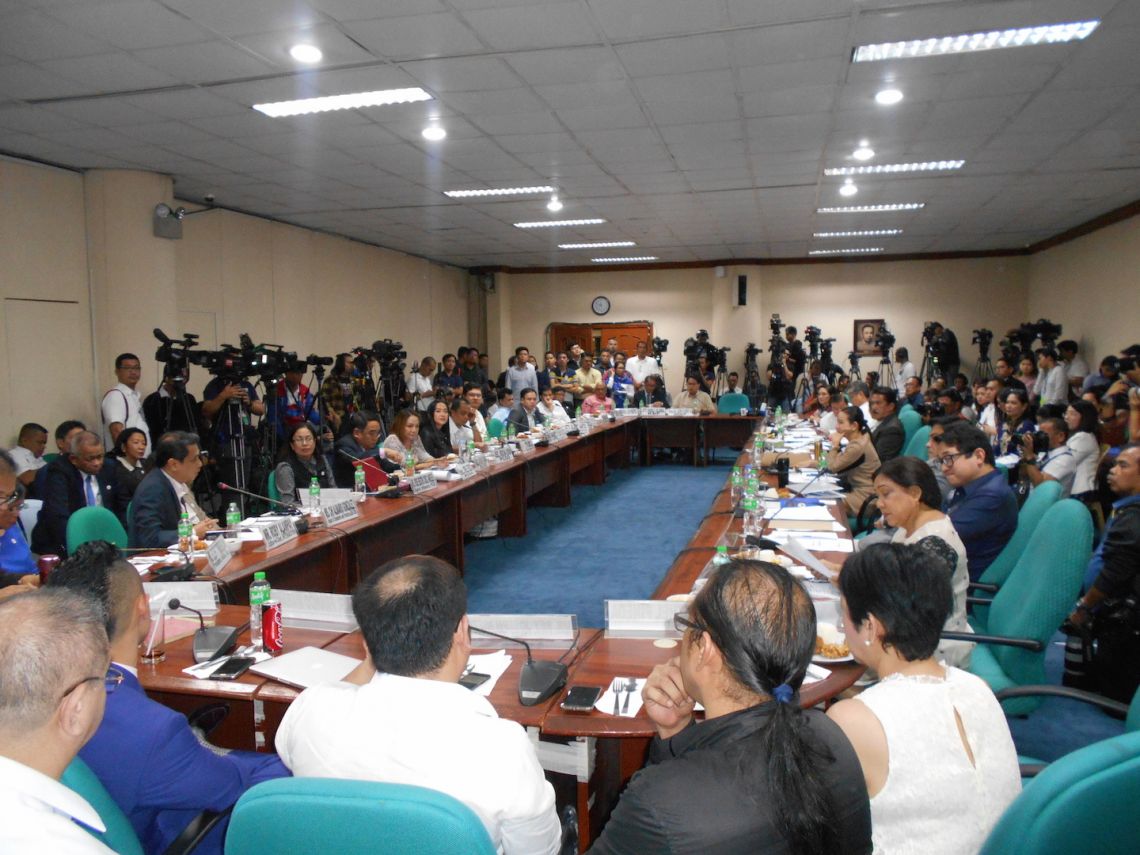 Lawyer Antonio La Viña, former dean of the Ateneo School of Government, said the problem on fake news needs a smart solution, proposing to regulate online platforms, instead of publishers, so as not to curtail the right to free speech.
Former Solicitor General Florin Hilbay, meanwhile, proposed that Congress create an Institute for the Integrity of Information, which he described as "a sort of Ombudsman for public information provided by government, or an information police for government officials."
Hilbay said the institute should be composed of academics, media practitioners, policymakers, scientists and information technology experts "of the highest credibility and competence" who should not be appointed by the president or any of the president's alter egos.
In a statement, the human rights coalition Advocates for Freedom of Expression Coalition-Southeast Asia (AFEC-SEA) conveyed their "grave concern" over the fake news bill, and urged the Senate not to criminalize fake news.
"An anti-fake news law will present a serious chilling effect on freedom of expression," said lawyer Gilbert T. Andres, chair of AFEC-SEA, which includes as members the Center for International Law Philippines, Philippine Internet Freedom Alliance and other nongovernment organizations from Cambodia, Indonesia, Malaysia, Myanmar, Thailand and the Philippines.
The proposed law "can be used to harass journalists and media organizations that carry news articles perceived to be critical of any ruling administration," Andres added. "Ironically, an anti-fake news law might even actually protect fake news perceived to be beneficial to the ruling dispensation." — with Maria Feona Imperial, Daniel Abunales, Arianne Christian Tapao and Jake Soriano