The viral video of the "arrest" of Kamikazee lead vocalist Jay Contreras in a drug buy-bust operation is fake.
The doctored video, published by YouTube channel Aksyon Balitaon Sept. 30, claimed Conteras was nabbed with six other individuals in a buy-bust operation in Mandaluyong City. Aksyon Balita video is titled:
"LEAD VOCALIST NG KAMIKAZEE JAY CONTRERASAT 6 KASAMA TIMBOG SABUY BUST OPERATION (Lead vocalist of Kamikazee, Jay Contreras, and 6 others were caught in a buy-bust operation).
Aksyon Balita's 32-second video is manipulated.. It altered a portion of the July 6 news report by GMA News on the apprehension of six alleged drug personalities in a condominium unit in Mandaluyong City and fused it with a screenshot of a message commonly published by impostor news sites tracked by VERA Files Fact Check. Contreras was not among the six suspects.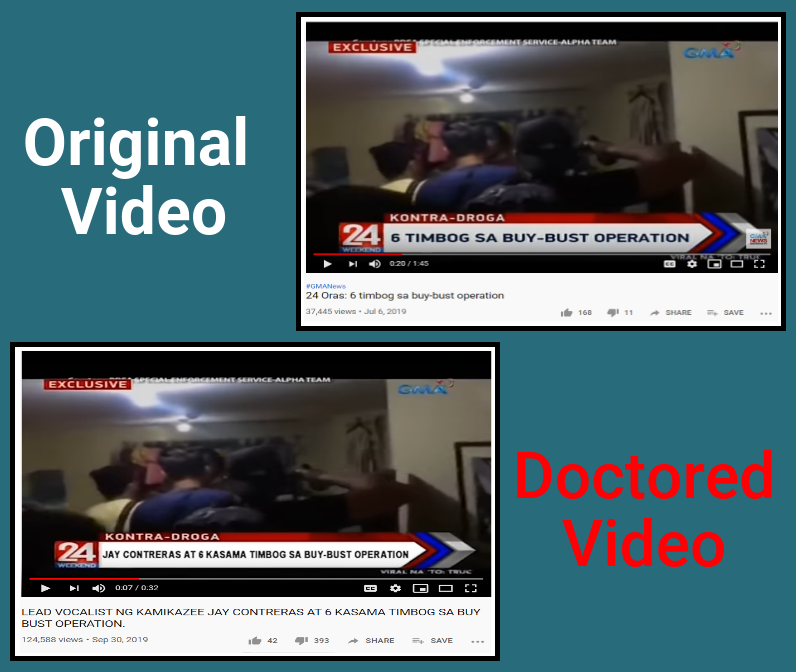 Aksyon Balita also fabricated a mugshot of Contreras for its video thumbnail. The original version of the manipulated photo was from a 2017 article of ABS-CBN's Philippines' Ultimate Showbiz Hub (PUSH) website about Kamikazee's return in the music industry after being on hiatus. The band went on a break in 2015 due to personal reasons.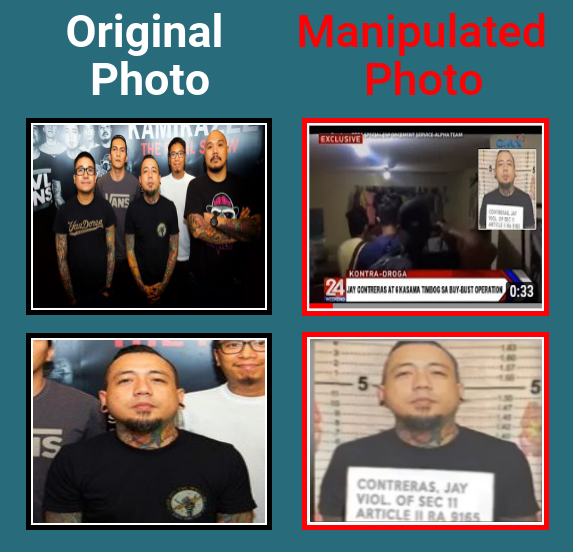 Contreras told VERA Files in an Oct. 2 direct message on Instagram that the circulating videos as "fake."
The manipulated video surfaced on social media almost two weeks after rapper Marlon "Loonie" Peroramas and four others, including his younger sister, were nabbed in a buy-bust operation in Makati on Sept. 18. Peroramas, however, deniedthat he owned the 15 sachets of high-grade marijuana confiscated from their group.
Aksyon Balita's doctored video has been viewed more than 120,000 times. It could have reached 21,000 social media users, with the traffic largely coming from the unverified Facebook page of PDP LABAN Zambo Sur.
(Editor's Note: VERA Files has partnered with Facebook to fight the spread of disinformation. Find out more about this partnership and our methodology.)