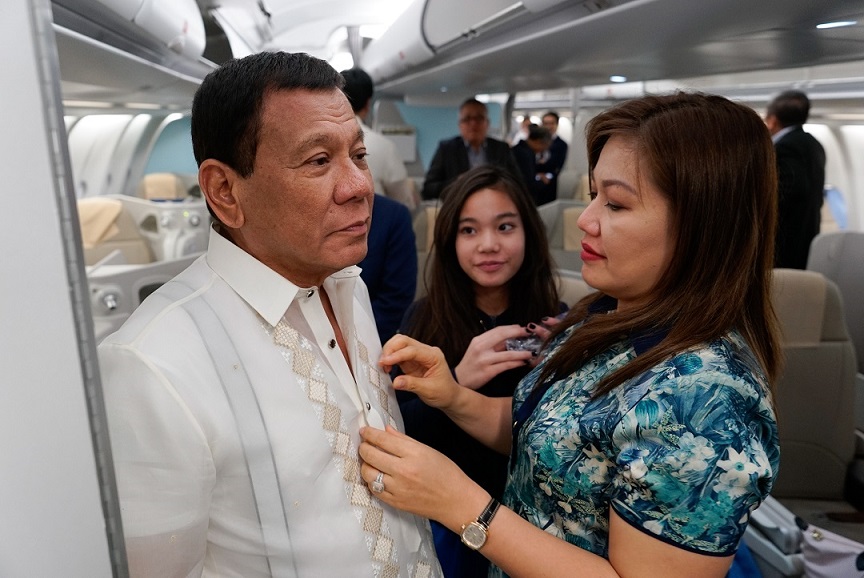 Honeylet Avanceña fixes the barong of President Duterte before they deplane in Cambodia. Looking on is their daughter, Veronica.Malacañang photo

Cielito "Honeylet" Salvador Avanceña has weighed in on the more serious issues of her partner's presidency.
And we are stunned by her logic.
In her talk with the members of the Philippine National Police Monday, Avanceña commented on the allegations that Duterte is a killer, a reputation that the President has cultivated by his boasts of having killed some persons.
Avanceña said, "You've seen it, Trillanes has been hitting us since a week before election. Eh bakit buhay pa siya? 'Di ba? Wala naman nangyayari eh."
Her remark comes after Trillanes commented on the challenge of Duterte for Ombudsman Conchita Carpio Morales and Chief Justice Maria Lourdes Sereno to resign with him in the midst of the Ombudsman's investigation of Duterte for graft and plunder in connection with the complaint filed by the senator last year before the former Davao mayor became president.
Trillanes asked why would Duterte drag Sereno and Carpio-Morales. ""Eh siya yung magnanakaw eh, siya 'yung pumapatay ng tao. Ikaw mag-resign. Ikaw yung hindi nakatupad ng pangako mo na magre-resign ka kapag hindi mo maayos crime, corruption and illegal drugs in 3 to 6 months eh. Mahigit isang taon na eh nandiyan ka pa rin," he said.
This is the first time that Avanceña has ventured into serious issues and her reasoning is not really surprising. It should be recalled that in the election campaign video where Duterte regaled the crowd about the rape of the Australian missionary and he commented that he should have been given the chance to be the firstin the line of the abusers, Honeylet was seen laughing with the crowd.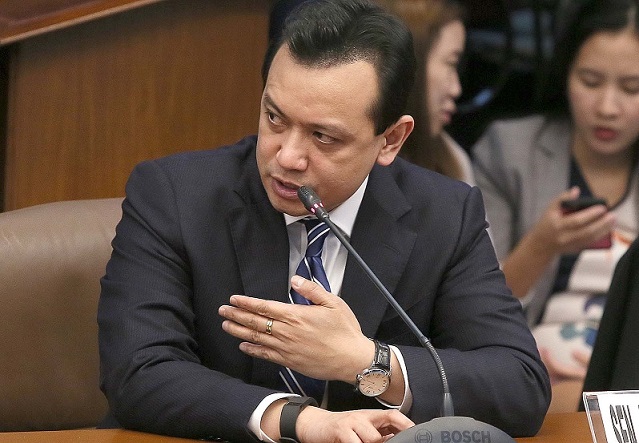 Sen. Antonio Trillanes IV in a Senate hearing.
We don't know how much Avanceña knows aboutthe President's activities because Trillanes said he was informed by a PNP official that sometime in June 2016, in front of officials from the Department of Justice and Philippine National Police, Duterte followed up on what apparently was an earlier order: what have they gathered about Trillanes that they can use against the senator?
When the answer was "None", an annoyed Duterte remarked, "Wala talaga? Itumba na lang yan."
There was also the information given by P03 Arturo Lascañas, a former member of the Davao Death Squad that he was given an assignment by Sonny Buenaventura, former driver/bodyguard of Duterte to kill Trillanes.
Lascañas said he declined because he said that would require a major operation.
Later on, Lascañas turned around and sought the help of Trillanes. He made a second testimony before the Senate Committee on Public Order and Dangerous Drugs in the Senate headed by Sen. Panfilo Lacson of his having carried out assassinations on orders of Duterte. The committee dismissed it as "weak" and "has no probative value."
So, Ms Honeylet, it's not for lack of the President's desire to eliminate Trillanes that the senator is alive. In life, there are many factors that conspire to make things happen. It's not just what your partner wants.