Text and photos by ELIZABETH LOLARGA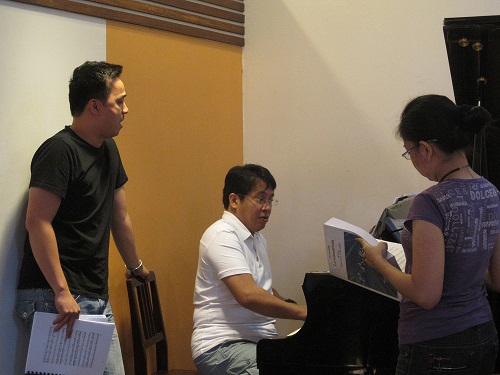 WHAT kind of audience tenor Arthur Espiritu sings for doesn't even enter his mind anymore. "You only need one passionate person," he said. "All it takes is exposure, one moment."
Pianist Najib Ismail agreed: "Whether you have an audience of two thousand or of one, if you connect, you're okay."
Espiritu will perform in "An Evening of Bel Canto" with  sopranos Stephanie Anne Aguilar, Myramae Meneses and Elainne Vibal and Ismail on the piano  on  Saturday, Oct. 26 at 7 p.m. at Ayala Museum, Makati City.
Bel Canto, which means beautiful singing in Italian, is  a defined online as a style of operatic singing characterized by full, even tones and a brilliant display of vocal technique.
At a recent rehearsal, Espiritu, the country's top tenor and the first and only Filipino to win the Belvedere Vocal Competition in Vienna,  looked like he and the girls were simply jamming and conversing by a piano.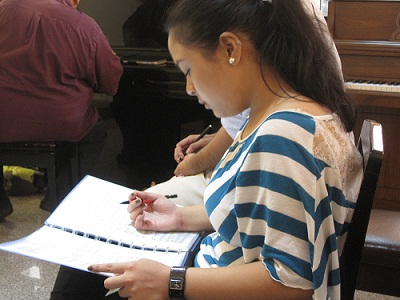 Except that they were preparing  to sing for one night only some rarely heard examples of beautiful singing composed by Donizetti, Bellini, Rossini, Handel and Mozart.  Among the feared arias  to be performed is a duet from Bellini's I Puritani with three high D's, the duet from Rossini's Semiramide and the high-spirited Donizetti's La Fille du Regiment with its nine high C's.
The difficulty level is such that it has become a private joke among the four if they would settle for a popular encore piece like "Libiamo," the drinking song from La Traviata.
Espiritu said their rehearsals weren't really a master class. "What can I say? These girls are so good they can do what you request them to do. I'm just giving them a few pointers. I'm sharing my experience and knowledge, but the girls have the capacity already for this kind of music. Yes, it's like jazz, throwing in a rift here or there."
Ismail, who teaches at the University of Santos Tomas Conservatory of Music, said his challenge was to "find things suitable to their voices, not heavy stuff because they are young singers. We've got to be careful with their voices. Bel canto is perfect for young singers who're not yet into Verdi or Wagner."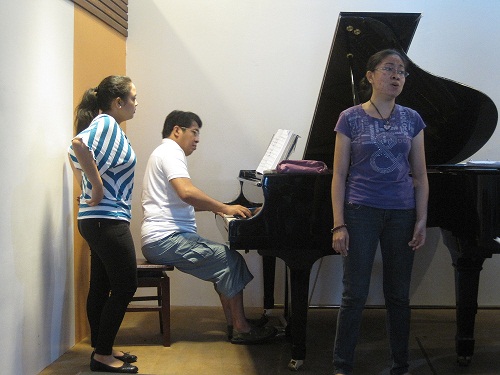 The sopranos are thrilled to be working as a team. Vibal, the most senior of the three and back from a recent workshop with soprano Mirella Freni in Modena, Italy, said, "I felt grateful when Joseph Uy of the Manila Chamber Orchestra Foundation informed me about this concert. It's an honor and a pleasure to work with everyone in this concert."
Aguilar felt the same when Uy asked me if she was available for this concert. Her surprise doubled when she learned that  Espiritu and Ismail recommended her. She said, "This was a dream come true, what I've been waiting for."
Meneses didn't even pause to reconsider the invitation, saying, "Right away I was excited to start rehearsals because I knew this  would be an enriching experience for me as a young artist."
Espiritu said, "In the course of working with classical musicians, you meet wonderful people. You gain their respect, camaraderie is built, and music is a great way to connect. We love what we're doing. We chose to do what we love, and we continue to do it."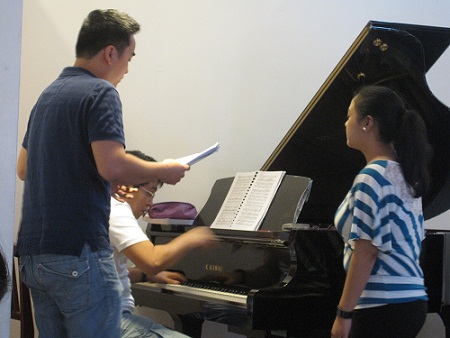 Meneses described key pointers she got from the more experienced gentlemen: "Both taught me to feel, to enjoy expressing the pieces. This has helped a lot because it frees my mind from thinking too much about technique. It wasn't hard enough to express the music because bel canto pieces were written to be beautiful. It's up to the singer to go with the lines and phrases of the music and express it as beautifully as possible. Just listening to the melody and singing it with your gut helps me connect with the depth of the musical expression."
Aguilar, a big fan of Espiritu's and Ismail's work ethic and positivity, said, "They don't really touch our techniques because we have our individual voice teachers for that. Instead, they give us their input on how we can express the lines of the songs better in the melody and words by telling us how to expressively sing it. They showed tricks in making the voice softer or louder in some parts to complement the melody of the song with our voices. It does make a big difference in interpreting the songs. "
Vibal seemed to speak for all in expressing the passion that suffuses their art: "I am in love with music. Through loving music and pursuing it, I have experienced a wide array of emotions, I've met a lot of interesting individuals from whom I have learned important lessons, I've learned a lot of things about life and have gone through moments that have tested my love for it."