By PABLO A. TARIMAN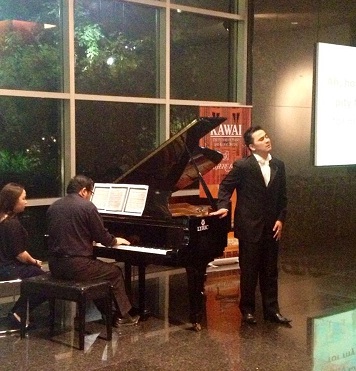 LIKE it or not, bel canto (the art of beautiful singing) is the most-quoted word in  the opera circle.
Teachers brandish it as though it were a vocal talisman and some students think it is the key to instant vocal stardom.
If you are active in the conservatory circuit, you realize very few singers live up to it. A few sing to impress, not to communicate. Still many relish the bravura moments in Puccini and Verdi arias and end up doing the opposite of bel canto.
For lack of solid technique compounded by bad teachers, some students  — who wanted to absorb the angelic resonance of bel canto — end up as pedestrian singers who think acting can cover up for a singing style way below the standard  of how it should sound.
The truth is bel canto is better heard than lectured.
"An Evening of Bel Canto"  — the closing season concert of the MCO Foundation, Inc.  heard at the Ayala Museum last Saturday — gave that special audience the essential, if, substantial qualities of the art of beautiful singing.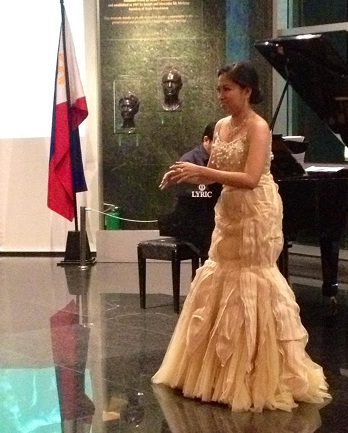 Interestingly, it featured the four pillars of bel canto – namely Handel, Rossini, Bellini and Donizetti.
It was a pleasant surprise to hear soprano Elainne Vibal sing Handel's Tornami Vagheggiao (from Alcina) with graceful phrasing obviously coached on the essence of breath control. It is not yet a well-focused timber but the way she eschewed line and giving it a lovely cover and ending with breath-taking light tone, one realized she is getting good nurturing from one who knows the art and live it.
The presence of pianist Najib Ismail gave the recital a special touch the way he could blend with the singers with such precision and artistry demanded from those pieces.
Hopping to Bellini's Que la voce and Prendl, l'anel ti dono from La Sonnambula and later to Donizetti's  Chacun le sait, Vibal's entranced as she slowly conquered and literally assured an audience bel canto is alive and kicking in her generation.
Again, Ismail provided the sense of harmony and drama and making the piano an equal partner of the singers.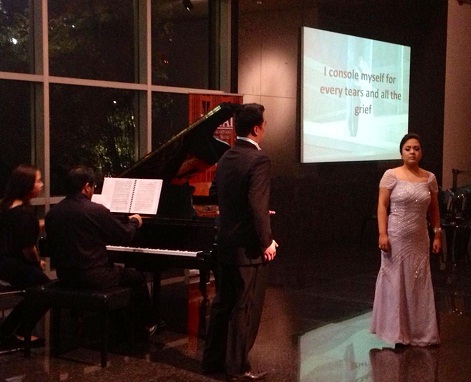 Soprano Stephanie Aguilar charmed her way in Mozart's Ruft sanht  (from Zaide) and was totally focused in William Tell's aria, Sombre fore and awed everyone with her young and fresh vocal output.
Of the three sopranos, Myramae Meneses stood out with a voice that easily dazzled starting with her Puritani duet, Vienne fraquesta with tenor Arthur Espiritu and her solo aria, Quel gardo il cavalieri by Donizetti. The soprano has incredible range and a magical tone that took the breath away. The way she sings and enunciate and caress those notes made her a virtual stand-out.
One who can lecture on bel canto and demonstrate it to the hilt you can find in the singing of tenor Espiritu.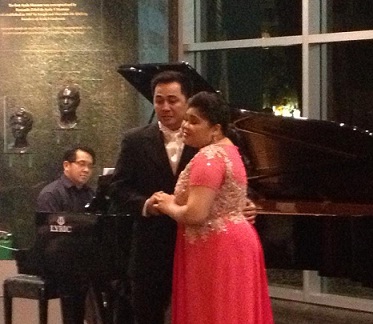 Nursing a slight cold that evening, the tenor turned to solid technique for partial relief and demonstrated his world-class qualities without effort. That was a hair-raising, ringing sound in the aria, Ah come mai non senti from Rossini's Otello and his acting sent shivers in one's spine. You realize he isn't just a fine soloist but an all-giving chamber musician who can share a lot in the duets with Aguilar, Vibal and Meneses and making all of them feel worthy of his vocal presence.
His closing aria, the technically demanding  Ah, mes amis from Donizetti's La Fille du Regiment, was special because he was just as appealing in the lower and middle notes. One was sure that wasn't his best high C's.
But this Filipino tenor has a lot more to offer than those high C's in that popular workhorse. His singing teaches everyone that bel canto is not about competing but drawing the best in one's voice and delivering the message of beautiful singing without fanfare.
As earlier noted, you can't pull a first-rate bel canto recital without the presence of a pianist who knows the artistic demands of the art.
Pianist Ismail can get through the spirit of the arias with as much ardor as the singers. Indeed, he is one of the few artists in Manila's music scene who can command respect without resorting to self-advertisements. His excellent rapport with his singers is testament to his credential as a collaborating artist with a capital C.
For this reason alone, MCO Foundation's "An Evening of Bel Canto" is my recital of the year. One doesn't see anyone getting as close to the vocal standard that he and his young talents have set in that Ayala Museum concert.