By ELLEN T. TORDESILLAS
THE "Eliminate Grace Poe" from the presidential race crusade has benefitted Vice President Jejomar Binay who has regained the lead in the latest survey of candidates for president in the 2016 elections by the Social Weather Stations.
Liberal Party standard bearer Mar Roxas, whose allies in the Commission on Election delivered the strongest blow against Poe, has gained from it a little because he is now in a statistical tie with Poe and another candidate, Rodrigo Duterte. But it doesn't bring him closer to the presidency because Binay is pulling away.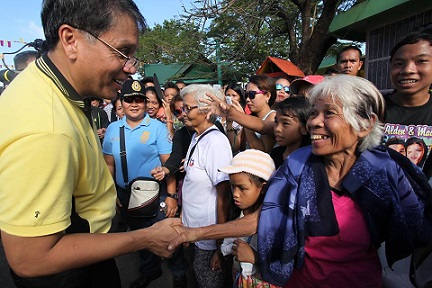 By helping destroy Poe, Roxas is delivering the presidency to Binay.
Binay's comeback has been noticeable since the December when  Comelec's first and second divisions disqualified Poe. In the SWS survey second week of December, Binay tied with Poe in first place with 26 percent of the respondents' nod  followed by Roxas, a distant second at 22 percent followed closely by Duterte with 20 per cent who was at that time was starting his  unravelling with his cursing of Pope Francis.
In the latest poll by SWS conducted last Jan. 8 to 10, Binay scored 31 percent among 1,200 respondents nationwide who were asked the standard election survey question who they would vote  if elections were held today. The respondents were given eight names.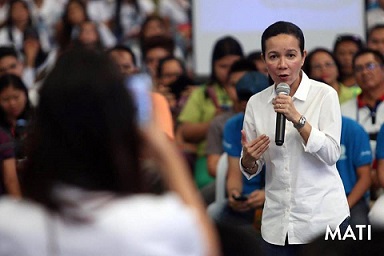 Binay's  score was a five percentage point increase from the 26 per cent he got in the last month's survey.
Poe's score decreased two percentage points from 26 to 24. Roxas didn't gain and in fact went down but only by one percentage points. Duterte remained at 20 percent.
It is still four months to go before Election Day. Poe has brought the case to the Supreme Court, which will have the final say.
It is expected that she will recover if the Supreme Court decides to dismiss the disqualification cases against her.
Meanwhile, she has come out with TV ads telling  the people, especially her confused supporters that the disqualification cases are attempts by people who want her out of the competition just like what they did to her father, Fernando Poe Jr., and that she is still very much in the race.
Speaking of TV ads, isn't it amazing that Binay tops in the TV ads spending despite the fact that his bank accounts are frozen? Malalim ang balon.