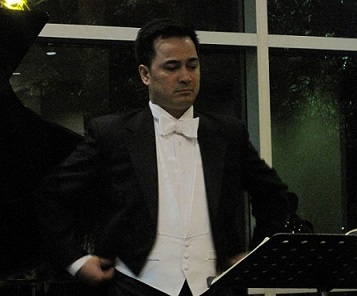 By ELIZABETH LOLARGA
IN the world of classical music singing, talent isn't enough. The voice must be cared for like the instrument of God that it is. This is where vocal workshops come in.
In Makati this weekend, the Intensive Vocal Workshop with Arthur Espritu runs from Jan. 15 to 17 at the Black Box Studio of MusicArtes, SJG Center Bldg., 8463 Kalayaan Ave. and Don Pedro St., Makati.  The workshop climaxes with a concert for the 12 students called "A Night at the Opera" on Jan. 19 at 7:30 p.m. at the Ayala Museum. The concert is a chance to hear the future of Philippine classical singing. The 12 will perform excerpts from best-loved operas like  La Boheme, Romeo et Juliet, Les Huguenots, Tales of Hoffmann, Marriage of Figaro, among others.
World-acclaimed Filipino tenor Espiritu said, "Workshops are very important, depending on how each individual young singer values it.  They are an extension of what they have learned.  As to how a workshop will help their voices, again this depends on how much they take in the information. Hopefully, it will help them with their development in singing."
Apart from attending workshops and masterclasses, a singer must take better care of his/her instrument. He said, "Less stress the better. Sleep eight hours at the minimum. Try not to consume in excess food, alcohol, tobacco, etc.  Exercise whenever possible. In other words, it is helpful to live a healthy life. The voice is not like any other instrument. It is a very sensitive part of our body that most of us take for granted."
Being himself a teacher and vocal coach, he's the first to agree that "every teacher and coaches should be appreciated and treated better. Without teachers, coaches and mentors who give proper instructions, where will we be?  They are a very important part of the process. I would not be where I am if it weren't for my teachers, coaches and mentors.  Up to now, I still thank my lucky stars that my life was aligned with them."
He does not believe that certain types of singers need more attention than the rest, explaining, "No one should be treated special.  Each student is responsible for his or her success and failures. There should be no more additional measures to be taken.  Now, if a student is in need of special attention, the teacher should clarify and communicate better with that student.  I think it is a matter of how someone communicates instructions.  Students and teachers who do not communicate well with each other end up not working out."

Espiritu conducted his first workshop in the country in 2010 at the University of Santo Tomas. From that batch, he remembers singers Miko Galang, Jamie Sampana, Trevor Panganiban, Harlene Magsino and Nomher Nival who, he said, "are all doing wonderfully."
Workshops have also shaped him into a world-class singer. He cited  Richard Miller's masterclass that "was very helpful to me."  Before Miller, he studied with Dr. Raquel Cortina for seven or more years. There was Buddy Carruth, his mentor and benefactor who  helped finance Espiritu's master's degree and another degree from Oberlin Conservatory.
He acknowledged Dr. Robert White Jr. helping him "a great deal with my passaggi, I still study with him up to now." (Passaggio is a term used in classical singing to describe the transition area between the vocal registers. The passaggi (plural) of the voice lie between the different vocal registers, such as the chest voice, where any singer can produce a powerful sound, the middle voice, and the head voice, where a powerful and resonant sound is accessible, but usually only through vocal training. – From Wikipedia.org)
From Dr. Cortina, Espiritu learned to preach "Less is more." From Miller, he remembers "all the technical work we did with my voice and the privilege to be able to study with him.  He is one of the most influencing figures in my life.  His book The Art of Singing was my Bible for a long time. "
After the Makati workshop and culminating concert end, he is bound for Europe again. He first heads straight for Frankfurt where he will debut as Rinuccio in Puccini's Gianni Schicchi, then he has more performances in Munich and Magdeburg.  This year, Espiritu will also debut as Rodolfo in La Boheme with Sydney Opera and as the Shepherd in Szymanowski's Opera in Polish in Melbourne.  He may be doing Camille in The Merry Widow, also Martha, L'elisir or Fra Diavolo in Switzerland.
It's enough to know that the Philippine flag invisibly flutters proudly each time he hits those high notes in the first quarter and a half of 2016 and the first half of 2017.
The workshop is open to observers for a fee of Php200. Ticket price for the Jan. 19 concert is Php 600  with 50 percent discount for students and 20 discount for senior citizens and persons with disability.  Call Ticketworld at 891-9999 or the Cultural Arts Events Organizers (CAEO) at tel. nos. 515-3041, 782-7164 or 997-9483 or cell nos.   09209540053 or 0918-347-3027.
                                                              ###