The last two of five killings in Caloocan City at the start of the year came in quick succession: Eleomar Manansala was fatally shot on January 28; the next day it was Carlos Sanchez' turn to fall to motorcycle-riding gunmen.
The city dotted by slums and grimy factories has seen a spate of killings linked to the government's anti-drug war and Tokhang, its operational plan. It is not unreasonable to suspect that Manansala, Sanchez and some of the others killed in Caloocan on the first month of 2020 were cases of Tokhang.
Caloocan's main drug hotspot is in Phase 12 in Tala, known for hosting the sprawling Tala Leprosarium that has long been turned into a general hospital. Citizen protests against Tokhang are also well-documented in these barangays.
A study on "Violence, Human Rights, and Democracy in the Philippines." led by the Third World Studies of the University of the Philippines is being conducted to explore the difference between the anti-drug campaign before and after 2016, the uniqueness of Tokhang, and the dynamics between the national Tokhang narrative, the participation of local government units, and the spontaneous and organized response of citizens and people's organizations.
In particular, it probes the critical role of the city and barangay governments in enabling the localization of the president's anti-drug campaign. It seeks to unravel how violence is generated through the use of government laws and regulations, official and unofficial interaction between state forces and the civilian population, and the president's fanatic sponsorship and defense of Tokhang.
The rise of a frontier city
Caloocan was geographically divided into two areas after its Novaliches and La Loma districts became part of the envisioned new national capital called Quezon City in 1939. The northern part of Caloocan marked the boundary between Metro Manila and Bulacan.
In April 1971, then president Ferdinand Marcos issued Presidential Decree 843 creating the 575.5-hectare Bagong Silang Resettlement Project, which included a big portion of the Tala Estate. It was designated as a relocation area for Manila's informal settlers.
But after some years, many housing lots remained vacant because intended 'relocatees' couldn't find jobs and livelihood. Eventually, settlers started moving to Bagong Silang and other areas of north Caloocan as the country's national capital region rapidly urbanized. This was also the time when demolitions in the central commercial areas of Metro Manila in the 1990s pushed urban poor residents to the peripheries of the region, most notably in north Caloocan.
The population census of 2015 shows Bagong Silang or Barangay 176 is the country's biggest barangay. It has a population of 246,515 or over 15 percent of Caloocan's nearly 1.6 million people that is already the size of a municipal unit and congressional district in the Philippines
However, despite the implementation of so-called modernization initiatives in the city, north Caloocan continues to lag behind owing to years, if not decades of neglect. Poverty, homelessness, corruption, and joblessness plague the north which lead to rampant criminality, including the proliferation of illegal drug operations.
Tokhang in numbers
The number of drug-related killings in Caloocan is lower (373 deaths, based on a study by Ateneo School of Government) compared with the number of fatalities in Quezon City (400) and Manila (463) as of June 2018 (Ateneo School of Government 2018, 16). Yet, Caloocan is consistently touted as the 'ground zero' of Tokhang killings.
Perhaps it is because of the city's previous reputation as a dangerous frontier. But this could be more likely related to high-profile Tokhang cases in the city like the killing of Kian Loyd Delos Santos and South Korean businessman Jee Ick Joo. These two cases triggered widespread public outrage and forced President Rodrigo Duterte to suspend Tokhang. The case of Carl Angelo Arnaiz, another teenager allegedly tortured and killed by Caloocan police, also sustained protests against Tokhang.
Data from the Philippine Drug Enforcement Agency (PDEA) confirm that Caloocan is not the priority of its anti-drug campaign. There were only 88 PDEA-led barangay operations in Caloocan from July 2016 to September 2018 compared with 362 in Quezon City and 453 in Manila. Joint operations involving PDEA and other agencies covered only 10 barangays in Caloocan compared with 103 in Manila and 570 in Quezon City.
Meanwhile, Philippine National Police (PNP) data from December 2017 to June 2018 showed that the local PNP was more active than PDEA in Caloocan. It covered 101 of the city's 188 barangays, while it operated in 73 barangays in Quezon City and 106 in Manila.
The police put the number of drug pushers in Caloocan at 6,500 while it estimated more than 50,000 of them each in Manila and Quezon City. But the Caloocan police seemed more aggressive because despite the city's lower number of suspected drug personalities, it netted 18,753 drug surrenderers compared to 20,714 in Quezon City and 49,000 in Manila.
Weaponizing the LGU mandate
Tokhang didn't create a new mechanism that would legitimize the increased participation of barangay units and city governments in the campaign against illegal drugs. It invoked existing laws and regulations to require the presence of local government units in all phases of Tokhang operations. What made Tokhang unique is the linking of the anti-drug campaign with the LGU mandate of drafting an anti-criminality action plan and the enforcement of a peace and order program.
The PNP Barangay Peacekeeping Operations Manual published in 2009 mentions the value of 'ronda' operations as a community peacekeeping activity because of the involvement of community members. Barangay officials and tanod members are described as 'force multipliers' in the daily peacekeeping activities under the supervision of a PNP officer (PNP 2009, 14-15).
Tokhang appears to be a repackaging of the 'ronda' operation involving policemen and barangay officials focused on eliminating the drug menace at the community level. It enjoined barangay units through Anti-Drug Abuse Councils or ADAC, to support and implement the five stages of Tokhang: collection and validation of information, coordination, house to house visitation, processing and documentation, monitoring and evaluation. In fact, the PNP's 'Double Barrel' memo issued on July 1, 2016 reminded designated team leaders to ensure the presence of ADAC members in all Tokhang operations.
To boost compliance, PNP directives are supplemented by guidelines issued by the Department of Interior and Local Government (DILG) and the Dangerous Drugs Board (DDB). These memos mandated barangays to provide not just a supporting role but a crucial responsibility in implementing Tokhang.
Caloocan as role model
For many years, Phase 12 in Barangay 188, Tala has been known as north Caloocan's drug den, where a shabu laboratory existed. After the election victory of Duterte, Phase 12 became one of the first areas targeted by Tokhang operations which led to the killing of its barangay captain and most of the barangay kagawads. The anti-drug operations later spread from Phase 12 to other areas of north Caloocan.
Tokhang operations implied local government support and this was evident in Caloocan. In August 2017, the city strengthened the Caloocan Anti-Drug Abuse Office (more popularly known as OCADA, probably named after Mayor 'Oca' Malapitan) by passing an ordinance allotting funds for its staffing requirements. The city's 2019 budget included P11.2 million for a drug rehabilitation center and P49.5 million for OCADA. Caloocan's proposed ordinance with a substantial amount of funding for OCADA was the city's direct endorsement to DILG's order to revitalize ADACs.
Barangay LGUs were given explicit instructions by the city government to cooperate with the PNP's Tokhang operations. City councilors were discouraged from providing burial assistance and visiting the wake of Tokhang victims.
After the death of Kian in August 2017, the city government organized 'ronda operations' composed of barangay officials with tanod members, police, and assigned city councilors per zone and barangays to implement ordinances banning the sale of liquor to minors (passed in November 2005), regulating the use of videoke and karaoke machines (passed in November 2016), and mandating new curfew hours for children (passed in August 2017).
The 'ronda' lasted almost a month during which the combined forces of PNP and LGU conducted checkpoints and barangay visits every night after 10 p.m. It was meant to express LGU support to the PNP, despite the backlash of the killing of Kian, and to justify the arrest of minors while Tokhang operations were undertaken.
Despite the announcement of the Department of Education (DEPED) about its refusal to conduct mandatory drug tests, some Caloocan schools initially tried to proceed with this but was stopped by parents who protested the scheme. In some schools like the Cielito Zamora High School Annex, students from grades 7 to 10 were required to sign a waiver informing them and their families of the random drug testing by the school.
Tokhang killings
Phase 12 in Barangay 188, the notorious drug hotspot in north Caloocan, continued to operate despite the change of leadership in the city government. On June 25, 2016, Barangay Chairman Edres Romuros Domato was killed. Edres was a suspected operator or protector of the drug lab. His son Edison, who was the barangay's number one kagawad, became the chairman but he was also killed in September 2016. Members of the Domato family soon left the community. The rest of the barangay kagawads were also killed until only one member of the council was left. As of January 2019, illegal drug transactions remained rampant in the area.
The killings reverberated across the north not only because they involved prominent barangay leaders but also because minors became a collateral damage in the Tokhang operations.
The social and political consequences of Tokhang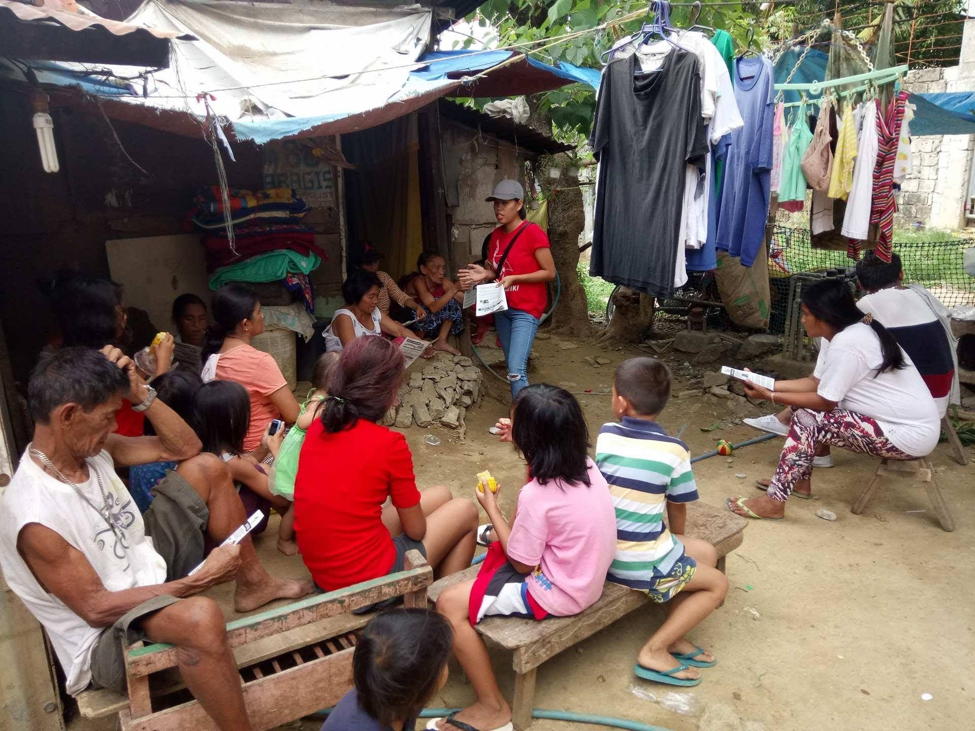 North Caloocan residents share experience and sentiments on tokhang with local activists and church workers.
North Caloocan residents felt the impact of Tokhang after the consecutive killing of Barangay 188 Phase 12 officials. This left an impression that notorious drug personalities were being singled out but many were still shocked by the daring methods used to kill the barangay officials. After the Phase 12 killings and the attacks against some barangay officials in the district, Tokhang soon spread to other barangays and instantly created terror.
Barangay units were tapped to provide the initial data about the extent of drug use and illegal drug trade in their jurisdictions. Their early role was to submit a list of drug users and pushers. During a human rights workshop organized by IBON NGO in May 2017, some barangay officials from north Caloocan expressed frustration because the drug watch list they compiled and forwarded to the police soon became a death list. They said they were torn between complying with the law and listening to their conscience (batas o konsiyensya?). Barangays, which are traditional conduits for political patronage (read: pork barrel) especially in vote-rich north Caloocan, have been reoriented to prioritize the setting up of Tokhang mechanisms at the grassroots level.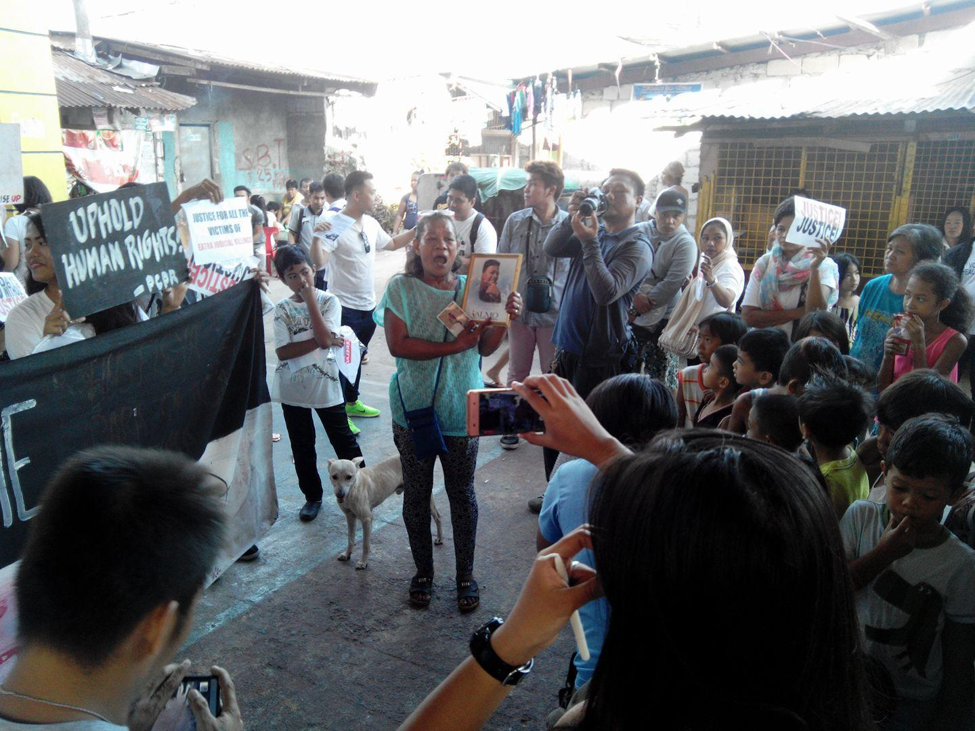 A mother shows the audience a photo of her son who was killed during an anti-drug operation in Phase 8
Spontaneous public outrage against Tokhang emerged when minors like Lenin Baylon were killed or neighbors became witnesses to brutal Tokhang operations. Public perception against Tokhang became more palpable after the massacre of three minors on 28 December 28 in Phase 8. Protests and collective actions by people's organizations within the district were openly organized in January 2017. Funeral marches turned into protests, rallies targeted police headquarters, and major street intersections in Tala, Bagong Silang, and Camarin became protest centers.
'Know your rights'
'Know Your Rights' lecture caravan was conceptualized by activist groups in the community such as Gabriela, Anakpawis, and Anakbayan. Later, they formed a broader network of concerned residents and sought legal aid from national human rights groups. Their first project was the launch of an education campaign that seeks to fight fear by empowering community members with knowledge about their human rights and protective laws in response to Tokhang.
Formal and informal discussions were held in houses, garages, basketball courts, daycare centers, alleys, church courtyards, and even barangay halls.
North Caloocan-based activists and church workers led the discussions while participants shared testimonies about their experience with Tokhang. The lecture became an opportunity to exchange practical knowledge on what to do during a Tokhang raid.
A hotline was set up to spread information and provide access to residents who were interested about resisting Tokhang but unable to join the lecture series.
Volunteers also provided counseling, legal advice, medical aid, and other forms of assistance to families of Tokhang victims. They partnered with formations like the 'Stop the Killings' network and 'Rise Up for Life' to sustain these activities.
The lecture series proved effective in countering the fear propagated by Tokhang implementers. It helped in reviving and sustaining grassroots resistance not just against Tokhang but other manifestations of state terror.
The 2017 protests in north Caloocan reflected the broader opposition against Tokhang across the country. The community-based actions contributed in amplifying the voices denouncing the surge of drug-related killings. Overall, the national and local protests forced the Duterte government to suspend Tokhang while recalibrating its campaign against illegal drugs.
Tokhang as 'social disarticulation'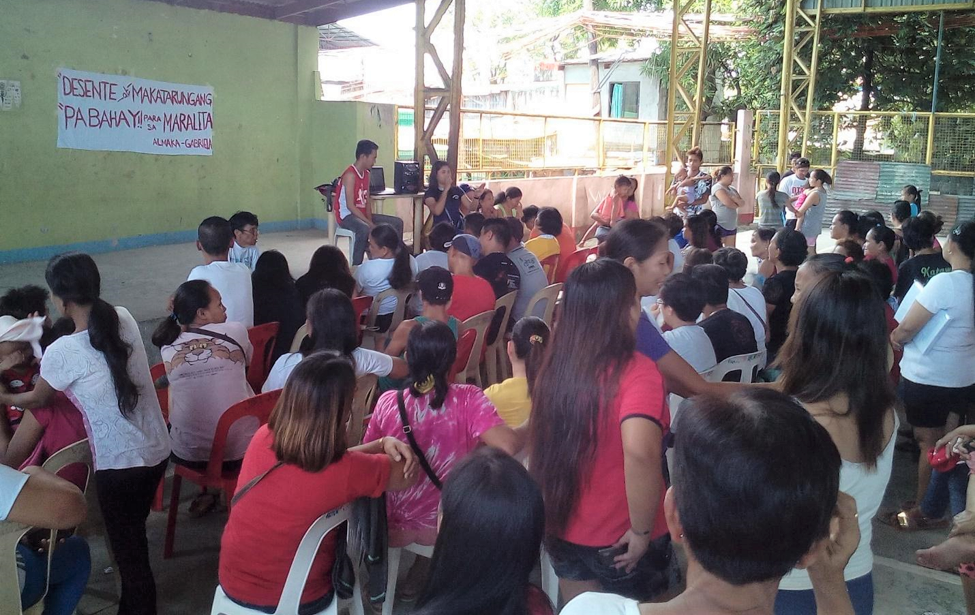 Through community discussions, residents are encouraged to know their rights, speak up and resist intimidation.
After more than a year of saturating north Caloocan with Tokhang raids characterized by almost weekly spectacles of dead bodies and arbitrary arrests, the trauma created by this violent phase of the government's campaign against illegal drugs is reflected in the formation of an impression among residents that the killings victimized hundreds, if not thousands of their friends, families, and neighbors.
Tokhang's bloody legacy continues to stigmatize drug users while raising a certain level of paranoia and hysteria among residents. Residents have become more cautious in their actions to survive the rampaging police-led Tokhang operatives. Reloaded or not, Tokhang under the Duterte regime has remained an insidious form of social control.
When relocating informal settler families, local governments are assessing the readiness of communities and one of the indicators they are using is called 'social disarticulation' which they define as the 'disruption of existing social fabric.'
The impact of Tokhang could be similar to the demolition of communities but its methods are more brutal and sinister while shrouded in extralegal secrecy and affects a wider segment of the local population. It intensifies state intrusion into the lives of the poor, overkill police deployment is legitimized, and the community's state of underdevelopment is entirely blamed on the drug problem. It also undermines solidarity among neighbors by instigating citizen surveillance, making it more difficult to promote unity in challenging the reign of oppressive local authorities. Community solidarity is shattered by Tokhang where everybody is seen as a suspect or snitch in a supposedly drug-affected barangay.
The ferocity of Tokhang is made more evident in a community which was originally designated as a relocation area for informal settlers but whose residents have been targeted once more by a government program that resembles 'demolition' operations.
Tokhang's controversial features such as extrajudicial killings, arbitrary arrests, and expanded presence of the police are evident in north Caloocan. Support from LGU officials is also visible and this is sustained by well-funded programs that advocate the fulfillment of Tokhang objectives. Tokhang's many uses for politicians in power, especially those who are eager to protect their future mandate, are reflected in the case of north Caloocan.
The 'shock and awe' slaying of barangay leaders in Phase 12 mirrored the brutal methods of Tokhang at the national level. Yet, illegal drug transactions are still rampant in the barangay like in other parts of the country. It points to the failure of the Tokhang approach and also the senselessness of continuing a discredited program that merely unleashed a tremendous wave of violence and suffering.
To probe what Tokhang did to urban poor communities can be a depressing endeavor, but again the story of north Caloocan also offers some hope. That in spite of the ruthlessness and Tokhang-related terror inflicted on the local population, there were citizens who learned to resist and this inspired courage in others. That there is another a way to deal with Tokhang other than to stay silent or survive its brutality. That it is possible to fight back.
(This is an edited excerpt from a case study written by the author for the project, "Violence, Human Rights, and Democracy in the Philippines." The project is a joint undertaking by the Third World Studies Center, College of Social Sciences and Philosophy, University of the Philippines Diliman and the Department of Conflict and Development Studies, Ghent University. Mong Palatino is the chairman of the Metro Manila chapter of Bagong Alyansang Makabayan, a multisectoral alliance of people's organizations. To know more about the project, visit the website https://dahas.upd.edu.ph.)