A fresh fake quote card misattributed to Apollo Quiboloy, founder of restorationist church Kingdom of Jesus Christ, is making the rounds on social media. It claims the pastor said he "cannot stop" the novel coronavirus (2019-nCoV) because he "doesn't speak Chinese."
Two netizens published the fabricated post on Jan. 31 and Feb. 3, featuring a Jan. 20 photo of the self-proclaimed "Appointed Son of God" grabbed from his official Facebook (FB) page.
The following statement was superimposed onto the image: "Hindi ko mapa-STOP ang Coronavirus dahil hindi naman ako nakakapagsalita ng Chinese (I cannot command the coronavirus to stop because I don't speak Chinese)."
One of the posts bore the caption "Just in," while the other one — published in public FB group Unit Investment Trust Fund (UITF) Philippines — was captioned "Paktay na di tayo matutulungan ni quiboloy. Kaya bagsak padin ang psei (Oh no, Quiboloy won't be able to help us. That is why the PSEi [Philippine Stock Exchange index] is still in decline)."
The televangelist has said no such thing.
The fake post appears to have parodied a statement that Quiboloy made in late 2019 claiming he "stopped" an earthquake in Mindanao after yelling, "Earthquake, stop!" However, the recently fabricated posts have been taken seriously by several netizens, with many badmouthing Quiboloy in the comments section.
Records of the pastor's recent speeches and sermons published on his official FB page and Youtube channel show Quiboloy speaking about the 2019-nCoV only in one instance: in a 15-minute-long video where he said a "prayer for humanity" to "intervene" and ask God to "stop (the) epidemic and give humanity once again a chance to survive."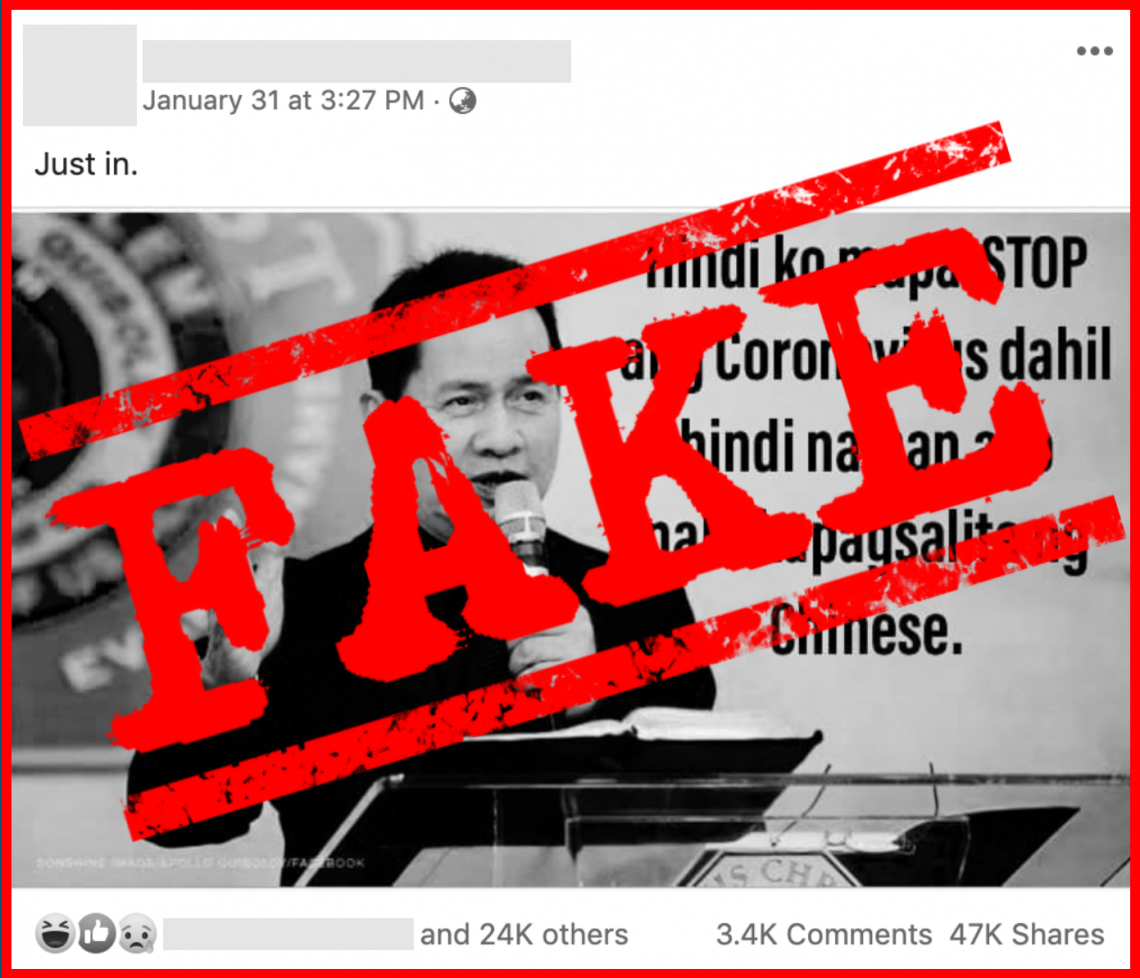 The first posting of the fake quote card came a day after the United States Federal Bureau of Investigation arrested three members of the Kingdom of Jesus Christ in their church in Van Nuys, Los Angeles, California for alleged human trafficking and immigration fraud.
More, the two versions of the fabricated post were published a day after the Department of Health confirmed the first (Jan. 30) and the second (Feb. 2) positive cases of the 2019-nCoV in the country.
The two posts featuring Quiboloy's fake statement have been shared more than 49,000 times on FB. They have also received over 24,800 interactions and 3,500 comments.
FB page Unit Investment Trust Fund (UITF) Philippines was created in August 2015.
VERA Files Fact Check also flagged another fake quote card on Quiboloy that was thought to be true by netizens last week, claiming the pastor said his church was "exempted" from contracting the 2019-nCoV. (See: VERA FILES FACT CHECK: Quiboloy 'quote' on his church's 'exemption' from novel coronavirus a HOAX)
The outbreak of the virus, discovered only in January, has affected over 24,500 people in 28 countries. It has been declared a public health emergency by the World Health Organization.
(Editor's Note: VERA Files has partnered with Facebook to fight the spread of disinformation. Find out more about this partnership and our methodology.)