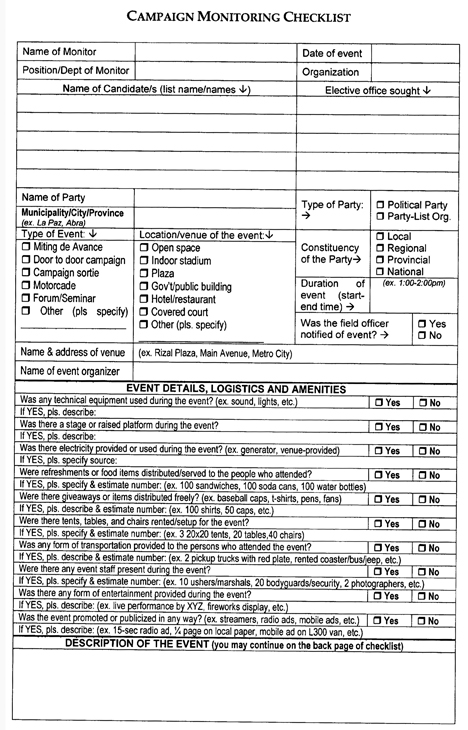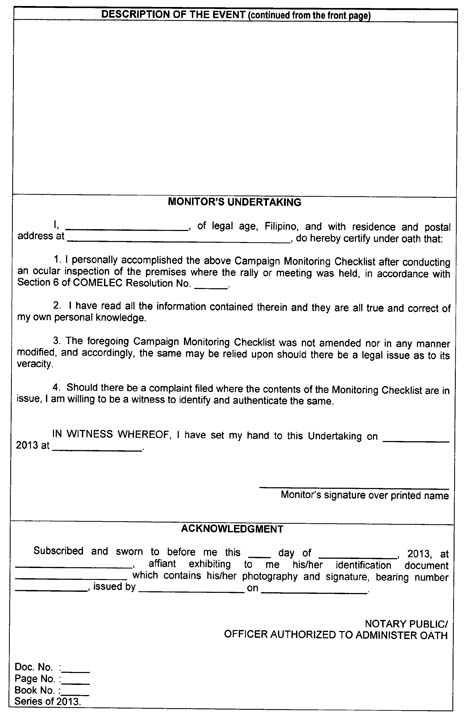 By MIKHA FLORES
STATEMENTS filed by candidates with the Commission on Elections in the past elections declaring the money they had supposedly raised and spent on their campaign used to, like the song goes, "just lie there and die there."
Not anymore.  At least that's what the Comelec vows in a resolution it adopted on Wednesday.
Resolution 9616 has designated the poll body's Law Department as the Campaign Finance Unit (CFU), and its job is supposed to go beyond receiving reports of candidates' statement of contributions and expenditures (SECE).
The CFU is tasked chiefly to look into the expenses of national candidates—senators, national political parties and party-list groups—from public rallies to posters and advertisements.
[box style="5″]
Learn more about campaign contributions and expenditures. Read Campaign Finance FAQ [/box]
The job of monitoring campaign expenses of candidates for positions in local governments and the House of Representatives, meanwhile, will fall to Comelec field officers, including regional election directors, provincial election supervisors, and city and municipal election officers.
The election period started on Sunday, but the campaign period for senatorial and party-list candidates will begin on Feb. 12 and for House and local bets on March 29.  The campaign period ends on May 11.
Candidates are required to submit their SECE within 30 days after the May 13 elections.  The deadline for filing statements is June 13, 5 p.m.
Republic Act 7166 allows candidates to spend only P3 per voter and political parties can spend P5 per voter. Independent candidates are allowed to spend P5 per voter.
With 52,002,730 voters, senatorial candidates with political parties can only spend about P156 million and independent candidates, P260 million. The spending limit of each political party is also P260 million for all its candidates.
Various studies have shown that many candidates fail to report or underreport contributions and expenses.  A number have also been known to receive prohibited contributions.
They have pinpointed to the lack of a unit within Comelec dedicated to scrutinizing and going after violators as among the reasons behind the brazen violations of campaign finance regulations.
At least 10 members of the Law Department now form the Campaign Finance Unit. "(But) if we see the need to increase the number of employees that will be designated, then we shall do so," said Esmeralda Amora-Ladra, director the Law Department that is now also the CFU.
Ladra acknowledged that many candidates in previous elections would just enter any amount in their statements.
"(W)hether accurate or not, hindi natin natitingnan yun (we were unable to confirm it)," she said.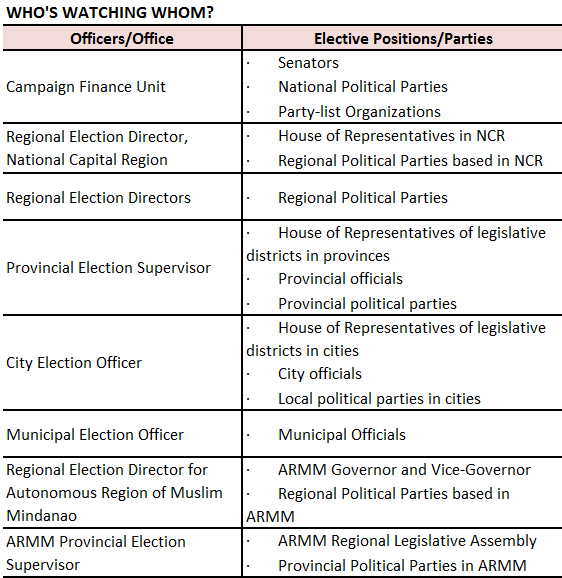 Among other things, the CFU and field officers will monitor public rallies, posting of election propaganda in common poster areas, and violations of prohibited acts during the campaign period.
To help them along, the Comelec has come up with a two-page detailed Campaign Monitoring Checklist for their use.  The poll body is also encouraging volunteers to use the checklist.
Resolution 9616 also mandates the CFU and field officers to conduct price surveys to determine the product costs of commonly availed services during the campaign period such as the printing of tarpaulins and posters, lease of venues for public rallies, sound systems, mobile advertising services and transportation expenses.
The poll body has enlisted the help of the following agencies in monitoring campaign expenses:
Anti-Money Laundering Council
Bureau of Internal Revenue
Office of the Ombudsman
National Bureau of Investigation
Commission on Audit
Department of the Interior and Local Government
Bangko Sentral ng Pilipinas
Department of Trade and Industry
Department of Finance
Bureau of Customs
Department of Transportation and Communications
Department of Justice
Department of Budget and Management
Department of Public Works and Highways.
Under Resolution 9616, the Comelec need not wait for complaints to be filed against violators, but can initiate cases against violators on their own.
Besides sworn statements of witnesses and other traditional forms of documentary evidence, the poll body will accept photos and videos as evidence in these cases.